The 31-year-old Seddigh, considered by many to be the country's foremost race-car driver, says the Iranian Auto Racing Federation has imposed a one-year ban on her for infringing technical rules during the fifth race of this year's touring-car championships.
Seddigh strongly rejects any wrongdoing, and claims that she is the victim of a concerted campaign against her as a female racer.

"I look at it as a conspiracy on the top of other malicious acts toward me that have happened in the past," Seddigh tells Radio Farda correspondent Farin Assemi from Tehran.
Gender-Based Modification
The allegations relate to an incident in which she used an alternate car because her own first-line car was having mechanical trouble.

Under internationally recognized rules, engines must have a seal placed on them before the race to show they have not had illegal modifications done at the last minute.

Seddigh says that three male drivers used alternate cars with no engine seals in a previous race, but that they were approved to compete by the technical inspector of the Racing Association.
"I stepped into racing and little by little gained titles. Then I began taking racing quite seriously."
She also gained approval for her alternate vehicle, but after she had taken part in a heat, the Racing Association claimed she had competed in the wrong category and barred her from the race. She subsequently received the yearlong ban.

"Why have the male race-car drivers, who are many in number, not been disqualified or barred, but just penalized in monetary terms and permitted to participate in the next round of competition?" Seddigh asks.

When asked if she has filed a complaint with the Racing Association, Seddigh says her father and a lawyer are helping her do so. But she says they are hindered by the fact that she has not received any written confirmation of the ban upon which she could build her case.

She says that in her role as a female racing driver, she had received much public support and approval. But she adds that there were some "mean-spirited" people who were causing problems.

Early Start
A teacher at the Industrial College of Tehran, the 31-year-old Seddigh has been driving since she was in her early teens. "I was about 13 when my father started teaching me to drive," she recalls. "I was an energetic child and liked to do exciting things. So, I started learning to drive and when I reached the age to get my license I knew driving quite well."

She says that in the beginning, she merely saw driving as a way to use up her "excess energy" and never imagined becoming a professional racer. "But gradually I stepped into racing and little by little gained titles," she says. "Then I began taking racing quite seriously."

Seddigh now races in the touring-car category, similar to stock-car racing. Previously she has competed in Formula 3, a class of single-seater, open-wheeled car that serves as a training ground for many talented young drivers who later go on to compete in Formula 1, the top class of international motor racing.

(Translated from Radio Farda's Persian-language interview by Iraj Gorgin)
Women In Iran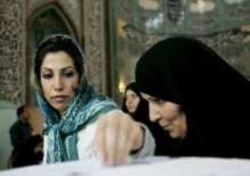 Women in Tehran (epa file photo)

CALLING FOR MORE RIGHTS: Although women played key roles in Iran's 1979 Islamic Revolution, the place of women in post-revolutionary society has been a vexing question. Iranian women have struggled to bring attention to their calls for greater rights in their country's rigid theocratic system, calls that have often clashed with the values proclaimed by conservatives in society. (more)
RELATED ARTICLES
Tehran Police Renew Campaign To Combat 'Un-Islamic' Dress
Iranian Peace Prize Laureate Shirin Ebadi On Women's Rights
Activists Concerned About Self-Immolation Of Iranian-Kurdish Women
The Younger Generation's 'Tehran Blues'
ARCHIVE
RFE/RL's coverage of Iran. RFE/RL's coverage of issues concerning women throughout our broadcast area.

SUBSCRIBE
For a regular review of civil-society developments throughout RFE/RL's broadcast region, subscribe to "RFE/RL (Un)Civil Societies."