Georgian Prime Minister Blames Social Policy For Turmoil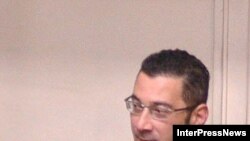 Prime Minister Lado Gurgenidze (InterPressNews) BRUSSELS, December 5, 2007 (RFE/RL) -- Georgia's new caretaker prime minister, Lado Gurgenidze, has emphasized social tensions as a major factor in the mass antipresidential demonstrations that erupted across the country three months ago and led to a state of emergency.
Downplaying earlier allegations of a Russian role in the Tbilisi rallies that culminated in a violent government crackdown on November 7, Gurgenidze said relations between the two countries can improve if Russia respects Georgia's territorial integrity and its pro-Western course.
Sidestepping the question of whether Georgia's government still believes Russia's secret services had a hand in the unrest, Gurgenidze said the "key for successful governance [in Georgia] has been, is, and will remain" poverty reduction and the tackling of unemployment. He said that until those social ills are addressed, the country's painful but necessary reforms will always prove a "fertile ground" for discontent -- genuine or manipulated.
"We are hearing the social message loud and clear," Gurgenidze said.
The prime minister said Tbilisi is ready to seek good-neighborly and mutually beneficial ties with Russia as long as Moscow does not fuel secessionism in Georgia's breakaway regions of Abkhazia and South Ossetia, and accepts Tbilisi's ambitions to join NATO and the EU. "Everything else is negotiable," he said.
Gurgenidze's visit to EU and NATO headquarters was scheduled well before he was named prime minister in the wake of last month's violence.
But after being nominated to the post on November 16 -- the same day the national state of emergency was lifted and coming after early presidential elections were announced in an attempt to mollify the opposition -- Gurgenidze knew what the focus of his two-day Brussels visit would be.
"[The visit] gives our European friends and partners the opportunity to hear more about what has happened and more importantly about what will happen in terms of the free and fair elections to which we are clearly committed, in terms of the addressing of the social issues which at the end of the day were probably the root cause of the events of the last couple months, and to hear about our continuing and unshakeable commitment to democracy as well as the very radical reform path," Gurgenidze told RFE/RL in a Brussels interview today.
Gurgenidze repeatedly stressed that the root causes of the recent nationwide rallies were mounting social tensions. He said that one-quarter of the country's population -- or more than 1 million people -- live below the poverty level.
He also conceded to failures in the way Georgian authorities responded to dwindling rallies in the capital on November 7. Hundreds of opposition supporters were injured when police resorted to brute force to break up the protests, which were later characterized as part of a coup attempt.
"At the same time, one must clearly distinguish between the tactical decisions which I believe were responsible decisions made on November 7 and between the methods of the execution [of orders] -- which clearly have not been flawless, let's put it that way," Gurgenidze said.
Gurgenidze added that Georgia is confident it will be invited to join NATO "sooner or later" and said the country's deployment of 2,000 soldiers to Iraq is unrelated to its efforts to join the alliance.