The Halk Maslahaty is a unique body created by the first Turkmen president, Saparmurat Niyazov.

In 2004, Niyazov -- who also went by the name of Turkmenbashi (father of all Turkmen) -- said the Turkmen political system was different from that of any other state in the world. "Our parliament dramatically differs from [the parliaments] of other countries of the world. Under the constitution, the Halk Maslahaty has been the main legislature so far. Parliament merely writes laws for the Halk Maslahaty [to approve]. This is the job [of members of parliament]," he said.
A Rubber-Stamp Body, So Far

The statement followed the law in late 2003 that reduced the powers of the 50-seat Mejlis -- or parliament -- and gave the Halk Maslahaty the authority to dissolve the parliament.

But the Halk Maslahaty -- which has some 2,500 members -- and the Mejlis have acted as nothing more than rubber-stamp bodies that unanimously approved each and every step taken by Niyazov.

The Halk Maslahaty's most memorable decision came in 1999 when it confirmed a parliament proposal to make Niyazov "president for life."

Being a grand national assembly, it usually meets only once a year. But it always has been assembled when there was a matter of great importance to be decided.

Such was the case when it met in December 2002 to demand an amendment to the constitution permitting death sentences to be given to those who allegedly tried to kill Niyazov one month earlier.

Among other noticeable decisions was the approval in late 2002 of Niyazov's idea to officially change the names of the months and days of the week. The month of April was named after Niyazov's mother, Gorbansoltan Eje, who died in the Ashgabat earthquake of 1948, leaving Niyazov, the future Turkmenbashi, an orphan. January became "Turkmenbashi," and September was named "Rukhnama" after Niyazov's "spiritual book" that was equated with the Koran and became compulsory reading in Turkmen schools.

Smaller, local versions of the Halk Maslahaty were also created by Niyazov. Niyazov said that "a Halk Maslahaty should be created in the welayats [provinces] and etraps [districts]. If a threat arises to the country, God forbid, bad times come to us, in order to save ourselves from ruin quickly and take the needed steps, the [local] Halk Maslahaty must quickly assemble and then form the national Halk Maslahaty."
Very Tight, But Not A Race

Turkmen voters in the country's five provinces and the capital, Ashgabat, were to cast ballots on December 9 for elected members of the Halk Maslahaty -- other members are appointed directly by the president.

Local media have reported that all of the candidates in these elections represent the Democratic Party of Turkmenistan -- the country's only political party, as well as some civic organizations like the Youth League and the Union of Women.

Turkmen television, radio, and newspapers carried information about the elections, but it appeared that not many people were paying attention to the state-run media.

"Frankly speaking, at this moment I know nothing about candidates for the Halk Maslahaty because we were not invited to the meetings with them," Tejen Aga, a 70-year-old pensioner living in Ashgabat, told a RFE/RL Turkmen Service correspondent. "And there is not enough information on media about their programs."

He also complained about receiving just one ballot for a family of 10 people. "I was told I could vote with all passports of my family members older than 18."
[On December 9, RFE/RL Turkmen Service correspondent Khalmyrat Khlycdyrdiev reported seeing some irregularities that pointed to broader problems, and could leave room for inaccuracies. During visits to a number of polling stations in the capital, Khlycdyrdiev said election officials were keeping some records in pencil and failing to request identification to confirm individuals' identities.
He also said polling authorities were allowing individuals whose identities hadn't been confirmed to vote on behalf of entire families.]
Some Turkmen who spoke to RFE/RL said they saw no point in voting, as the Halk Maslahaty members have failed to do anything for the people.

"Some members of the Halk Maslahaty live in our village, but we don't see any results from their work," said Rozy Allakov, a farmer in the eastern Lebap province. "There is no telephone connection in our village. Only the village governor has one. Another example of the kind of issue that should be addressed is that many villages in the region have no natural gas. Turkmen gas is used in Europe but not in our village. As I understand it, the members of the Halk Maslahaty should take care of the peoples' needs."

Azgeldi Hommadov, a 34-year-old construction engineer from Ashgabat, said he agrees. "For example, we don't know about the results of directives related to the agricultural sector of the country that were adopted at the 20th Halk Maslahaty session," he said. "Neither do I know about measures taken by the Halk Maslahaty members against corruption, which is a serious issue in all regions. At the meetings with their voters, the candidates are afraid to of raise such criticism."

Hommadov added that Turkmen media does not cover those issues either. "They cover only success stories," he said. "Only one side of life is shown."
Skepticism vs. Hope

Along with the skepticism many potential voters have about the upcoming election and the role of the Halk Maslahaty, there seems to be a gleam of hope among some Turkmen for positive changes in their lives because of Berdymukhammedov.

Rahim Esenov, 80, is a prominent writer and an opponent of the Niyazov regime. He was detained and put under house arrest under Niyazov in 2004 and his book, "The Crowned Wanderer" -- which brought him the PEN/Barbara Goldsmith Freedom to Write Award last year -- was banned in Turkmenistan.

Esenov told RFE/RL that he felt a "cautious optimism" that existed in the times of the "thaw," when Soviet leader Nikita Khrushev came to power after the death of dictator Josef Stalin.

Esenov said that, among "small and symbolic" changes, he saw as a positive sign the fact that an election campaign is being held. "A huge billboard appeared near my home. It contains candidates' photos and biographies in both Turkmen and Russian. I have to admit that I was happy to see it. There wasn't such a [practice] before. Only newspapers used to publish information [about candidates] that was only in the Turkmen language. Now, there are also pictures. It was such a big surprise that I even stopped walking [when I saw it first]. Other people also stopped walking and read it. I guess it is not enough but they are the sprouts of the new and the good," he said.

Esenov said he would "definitely" go to a polling station on December 9 to fulfill his "citizen's duty" to vote.

Irina, an ethnic Russian who lives in Ashgabat, also told RFE/RL that she planned to vote. "I have dual -- Russian and Turkmen -- citizenship, and I voted in recent Russian parliamentary elections," she said. "I am not able to walk, but I contacted authorities and asked them to bring a ballot box to my home. And they did so. I think they will come again on Sunday."

Hommadov, an engineer from Ashgabat, was also somewhat optimistic, although he said the changes in society had been very slow in coming.

"Despite dominating fear, there are people who are not afraid to express their thoughts freely," he said. "But they are few. We feel changes but they are very slow. It will take time to have a free society."

The main question among voters is not who will win, but whether the new Halk Maslahaty members will support changes in society or stall them.

(An RFE/RL Turkmen Service correspondent contributed to this report from Turkmenistan.)
Islam And Politics In Central Asia
Islam And Politics In Central Asia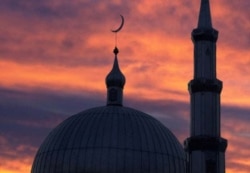 The Khodji Mashrab Mosque in Dushanbe (TASS file photo)
ACTIVISTS AND AUTOCRATS: Eric McGlinchey, assistant professor of government and politics at George Mason University, told an RFE/RL briefing that Islam-centered political movements present the most coherent challenge to autocratic governments in Central Asia.
LISTEN
Listen to the entire briefing (about 60 minutes):

Real Audio
Windows Media
RELATED ARTICLES
Central Asian Security Services Take On Religious Dissent
Family, Followers Reject 'Terrorist' Claims Against Slain Cleric
Hizb Ut-Tahrir's Calls For Islamic State Find Support
Imam Extends Welcome To Hizb Ut-Tahrir

A thematic webpage devoted to issues of religious tolerance in RFE/RL's broadcast region and around the globe.