Serbia: Tadic, Nikolic Headed For Second-Round Showdown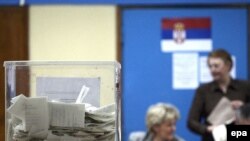 A polling station in Belgrade on January 20 (epa) Serbian voters have sent the country's presidential election into a runoff that will pit pro-Western incumbent Boris Tadic against firebrand nationalist challenger Tomislav Nikolic.
Amid unexpectedly high turnout, Nikolic edged out Tadic in first-round voting on January 20 with nearly 40 percent of the vote, followed by Tadic, with more than 35 percent, according to preliminary figures.
Tadic seeks to steer Serbia into the European Union and has pledged to bring the country into the Western mainstream.
Nikolic, a former ally of Slobodan Milosevic, wants closer ties with Russia and has sought to harness Serbian nationalist pride in his campaign.
The two will face off in a decisive second-round showdown on February 3.
Zoran Lucic of Belgrade's Center for Free Elections and Democracy, which independently counted votes alongside election officials, said the stark choice, high stakes, and the soaring voter interest should make for an close and fiercely fought runoff.
"The second round will be very tight," Lucic said. "I think the two upcoming weeks will be very interesting. The campaigns are going to be very interesting because of rising 'temperature' among voters."
The specter of a declaration of independence by the separatist Kosovo province, which is currently administered by the United Nations, attracted considerable attention during the run-up to the first round. Tadic and Nikolic have each rejected proposals of independence for Kosovo.
Nikolic, however, has threatened tough measures against countries that recognize the breakaway province's statehood. He has capitalized on the growing frustration over Kosovo, lingering resentment from the 1999 NATO bombing campaign, and mounting frustration about the slow pace of EU integration.
A Nikolic presidency would likely bury Belgrade's EU bid for the time being.
Speaking to supporters after the polls closed, Nikolic tried to seize the front-runner's mantle, saying Serbian voters responded to his combative nationalist message.
"Serbia has shown support for my wish for change; the citizens of Serbia have responded to that," Nikolic said. "The election campaign was tough. We opened a road to the victory in the runoff. There is a lot of work ahead; we have never been closer to changes."
Tadic, who had earlier likened the vote to the first half of a soccer match, assured supporters that he would emerge victorious in the runoff. "I'm looking at the runoff with a great optimism, and I'm certain in victory in the presidential elections," he said.
The Serbian Election Commission says turnout was 61 percent of Serbia's 6.7 million eligible voters -- the highest level of participation since Milosevic was toppled from power in October 2000.
The second round will largely hinge on whom the backers of lower-tier candidates will support. Supporters of pro-Western liberal Cedomir Jovanovic are expected to vote for Tadic, while Nikolic is expected to win backers of Socialist Party candidate Milutin Mrkonjic.
That means the kingmaker could turn out to be Prime Minister Vojislav Kostunica, who backed third-place finisher Velimir Ilic in the first round. Kostunica is a partner in Tadic's fragile coalition government. But, like Nikolic, he favors a tougher line with the West over Kosovo and closer ties with Moscow.
Tadic is hoping that history repeats itself. In the 2004 presidential election, Nikolic defeated Tadic in the first round of voting -- but Tadic won the runoff with 53 percent of the vote.
Between The EU And Russia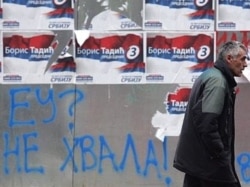 'EU? No thanks!' (AFP)
SERBIA'S FUTURE. With many observers seeing this presidential election as a referendum on Serbia's EU ambitions, RFE/RL asked Belgrade residents ahead of the first-round vote whether they saw their future with Europe or with Russia, and why the Kosovo issue was such an emotional one for Serbs.

(see Photo Gallery)