The election is being watched closely for signs among the Serbian public that it is tiring of reforms or wary of embracing too wholeheartedly EU calls for change that would allow it eventually to join the European Union.
The contest has been characterized most starkly as a choice between a pro-Western course with Tadic and a nationalist one with Nikolic that risks landing Serbia in a heavily pro-Russian camp.
The nationalist cause has been boosted by an impending declaration of independence by the breakaway province of Kosovo, which has been administered by the United Nations since 1999.
Hundreds of peacekeepers were said to have arrived in Kosovo to boost the NATO-led mission there as the alliance launched a month of military exercises intended to signal its ability to put down any attempts to spark violence.
After casting his second-round ballot, incumbent Tadic, who is backed by the Democratic Party, urged voters to choose the path of integration with the European Union, warning that the alternative is isolation.
"There is going to be some kind of referendum in Serbia," Tadic said after he emerged from the voting booth. "I am totally sure we are going to get a huge participation of our citizens in these elections, and I am at the same time totally sure that we are going to take the same direction toward the European Union after these elections. I am very optimistic in terms of final results of the elections."
Meanwhile, challenger Nikolic of the Serbian Radical Party said he supported closer ties with Moscow, saying the country should not rely solely on the European Union.
"Serbia should cooperate both with the EU and with Russia, but Russia is much more supportive," Nikolic said. "Russia is a partner that does not put conditions on our partnership. Russia is a partner that can help our development and, at the moment, [is] a much better partner for us."
Speaking from the Serbian capital, Belgrade, RFE/RL's South Slavic and Albanian Languages Service correspondent Branka Trivic predicted a "very, very tight" race.
She said the refusal by Prime Minister Vojislav Kostunica to endorse Tadic, who is his partner in the ruling coalition, could prove crucial in the results. So, too, could be the failure of a major, pro-Western opposition party, the Liberal Democratic Party, to give the incumbent its endorsement.
The votes of those parties' supporters would be "very precious to Tadic," Trivic said.
Nikolic lost to Tadic in a similar runoff in 2004. Nikolic narrowly won the first round of voting two weeks ago, with some 40 percent of the votes to Tadic's 35 percent.
In practical terms, the powers of the Serbian presidential post are limited. The president can neither dissolve the government nor determine foreign policy. But the timing of the election is crucial, with Kosovo's mainly ethnic Albanian leadership expected to declare independence within days of this election.
On February 2, Kosovar Prime Minister Hashim Thaci reiterated that the Albanian-majority province is ready to declare formal independence.
"Kosovo is ready to declare independence today," said Thaci, whose government is counting on support from the United States and major European states to legitimize its announcement of sovereignty. "We've finished preparing the new constitution, and I can also confirm that preparations for the [new state] symbols are almost done and the jury is in the final stages of choosing [the symbols to use] -- they are working on this today, and tomorrow everything will be finished. So Kosovo is ready to function as a country."
Both Tadic and Nikolic have stated their opposition to independence for Kosovo, although Tadic has stressed legal and diplomatic efforts to forestall such a declaration by Pristina.
Nikolic's campaign has particularly stressed growing frustration at Western backing for Kosovo's independence, as well as the pace of Western-backed reforms in Serbia.
While Tadic advocates cooperation with the UN war crimes tribunal, which is demanding greater help apprehending accused war criminals, Nikolic strongly opposes working with the Hague.
Nikolic's Radicals are former allies of former President Slobodan Milosevic, and their leader, Vojislav Seselj, is currently on trial at the Hague for his role during the wars of the 1990s.
Kosovo has been administered by the United Nations since 1999, when a U.S.-led NATO bombing campaign drove out Serb forces accused of a brutal crackdown on ethnic Albanian separatism.
The United States and most EU members have expressed cautious backing for the independence plan, while Russia has strongly opposed it and said any solution must go through the UN Security Council, where Moscow holds veto power.
Some 6.7 million people were eligible to vote in this presidential election, including more than 100,000 in Kosovo, where the balloting is organized in Serb-held municipalities.
Some 500 Italian troops were among the NATO forces getting ready for monthlong exercises to display the international community's resolve to limit any violence. Most of Kosovo's ethnic Serbs live in the north of the province, where some locals have threatened to create their own breakaway institutions if the majority Albanians declare independence.
Between The EU And Russia
Between The EU And Russia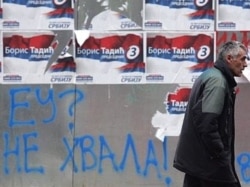 'EU? No thanks!' (AFP)
SERBIA'S FUTURE. With many observers seeing this presidential election as a referendum on Serbia's EU ambitions, RFE/RL asked Belgrade residents ahead of the first-round vote whether they saw their future with Europe or with Russia, and why the Kosovo issue was such an emotional one for Serbs.

(see Photo Gallery)