Gezim is a violinist with the Kosovo Philharmonic. He and his fellow musicians have spent the past few days conducting preparatory rehearsals for a concert they are due to hold on independence day -- a concert that will begin with the EU anthem, Beethoven's "Ode to Joy."

It's an appropriate choice for Gezim, who says he is looking ahead to a time of better opportunities for all Kosovo citizens. "I hope Kosovo will become a new republic in the world -- a new and modern state, heading towards EU integration," he says.
Rehearsals are already a kind of celebration -- as is coming home each night. Three generations of Latifis live together in the family home in central Pristina, and the mood is ebullient.

"Our family has been waiting for ages for independence," says Ramadan, Gezim's 86-year-old grandfather. "So many people have died for this independence, it is unbelievable. They were killed in prisons, abused. All the things the Serbs did to us. Now, it is a great joy. For me, there can't be anything bigger."

Ramadan's wife, 80-year-old Hazbija, echoes the sentiments, saying for her it is a moment in history when she can finally put the fears of the past behind her.

"It used to be that when our children left for school, we'd feel sad and worried, wondering whether they'd make it home safely. If they went for a walk, we worried," Hazbija says. "On Sunday, our entire family will be here, and we'll all be happy. How can we not be happy?"

Gezim's father, Bashkim, sees the independence declaration as a decisive moment -- a time when a brighter future is set to begin for all Kosovo citizens. But it is also an intensely private joy for the family, he says, because so many generations of the family are alive to see it.

"I have two pleasures," says Bashkim. "I'm happy because my father made it to this day. And I'm happy that I and my son are here for it as well."
"I will not allow for my children to be taught about people who have committed genocide against Serbs, who have murdered and raped us, as if they are some national heroes."
Kosovo authorities have planned 72 hours of celebrations ranging from fireworks displays to concerts by the philharmonic and others. It is a high time for many Kosovars, but an uneasy moment in the history of the Balkans.

Serbia strongly opposes Kosovo independence, and even amid the celebratory atmosphere, Kosovars like Bashkim's wife, Lirija, remain mindful of the climate in the region. "May God give us power to celebrate in a most dignified way, and not with problems," she says.
In Mitrovica, A Quiet Wariness

Kosovo officials, worried about unease among the Serbian minority in the hours and days following the independence declaration, have urged calm and even called on ethnic Albanian citizens to resist shooting guns into the air as part of the celebrations.

It's little comfort for Serbian Mitrovica resident Sladjana Nekich, a 32-year-old mother of two, who remembers the violent interethnic clashes that rocked the city in 2004 and left six people dead.
"If we feel any kind of insecurity, we won't have second thoughts about leaving Mitrovica. Currently, we're not thinking about it, because there is still hope this terrible thing won't happen again."


Sladjana, a proud-looking woman with a broad face and thick black hair, is one of 20,000 Serbs living in the northern section of the ethnically divided city of Mitrovica.
Some 80,000 Kosovar Albanians live in the city's south, and Sladjana says the prospect of violence is never far from her mind, despite repeated calls from Pristina and the EU -- which will assume administrative and security duties from the United Nations following independence -- to ensure the security of Kosovo's ethnic minorities.
"I'm not afraid of the upcoming weekend. I do hope that the international community -- Europe, and the world in general -- is keeping an eye on what's happening in this region. I hope there won't be any violence," she says.
The Nekich family -- which includes Sladjana's husband, 35-year-old Davor, as well as their two children, 5-year-old Mihajlo and 9-year-old Isidora -- lived in Pristina until 1999, when a NATO bombing campaign forced the withdrawal of Serbian troops from Kosovo and the province came under UN administration.
That year, for many Kosovars, marked the first steps toward the long-awaited goal of statehood -- and made the life of Kosovo's Serbs in many cases more difficult.
Sladjana says, as a mother, it is difficult for her to envision a future in which her children will be forced to subscribe to Kosovar Albanian notions of history. Her uncompromising stance shows how irreconcilable the divide between Kosovo's Serbs and Albanians can sometimes seem.
"We will be living here as long as we can, as long as we don't feel any kind of real threat, and as long as we can financially afford to stay," she says. "For sure, I don't plan to raise my children in an independent Kosovo that would impose certain conditions. I can guarantee I will not allow for my children to be taught about people who have committed genocide against Serbs, who have murdered and raped us, as if they are some national heroes."
Davor Nekich says many Serbs in north Mitrovica are worried about a new life under imposed institutions. Belgrade, which remains deeply protective of Mitrovica Serbs, has suggested it will maintain a presence in the city to protect the rights of its Serb residents.
For now, Davor remains sanguine about independence.
"If you take a walk outside, you'll notice there are no real concerns with regard to Kosovo's unilateral independence declaration. One can even say that you can feel an atmosphere of indifference," he says.
"I'm not afraid for my family's security, for my children. I don't believe anything will happen, as long as Serbia continues to offer support for us here."
Kosovo's Uncertain Future
Kosovo's Uncertain Future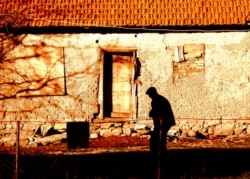 An ethnic Serb silhouetted against his home in the ethnically divided town of Caglavica. (Photo by Valentinas Mite)
In December, RFE/RL correspondent Valentinas Mite traveled to Kosovo, where he photographed the everyday realities that underlie the emotionally charged debate surrounding the region's ethnic divisions.

Click here for a slideshow of images from Kosovo.