The move ups the ante in the latest dispute between Moscow and Kyiv over gas supplies, and comes the day after Gazprom Chairman Dmitry Medvedev scored an overwhelming victory in Russia's March 2 presidential election.
Earlier on March 3, the state-controlled gas monopoly took a first step toward collecting on debts it claims it is owed by Kyiv by cutting gas supplies by 25 percent. Later, it was announced that supplies were cut an additional 10 percent, accounting for a total of about 46 million cubic meters per day.
Gazprom claims it is owed some $600 million for 1.9 million cubic meters of gas that was siphoned off on as it traveled through Ukraine on its way to European customers.
Gazprom spokesman Sergei Kupriyanov announced the first cutoff just after an early-morning deadline passed unmet.
"The undocumented consumption of gas in Ukraine continues," he said. "No agreement has been signed [between Gazprom and its Ukrainian partners] that defines further cooperation in the gas sector. Under these conditions, to protect its economic interests, at 10 a.m. [Moscow time] today, Gazprom reduced its gas supplies to Ukraine by 25 percent."
Shady Intermediaries
Within hours, spokesman Yuriy Korolchuk of Naftohaz Ukrayiny, Ukraine's gas provider, announced that it had received notice of the further 10 percent cutoff.
"The explanation given to us by Gazprom officials is that they believe that Ukraine has yet to pay off its debts," Korolchuk said. "We know that we have paid our debts for 2007. What remains unresolved is a disputed amount between Naftohaz and the UkrGazEnergo intermediary company."
UkrGazEnergo is a joint venture between Naftohaz and a second contentious intermediary named RosUkrEnergo. The two intermediaries have, at least until recently, received commissions on the sale of a mix of Russian and Central Asian gas to Ukraine.
Ukrainian Prime Minister Yulia Tymoshenko, the former "gas princess" who has a long history of clashes with Gazprom, has voiced her fierce opposition to the involvement of the intermediaries since regaining the premiership in December.
When Gazprom announced on December 5 that it had reached a deal under which Ukraine would pay $179.50 per 1,000 cubic meters for gas in 2008, Tymoshenko said the continued use of UkrGazEnergo and RosUkrEnergo was part of a "corrupt" and "brainless" policy.
Tymoshenko announced on March 1 that, as of that day, UkrGazEnergo would "cease to exist" and all of the natural gas Ukraine imports from Russia would go through Naftohaz.
Gas Wars
During a meeting on March 3 with Tymoshenko and parliament speaker Arseniy Yatsenyuk, Ukrainian President Viktor Yushchenko told them that "the most important thing is to conduct the most dynamic negotiations in order to successfully conclude the gas talks, and do everything not to incite a gas war."
Ukraine and Russia have had a number of disagreements over energy supplies in recent years. Ukraine gets about a quarter of its imported natural gas from Russia, much of it Turkmen gas that Gazprom resells.
In 2006, Russia briefly cut gas supplies to Ukraine in a similar payment dispute. The stoppage caused disruption farther along the supply route, and led to fears among Europe Union states about the security of their gas deliveries.
Following the cutoff, European Commission spokesman Michele Cercone said that Gazprom had provided assurances that Europe's supplies would not be affected, and called for the two sides to quickly reach an agreement.
But Cercone also stressed that Brussels was watching the situation closely. "The commission has, at the same time, alerted the network of security and network [monitors] to follow the evolution of the Russian gas supply to the EU from Ukraine, and it is also considering the possibility of calling for an urgent meeting of the [EU's] Gas Coordination Group if the situation makes this necessary," he said.
In early October 2007, just after Ukraine's parliamentary elections, Russia again threatened to cut off supplies to Ukraine, but Gazprom and Kyiv were able to reach an agreement on $1.3 billion in unpaid gas deliveries.
In February, the issue resurfaced again, when Moscow claimed that it was owed $1.5 billion by Ukraine's Naftohaz. The two sides averted a shutoff after President Yushchenko stepped in and helped reached an agreement, and Moscow agreed to remove UkrGazEnergo from the equation and replace it with a more transparent firm.
Gazprom is now claiming that the agreements it reached with Yushchenko in February have not been signed by the Ukrainian authorities.
Gazprom Chairman Medvedev, who was named as President Vladimir Putin's successor in Russia's March 2 election, has backed his company's actions in decreasing Ukraine's gas supply.
Recently he said that former Soviet clients like Ukraine, which formerly paid reduced prices for energy supplies, should get used to Gazprom's current rates since gas is not "a freebie that comes in pretty plastic pipes."
Gas Facts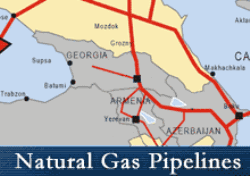 Click on the map for an enlarged image.
Ukraine consumes 70 billion cubic meters (bcm) of gas per year. It produces 20 bcm of its own gas, has a signed contract to import 40 bcm from Turkmenistan, and in 2005 was getting 29 bcm from Russia as payment for transit of Russian gas.
Ukraine sells some 7 bcm of gas a year to the West and places some in underground storage facilities. These facilities can hold 34.5 bcm.
Ukraine is the sixth-largest consumer of gas in the world and uses more gas than Poland, the Czech Republic, Hungary, and Slovakia combined.
Russia has proven gas reserves of 47 trillion cubic meters (tcm) -- the largest in the world ahead of Iran and Qatar.
Russia sells approximately 160 bcm to Europe each year. By 2015, Europe is expected to import 300 bcm, or 40 percent of its projected needs from Russia.
Russia's Gazprom is the world's largest gas company. It is the only company allowed by Russian law to export gas outside the borders of the CIS. It also owns the gas-transportation system and most of the gas fields in Russia.
The Russian state is Gazprom's majority shareholder , with a 51 percent share. The company's ownership rights changed as of the beginning of 2006, with Gazprom stock being sold on the open market. The Russian state, however, will continue to hold the majority stake.