Gazprom, Russia's state-controlled gas monopoly and the power base of President-elect Dmitry Medvedev, has threatened new cuts in gas shipments after halving supplies to its ex-Soviet neighbor this week.
The gas giant made an initial 25 percent supply cut on March 3, saying Kyiv owes $600 million in unpaid bills for natural gas delivered in 2007.
Gazprom spokesman Sergei Kupriyanov announced on March 4 that "due to the lack of progress in negotiations and because there are no contracts signed by Naftohaz Ukrayiny," Ukraine's state gas operator, including for gas delivered this year, "a decision has been made to reduce gas deliveries to consumers in Ukraine by another 25 percent."
Kupriyanov added that "gas supplies to European consumers will be carried out in full," and that Gazprom "is ready to continue negotiations with our Ukrainian colleagues."
At a press conference on March 5, Ukrainian Prime Minister Yulia Tymoshenko sounded a defiant note. "Despite the present hysteria about natural gas, Ukraine today has enough gas, it has all the necessary resources and reserves, and we have gas-storage facilities that are functioning normally," she said. "And despite the waves [disturbance] caused by provocations with natural gas, Ukraine will continue to receive an uninterrupted supply of natural gas, heat, and hot water."

Europe Looks On Nervously
The dispute echoes a 2006 gas pricing row that culminated with Gazprom briefly halting gas supplies to Ukraine. The move triggered energy shortages in parts of Western Europe that depend on Russian gas that transits Ukraine.
This time, the European Union reacted swiftly with a statement urging both parties to "ensure that gas supplies to the European Union remain unaffected."
Ukraine's Naftohaz has sought to play down the dispute, saying its is ready to return to the negotiating table and pledging that differences would be resolved "very soon."
Gazprom's Kupriyanov, however, claimed on March 5 that Ukraine had warned that it is diverting some 17 percent of the transit gas earmarked for Europe, 60 million cubic meters, to compensate for the reduced supplies.
Siphoning off gas bound to Europe would be a risky move for the Ukrainian leadership, which has cultivated close ties with the West.
Meanwhile, the latest gas dispute reflects badly on Gazprom by further casting doubt on its status as a reliable gas supplier to European markets.
In Ukraine, the row also threatens to fracture the already fragile coalition between President Viktor Yushchenko and Tymoshenko, his former Orange Revolution ally.
Yushchenko last month averted a gas cutoff by clinching a last-minute deal with his outgoing Russian counterpart, Vladimir Putin, over $1.5 billion in payment arrears.
But the firebrand prime minister has criticized the agreement, which Naftohaz has yet to sign, and has actively campaigned to eliminate murky intermediaries from the gas trade between the two countries.
Ukraine And European Energy Security
Ukraine And European Energy Security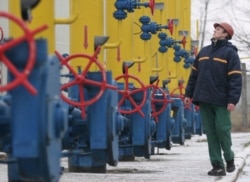 A worker inspects a gas facility outside of Kyiv (epa file photo)

MURKY CONNECTIONS. A year after the so-called gas war between Moscow and Kyiv, energy transhipments from Russia to Europe via Ukraine remain a concern. On December 1, RFE/RL's Washington office hosted a briefing featuring Tom Mayne, an energy researcher for the London-based Global Witness. Mayne discussed the lack of transparency in the energy sectors of Ukraine, Russia, and gas supplier Turkmenistan.
LISTEN
Listen to the entire briefing (about 60 minutes):

Real Audio
Windows Media
RELATED ARTICLES
Neighbors Watch As Russia Moves Toward WTO Membership
Kyiv Announces Terms Of New Russian Gas Deal
Former U.S. Ambassador Says Kyiv Can Cope With Gas Price Rise
ARCHIVE
RFE/RL's English-language coverage of
Ukraine
,
Russia
, and
Turkmenistan
.