Belarus: Independent Media Targeted By Authorities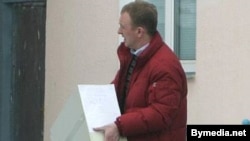 By Michael Scollon http://gdb.rferl.org/A2A90C23-62FF-4CC1-8183-DAC69F598CA0_w203.jpg Materials were seized from Radio Racyja in Minsk (Bymedia.net) Raids on the offices of independent media outlets, journalists' private apartments, and the recent mass arrests of opposition activists in Belarus have evoked a harsh reaction by the West -- but the criticisms have apparently fallen on deaf ears.
The Belarusian authorities this morning resumed their crackdown, a day after dozens of journalists were detained for questioning by the KGB. Many of them also had their private apartments searched.

In a telephone interview with RFE/RL, independent journalist Alena Stsyapanava described the KGB's search of her home in Vitsebsk.

"Around 9 a.m. someone rang to my apartment -- not from the house intercom but the doorbell," Stsyapanava said. "My husband opened the door. I heard that he was being asked for the passports of residents because, they said, it was a check of whether the residents have the right to live there. Only after that did they show us a search warrant."

Targeted were media outlets or journalists with ties to the outside world, including Radio Free Europe/Radio Liberty. Investigators also zeroed in on employees of Radio Racja and Belsat, both primarily Polish-funded, and the EU-funded European Radio for Belarus -- which have all been denied government accreditation.

U.S. Criticism
In a statement issued on March 27, U.S. State Department spokesman Sean McCormack condemned the raids, saying, "some 30 independent journalists in 12 cities were detained without legitimate cause."

He said this week's incidents show that a "brutal, authoritarian dictatorship that blatantly ignores human rights and fundamental freedoms" is in power in Belarus.

Polish President Lech Kaczynski expressed the "deepest possible anxiety" over the developments, and said the situation in Belarus is taking a turn for the worse.

Homel-based independent journalist Anatol Hatouchyts spoke to RFE/RL after his home was searched on March 27.

"I have been a professional journalist for more than 30 years. Naturally, I have a computer, and my wife has a computer. I have tape recorders, diskettes. All this was confiscated. They confiscated 31 items in total. In fact, all this was done in order to paralyze the work of journalists who work for nonstate media," Hatouchyts said.

Belarusian Foreign Ministry spokeswoman Maryya Vanshyna said on March 27 the searches were being conducted to uncover journalists working illegally in Belarus. "The illegal character of these individuals' activities in Belarus has never been hidden by their foreign owners," she said.

Cartoons Controversy
Belarusian Deputy Prosecutor-General Alyaksey Stuk, however, told RFE/RL's Belarus Service the same day that investigators were looking for signs the targeted journalists had cooperated with the creators of animated cartoons deemed insulting to President Alyaksandr Lukashenka.

Independent journalist Stsyapanava supported Stuk's claim.
"The search was linked to me. The search warrant stated that I have to be a witness in a criminal case opened in 2005 against citizens by the name of Marozau, Minich, and Abozau," Stsyapanava said. "While staying abroad, they allegedly disseminated -- via the television company Belsat -- cartoons that defame the president of the republic of Belarus."
Andrey Abozau, Pavel Marozau, and Aleh Minich fled Belarus in 2007 to avoid arrest in connection with the cartoons, which were originally posted on their website, "Third Path," and continue to circulate on the Internet.
Defaming the Belarusian president is punishable by up to four years in prison.
The Polish-funded television station Belsat, which has broadcast the cartoons, said 20 of its Belarusian employees were detained. The Belarusian Journalists Association recorded 16 journalists who were either detained or whose apartments were searched.
A human rights activist was also reportedly detained during a search of a journalist's apartment in Visebsk for swearing. Pavel Levinau had arrived on the scene to ensure that the search was being conducted in accordance with the law.
The Belarusian Journalists Association has petitioned the Prosecutor-General's Office to stop the searches, and has objected to the confiscation of audio and video equipment and printed material.
Embassy Recall
The crackdown came on a day that 17 U.S. diplomats left Belarus -- a concession to Minsk's recent demand that the U.S. Embassy's staff be halved. U.S. Ambassador to Belarus Karen Stewart was recalled two weeks ago, and some embassy services in Minsk have been curtailed or suspended.

The staff reductions followed accusations that the embassy had recruited a dozen Belarusians to pass information for use against Belarus to the FBI -- allegations the United States has denied.

U.S.-Belarusian relations were further strained when truncheon-wielding Belarusian police violently broke up a street rally on March 25 and detained some 80 demonstrators. Several hundred opposition activists had gathered in a Minsk square to mark the 90th anniversary of the creation of the Belarusian People's Republic, which was subsequently crushed by Bolshevik forces.

The newly appointed U.S. assistant secretary of state for democracy, human rights, and labor, David Kramer, told RFE/RL earlier this week that breaking up the rally was "thuggish behavior on the part of the security forces."

"A reminder, I think, of the total lack of respect that the authorities have demonstrated in the past for citizens' rights to assemble and speak freely. It is very unfortunate that a number of people not only were arrested, but many beaten up by the authorities. Totally uncalled for," Kramer said.

Kramer at the time touted a united U.S.-EU front in calling for the Belarusian authorities to ease restrictions on citizens and civil society.

"Belarus is in the heart of Europe, and it remains the last dictatorship in Europe, and it is a country where, together, the United States and the European Union feel we need to both apply pressure on the government so that it demonstrates greater respect for human rights for its own citizens, but also where we reach out to civil society and the democratic opposition and NGOs in Belarus to show that we support what they are trying to achieve in their country," Kramer said.

The EU has echoed the U.S. condemnation of the recent events in Belarus, calling on Belarus to end the crackdown if it wants to improve relations with the bloc.

Since the beginning of the year, President Lukashenka has indicated that he wants to improve relations with the EU. He has released most of the country's political prisoners -- a key EU demand -- and given the European Commission the go-ahead to open up a branch in Minsk.
However, one former Belarusian political prisoner, Syarhey Skrabets, believes Brussels could do more:
"I think all this [political persecution] takes place only because the European Union maintains permanent contacts with the current authorities. Had they taken the position that was taken by the United States, all this would not have happened."
RFE/RL Belarus, Ukraine, And Moldova Report

SUBSCRIBE For weekly news and analysis on Belarus, Ukraine, and Moldova by e-mail,
subscribe to "RFE/RL Belarus, Ukraine, And Moldova Report."