Russia: In Daghestan, Curtain May Close On Play Recalling Dubrovka Tragedy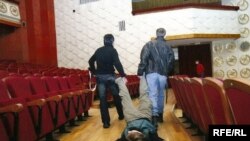 Actors rehearse a scene from "In Your Hands" about the deadly Dubrovka theater siege in Moscow in 2002 (RFE/RL) MOSCOW -- Fairy lights twinkle on the stage at what might be the start of a fun-filled musical extravaganza.
Then a woman in black appears, veiled, and with explosives strapped to her waist. A gun is slung across her shoulders. Suddenly, the audience realizes that things have gone wrong.
This is the opening scene of Natalia Pelevine's "In Your Hands," a play that portrays the tragic events that took place at the Dubrovka theater in Moscow in October 2002. Then, just as in Pelevine's play, hundreds of theatergoers flocked to watch "Nord-Ost," a popular musical that had recently opened in the capital.
But as the curtains opened at that fateful performance in 2002, militants from the breakaway republic of Chechnya took to the stage, wielding guns and threatening to blow up themselves and the theater unless the Russian government put an end to a bloody war in the mountainous North Caucasus region. Many of the hostage-takers were women -- the "black widows," so called because they wore only black after losing their husbands in the war.
But the Russian government refused to negotiate, and four days later, special forces stormed the theater after first pumping a mysterious gas into the auditorium. All 41 of the hostage-takers and 160 of the hostages died in the assault, most apparently due to the effects of the gas.
Pelevine, who was born in Russia but has lived in the United Kingdom since her teenage years, was deeply upset by the event.
"Just the whole idea -- and me being a theater person -- the whole idea of a theater being taken over in such a way, it just shocked me profoundly," she says. "This time, I decided to channel it through my writing, and do something about it. So that's what provoked [the play]. The idea is to try to make audience members feel as if they've been taken over by the terrorists, to create that atmosphere as much as possible, and that mood."
Chilling Performance
"In Your Hands" closely follows the events of the Dubrovka siege, with actors scattered throughout the real audience playing the roles of some of the theatergoers back in 2002. It's a chilling performance, one Pelevine says is supposed to provoke spectators into thinking how they would behave in a real hostage situation.
The play was first staged in a small theater in London two years ago. Now Pelevine has brought it to an 800-seat theater in Makhachkala, the capital of the North Caucasus republic of Daghestan -- a venue more similar to the Dubrovka, which makes it feel even more realistic, she says.
The opening night last week was a full house, with even Daghestan's president, Mukhu Aliyev, showing up on short notice to watch.
"We had no previous warning that he would be showing up," Pelevine says. "He walked out at the end of the play, without applauding, literally before the curtains even fell, which we obviously read as not a good sign. Shortly afterward, the director approached me and said: 'Well, we're done. The play is finished. They told us to shut it down.' We were told to make it just go away -- now and for good."
Aliyev, who is seen as a deep Kremlin loyalist, assured reporters in Daghestan earlier this week that although he had not enjoyed the play, he had not called for a ban. On his official website, Aliyev says he cannot understand the point of the play, which appears to glorify terrorism, but adds that he is against censorship of any kind. He says the order to close the play may have come from the republic's Culture Ministry.
No Ban, 'In Principle'
But a spokesman for the ministry, Murat Atayev, told RFE/RL that wasn't the case. "Well, in principle, officially, there has been no ban on the play," he says. "It's just that the [culture] minister has taken ill, and the leading actress has also fallen ill, and so it seems that the show cannot go on. That's how it has turned out."
Atayev told RFE/RL that the director of the play, Skandarbek Tulparov, also appeared to have fallen ill. But Tulparov, apparently in reasonable health, said the show will go on, with a fresh performance scheduled for April 12. (Editor's note: The play was not performed on April 12. Tulparov said afterward that the performance "was not banned, but it was not permitted, either.")
"Now it seems that the president says he never ordered the play to be canceled, so we will continue with the show," Tulparov says. "Our next show is on the 12th. They seem to be saying now that they never banned it. It looks like he is saying he has a negative opinion about the play, but he also says that he is entitled to his own opinion."
But Pelevine, who left for Moscow after the debut performance, says she is convinced the ban came from Aliyev himself, and accused the Daghestani leader of making spurious claims about the play.
"He went as far as to connect this to England, and to [London-based Russian business tycoon Boris] Berezovsky, probably the most well-known oligarch in exile," Pelevine says. "And he went as far as to accuse me of trying to destabilize the republic of Daghestan. I take this very seriously, and I have every intention of taking this to court."
Touched A Nerve
Berezovsky, once a close ally of former Russian President Boris Yeltsin, was a strong supporter of the first Russian campaign in Chechnya, from 1994-96. But when Vladimir Putin came to power, he fell afoul of the new regime and fled to the United Kingdom, where he was granted asylum. Today, he is a vocal critic of the Russian government.
Pelevine's play undoubtedly touched a nerve in a region that borders Chechnya and that has its own troubled history of hostage-taking dramas, most notably the 1995 siege in Budyonnovsk staged by Chechen separatists led by Shamil Basayev and Salman Raduyev. Violence has steadily risen in the republic in recent years, and Aliyev has been tasked by the Kremlin with attempting to fight the rise of Islamic insurgency.
For Pelevine, the choice of Makhachkala as a venue was appropriate. While the play's fate remains uncertain, she says the audience at the premiere appeared to be very moved by the drama.
"Women cried. I saw all that. I'm sure there were those who didn't like it. Theater is all about that," she says. "It's all about some kind of dialogue and feelings and feedback. But unfortunately this was a slightly different situation altogether. The rest of the public who booked their tickets for the following performances were never given a chance to make up their own mind. And that's very sad."
RFE/RL's North Caucasus Service contributed to this report

SUBSCRIBE For weekly news and in-depth analysis on Armenia, Azerbaijan, Georgia, and Russia's North Caucasus by e-mail,
subscribe to "RFE/RL Caucasus Report."