Among the hostage takers were 19 women -- marking the largest participation of female Chechen militants in any operation since the start of Russia's second war against separatists in the North Caucasus republic.
Dressed in black, their faces covered, the explosives-laden Chechen militants sat among the some 700 hostages taken during a sold-out performance at a Moscow theater.

As images of the Dubrovka hostage taking reached the world in October 2002, it became evident that many of them were not your average terrorists -- they were women, known as Chechnya's "black widows."

Deadly Debut

They had struck before. In 2000, Khava Barayeva became the first when she drove a truck filled with explosives into a building housing Russian special forces in Chechnya. The rebels claimed that 27 were killed in the attack.

The second black widow attack came in November 2001. Elza Gazuyeva, targeting the man she blamed for the death of her husband, approached Urus-Martan regional commander Gaidar Gadzhiyev and asked him, "Do you still remember me?"

She then set off an explosive device that killed her, the Russian officer, and his bodyguards.

American sociologist Rosemarie Skaine, in her book "Female Suicide Bombers," addresses the phenomenon that was soon to become a regular feature of the second Chechen war.

"I have a philosophy about most women that participate," Skaine says. "There may be several factors that make people enter it. For instance, in the case of the Chechen women, several of the families received large sums of money for them performing these tasks. But I believe that they themselves would not do this kind of thing if there weren't mediating forces in society. In other words, it's true, some women have personal reasons."

In the case of Gazuyeva, revenge was clearly a factor. Gazuyeva lost 16 of her relatives in the war. She claimed Gadzhiyev killed her wounded husband in the hospital, in front of her eyes.

But never before had the world seen anything on the scale of the black widows' involvement in the hostage taking at the Dubrovka theater less than a year later.

Mass Appeal

Of the 41 militants who took part in the siege, 19 were women. Skaine offers an explanation for what could have led so many women to place their lives on the line.

"I think that women combatants who engage in these suicide attacks are responding to a force that is common in their environment, such as nationalistic reasons," Skaine says. "I believe that Chechen rebels would fit in this category, and that inclines them to give their lives willingly. The inclination to commit suicide, I think, has its source in the moral constitution of the groups that are in that society. And that's what we found from the Chechen women. They had a chosen mission, but then they also had these mitigating forces in their society that allowed them to go ahead and do this."

Moreover, Skaine says, one can't deny the success of such tactics.


"In war, and I consider suicide terrorism a tactic of war, whatever you can do to get one up on your enemy, get ahead, you will use that tactic," she says. "In the beginning I think women were used as a surprise element. But as that began to work then, of course, they gained more status within their own groups and were pretty valued -- because it worked."
As many of those inside the theater succumbed to the effects of a gas pumped into the theater by Russian troops, the black widows sat among the hostages.
They waited for the order to set off their explosives as the male militants took up defensive positions. The order never came. The Russian commandos entered the building, killing all of the hostage takers.
Observers like Skaine can only speculate as to why the black widows didn't set off their bombs.
"From my research, I learned that probably several things might have been going on," Skaine says. "They did not have the authority, perhaps, to do so without an order from the men. If they were aware of it, they did not really have the authority to detonate the bombs."
Black Widow Motivations
A subsequent failed attack might have provided the greatest insight into the mind of the black widow. In 2003, Zarema Muzhikhoyeva failed in her attempt to detonate a bomb outside a restaurant in central Moscow.
As a widow, she was bound by Chechen tradition to return to her husband's family following his death. She did, entering what she later described as slavery. Her husband's brother took away her 5-year-old daughter, saying he would bring her up himself. Taking back her child, she attempted to run away but was stopped at the airport by relatives.

She had been disgraced in the eyes of the family. Later, she was offered the chance to redeem herself by conducting a suicide attack. By dying in the name of God she would be able to enter paradise as a virgin, according to Skaine.

"Evidently, their goal is to be the queen of all virgins," Skaine says. "If they are not a virgin on Earth, then, by committing this act, Allah makes them pure. And they will enter into eternity by not having committed a sexual act. They will be a virgin. And they want to be the purest of pure and hopefully, the queen of all virgins.

Or, in the reported last words of the first black widow, Khava Barayeva: "I know what I am doing. One has to pay for paradise. I think I paid."
Chechen Female Suicide Bombers
Chechen Female Suicide Bombers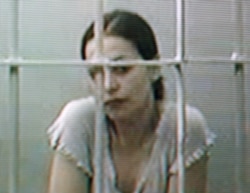 Zarema Muzhikhoyeva, who was arrested in July 2003 while attempting to explode a suicide bomb, in a Moscow court in August 2004 (TASS)
RADICALIZED WOMEN: In October 2002, 42 Chechen militants seized hundreds of hostages in a Moscow theater. Nineteen of the hostage-takers were women, marking the first time women had participated in a mission of this type on this scale. However, Chechen women have been carrying out suicide and other attacks since at least 2000.
September 1-3, 2004: More than 30 Chechen terrorists seize more than 1,000 hostages at a school in Beslan, North Ossetia. According to reports, two to four of the terrorists were women.
August 31, 2004: Roza Nagayeva , the sister of Amanat Nagayeva (see above), blows herself up outside a Moscow metro station, killing 10.
August 24, 2004: Two Chechen women, Amanat Nagayeva and Satisita Dzhbirkhanova, detonate explosives on two Russian commercial airliners nearly simultaneously, killing a total of 90 people.
February 6, 2004: An unidentified woman kills more than 40 people in a suicide bomb attack in the Moscow metro.
December 9, 2003: An unidentified woman blows herself and six others near a Moscow hotel.
December 5, 2003: Four suicide bombers -- reportedly three women and a man -- blow up a commuter train in southern Russia, killing at least 44 people.
July 27, 2003: An unidentified woman blows herself and a female civilian up at a security checkpoint in Grozny.
July 10, 2003: Zarema Muzhikhoyeva is detained while attempting to explode a bomb near a downtown Moscow hotel. A police sapper is later killed trying to disable the bomb.
July 5, 2003: Two female suicide bombers -- Zulikhan Elikhadzhiyeva and Maryam Sharipova -- kill 14 at Moscow rock concert.
June 5, 2003: An unidentified female suicide bomber blows up a bus in Mozdok, North Ossetia, killing at least 18.
May 14, 2003: One or two female suicide bombers kill at least 16 at the Chechen town of Iliskhan-Yurt. Russian authorities believe the attack was an attempt to assassinate pro-Moscow Chechen leader Akhmed-hadji Kadyrov.
May 12, 2003: Two or three suicide bombers explode a truck at a government complex in Znamenskoye, Chechnya, killing at least 60 people. According to some reports, the truck was driven by two unidentified women.
October 23-26, 2002: Nineteen of the 41 militants who seized hostages at a Moscow theater were women. All the terrorists died when special forces stormed the building.
November 29, 2001: Elza Gazuyeva detonates a bomb, killing herself and a Russian military officer in Urus-Martan. Gazuyeva blamed the officer for ordering the killing of her husband.
June 7, 2000: In the Chechen town of Alkhan-Yurt, Khava Barayeva -- a woman related to two Chechen field commanders -- detonates a truck bomb. The Russian military says two soldiers were killed.
CHRONOLOGY
An annotated timeline of
the Chechnya conflict
. An annotated timeline of
major terrorist incidents
related to the Chechnya conflict.


RFE/RL's complete coverage of Russia's war-torn Republic of Chechnya.