The 27-year-old sales and advertising executive uses the Internet at work -- to sell his company's goods -- and at home to stay in touch with friends, meet new people, and keep up with the news.
"Computers and the Internet -- including services such as e-faxes and e-mails -- have become increasingly popular in workplaces, where people use them for communication, searches, and storing data," he says. "The age of using paper and paperwork has passed."
With about 15 percent of the population plugged into the Internet, Iran is home to one of the largest populations of web users in the Middle East.
But Mohammad says the length of time it takes to open websites is extremely frustrating and is the biggest problem for Iranians who have Internet connections at home.
In Iran, only offices and companies are allowed to have high-speed Internet connections.
"It becomes extremely annoying, especially when you want to download a photo," Mohammad says. "Downloading video takes ages ,and sometimes it's simply impossible to open and watch a video on the Internet."
Omid Habibinia, a Swiss-based communications expert, confirms Iranians' complaints about the glacial pace of the Internet in their country. He tells Radio Farda that in many cases, it is 100 times slower than the average speed in the United States or Europe.
Mixed Signals
Iranian authorities acknowledge the problem and blame it on the country's Internet service providers.
Iranian Communication and Information Technology Minister Mohammad Soleimani, however, insists that the existing speed is perfectly adequate "to use at home and universities and even for downloading a 500-page book from the Internet."
Soleimani told the semi-official news agency Fars earlier this month that there are not enough private Internet users in Iran who are willing to pay for high-speed Internet connections.
But Internet experts and media-rights defenders accuse the authorities of deliberately keeping the Internet speed low in order to frustrate people from downloading photos and video and reducing the amount of information they can access.
While the Internet has become an essential part of the lives of millions of young, tech-savvy Iranians, the authorities "try to restrict people's access to the free flow of information through the Internet," according to Habibinia.
"I don't believe that the problem here is the lack of customers," Habibinia says. "The minister himself once has said the high-speed Internet would create security problems. In reality, the low Internet speed has become a tool to keep the net restricted, it has become a tool to censor the Internet directly and openly."
Specific Targets, Too
Reza Moeni, who is in charge of the Afghanistan, Iran, and Tajikistan desk at the Paris-based organization Reporters Without Borders, notes official bans on websites and unofficial filtering-out of webpages, and he calls the lack of fast Internet connections yet another way for the government to block the flow of information.
Iranian authorities maintain that they only block immoral websites that contradict Iranian society's ethical values -- such as pornographic websites.
In reality, however, they block access to many local and international news websites, the sites of rights activists, and political opponents' blogs and online publications.
"Whether those websites that have been blocked most recently in Iran -- including the websites of the Iranian Women's Society, the One Million Signatures Campaign, and Amir Kabir University -- were against moral values or were they only using freedom of speech to freely distribute information?" Moeni says. "The majority of the websites that face censorship and filtering in Iran are news sites and blogs, the kinds of websites that exist freely elsewhere in the world."
Even social networking sites like Facebook have been filtered in Iran. Online social forums and chats have become increasingly popular among Iranian young people, with many of them finding friends and even spouses through such networking.
Mohammad, the young Iranian professional, says that "nowadays, even music sites are being blocked."
But as the authorities try to limit young people's access to the Internet, Iranian users are finding ways to get through the state's technological barriers.
Some Iranians use so-called proxy sites or antifiltering search engines to access websites that have been blocked by the government. And "proxies," in turn, also slow down Internet access speed.
"Well, we had to find our own ways to use the Internet," Mohammad quips, "because it seems that the authorities want to block every single site on the Internet, apart from the Iranian security services' website."
Radio Farda correspondent Hassan Jafari contributed to this report
Iran's 'No Browse' Zone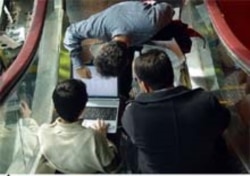 BLOCKED SITES: Iran's state Information Technology Company announced in September 2006 that more than 10 million websites were being "filtered" in Iran. They included the following, organized by category.
Forums, Sharing, and Entertainment:
The Google-owned Internet social network system www.orkut.com
The video-sharing website www.youtube.com
The photo-sharing website and web services www.flickr.com
The Kurdish version of Wikipedia's online encyclopedia www.en.wikipedia.org/wiki/Kurdish
Social and Human Rights:
London-based www.amnesty.org, one of the world's leading human rights defenders
New York-based Human Rights Watch www.hrw.org, also one of the leading human rights defenders in the world
The Paris-based Reporters Without Borders www.rsf.org, a leading media watchdog
The official website of the Tahkim Vahdat Organization, the largest reformist university organization in Iran www.advarnews.us. The group covers news concerning student activism in Persian
The www.gozaar.org website, a monthly Persian-English journal devoted to democracy and human rights
The www.meydaan.com website, a Persian site dedicated to women's rights and activism in Iran
News and Politics:
The Prague- and Washington-based www.radiofarda.com, a joint venture of RFE/RL and VOA covering news in Persian
The Persian service of the London-based BBC www.bbc.co.uk/persian
The Persian service of the Washington-based Voice of America www.voanews.com/persian
The Amsterdam-based www.radiozamaneh.com, which covers news in Persian
The pro Islamic Republic Tehran based www.baztab.ir covering political and social issues
Brussels-based www.gooya.com, featuring articles by journalists and political figures
The Amsterdam-based daily journal www.roozonline.com, which features articles and interviews in Persian and English
Weblogs:
The Google-owned blog publishing system www.blogger.com
The Harvard-based www.globalvoicesonline.org, a blog that summarizes events in the blogosphere in every corner of world
Numerous personal weblogs from around the world, both in Persian and English, with different views and focusing on different subjects including:
www.doomdam.com (satirical blog)
www.kosoof.com (photo blog)
(source: Radio Farda)