WASHINGTON -- The first major foreign-policy crisis of the U.S. presidential campaign has given American voters a preview of how the presumptive candidates, Republican John McCain and Democrat Barack Obama, might one day react in similar situations.

On August 7, Georgian troops moved into the pro-Moscow breakaway region of South Ossetia after battling separatist forces for days. Russia responded in force, sending troops, military aircraft, and tanks to repel Georgian forces. Fierce fighting ensued, leaving many civilians and soldiers dead.

Just hours after the conflict ignited, McCain -- a decorated navy veteran known for talking tough on issues of national security and foreign policy -- urged the nations of the world to pressure Russia to withdraw.

"The United States should immediately convene an emergency session of the United Nations Security Council and call on Russia to reverse course," McCain said. "The [United States] should immediately work with the EU and the OSCE to put diplomatic pressure to reverse this perilous course that it has chosen."

For Obama, who has been criticized for his lack of foreign-policy experience, the crisis gave voters a chance see how he can remain cool-headed. He was more cautious, issuing a call for restraint on both sides.

"I wholeheartedly condemn the violation of Georgia's sovereignty," Obama said. "I think it is important at this point for all sides to show restraint and to stop this armed conflict. Georgia's territorial integrity needs to be preserved and now is the time for direct talks between the various parties on behalf of stability."

Restating Their Positions

By August 11, with the death toll mounting and Russian air strikes on Georgian towns increasing, both candidates felt the need to restate their positions.

McCain held a press conference during a campaign stop in Pennsylvania. He said Russia was trying to intimidate countries like Georgia and Ukraine for "choosing to associate with the West" and for embracing Western political and economic values.

McCain admonished NATO for so far denying Membership Action Plans to Georgia and Ukraine, saying the decision "might have been viewed as a green light by Russia for its attacks on Georgia."

And he made it clear that Russia will pay a price if he is elected president.

"Russian President [Dmitry] Medvedev and Prime Minister [Vladmir] Putin must understand the severe, long-term negative consequences that their government's actions will have for Russia's relationship with the United States and Europe," McCain said.

Obama was in Hawaii on a family vacation when fighting broke out. The international community must work together to find a way to stop the bloodshed, he told reporters.

"We seek a future of cooperative engagement with the Russian government and friendship with the Russian people," Obama said. "We want Russia to play its rightful role as a great nation, but with roles come responsibilities to act as force for progress in this new century, not regression into conflicts of the past. That is why the United States and the international community must speak out strongly against this aggression and for peace and security."

No Surprises

Neither man's reactions surprised the Western foreign-policy community.

McCain's dislike of Russia extends to kicking it out of that elite economic club of nations, the Group of Eight. He feels Russia's reversals on democracy make it unworthy for membership in an organization where all others are democracies.

McCain also has deep personal ties to Georgia.

His top foreign-policy adviser, Randy Scheunemann, lobbied for Georgia in the U.S. Congress, including for its accession into NATO. McCain has been a friend of Georgian President Mikheil Saakashvili since 1997, and his campaign made a point of telling reporters that McCain was in regular phone contact with the Georgian leader throughout the crisis.

Obama, too, spoke to Saakashvili at least once, according to his campaign. Like McCain, he was also briefed on the crisis by Secretary of State Condoleezza Rice and White House national security adviser Stephen Hadley.

In his statements on Russia, Obama has often said that Moscow is "neither an enemy nor a close ally," and has consistently advocated a closer working relationship on matters of shared importance.

He has stressed the need to push Moscow to make democratic reforms and said the United States "must work with Russia to make sure every one of its nuclear weapons and every cache of nuclear material is secured."

Neither has Obama shied away from criticism of Russia. He said he was "deeply troubled" by a decree issued by then-President Vladimir Putin that established closer governmental and legal relations with Abkhazia and South Ossetia without the approval of the Georgian government.

He called the move "contrary to Russia's obligations as a permanent member of the UN Security Council" and said it "threatens the Georgian government and emboldens the secessionist forces in Abkhazia and South Ossetia."

Second Thoughts?

So perhaps it wasn't surprising that by August 12, when French President Nicolas Sarkozy's shuttle diplomacy between Tbilisi and Moscow was beginning to bear fruit, more united the two candidates' positions on the crisis than divided them.

Both had condemned Russia for invading sovereign Georgian territory; both were calling for the UN Security Council to get involved; both restated their desire for NATO membership for Georgia; and both called for an international peacekeeping force in the disputed provinces.

You could almost hear the two teams of campaign advisers worrying that McCain's tough rhetoric had sounded too hawkish to U.S. voters tired of war, and that Obama's call for cool diplomacy had sounded too weak in a nation that still regards Russia a bit warily.

There may be a truce between Georgia and Russia, but the fight between Obama and McCain goes on.
Crisis In Georgia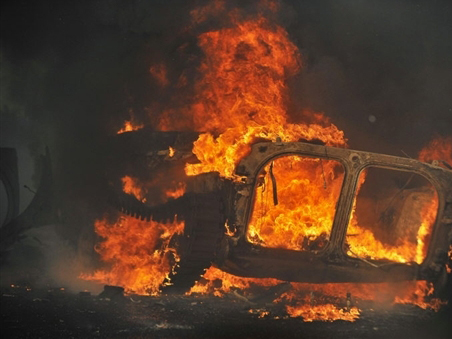 For RFE/RL's full coverage of the conflict that began in Georgia's breakway region of South Ossetia,
click here
.