CHISINAU -- Results from Moldova's parliamentary elections show that pro-Western opposition parties have enough votes to unseat the ruling Communist Party, promising to open a new chapter in the country's history.

But there are numerous allegations of fraud and observers say it's not clear the Communists would give up power easily.

The combined opposition held a narrow lead with 50.8 percent to the Communists' 45.1 percent, with 98 percent of the vote counted. That result would give the opposition 52 seats, enough to form a government but well short of the 61 votes needed to elect a president.

Opposition groups want Moldova to carry out reforms that would enable it to integrate with the European Union.

Critics say the Moscow-backed Communists unfairly dominated media coverage during the campaign.

Still, Natalia Morari, one of the chief organizers of protests that followed the Communist victory in parliamentary elections last April, says she's happy with the results. (Disclosure: Morari blogs for RFE/RL's Moldovan Service.)

"This is very important," Morari says. "Communists got less percentage and it really means the country wants some changes. And I really hope that something would change."

Voronin Dismissive

The mostly young protesters who came onto the streets in April accused the Communist Party of rigging the elections. Demonstrators stormed parliament and the president's office before the police cracked down. Many were beaten and several deaths were reported.

The Communists won almost 50 percent of the vote, but landed one seat fewer than needed to be able to elect a successor to Communist President Vladimir Voronin.

Voronin was unable to persuade a single opposition deputy to vote with the ruling party for a new president. After two failed votes, he was compelled to dissolve the legislature and call the July 29 elections.

Critics say Voronin has established a corrupt regime that would do anything to stay in power. Voronin dismisses exit polls as an "amateur performance," but opposition groups say they would have won even more votes if the elections had been free and fair.

Fraud Alleged

Corina Fusu, vice president of the Liberal Party, says her party will contest widespread fraud, including allegations that tens of thousands of names on voting lists were falsified.

"Dead people have turned up on those lists," she says. "Many people have complained that complete strangers were registered to live in their apartments and houses. That's all the work of the [Communist-controlled] Ministry of Information."

More than 3,000 Moldovan and international monitors observed the vote. Ion Creanga of League for Defense of Human Rights, Moldova's biggest election monitoring group, says there were numerous reports of violations during the voting, including a shooting by a Communist Party voter. But he says there's no evidence yet to undermine the official results, partly because of the large turnout.

"People have been voting very actively. They appear motivated by the elections, and many are interested in the results," Creanga says.

An opposition victory would help repair strained relations with Moldova's neighbor and EU member Romania, which Voronin accused of trying to overthrow the government last April. The two countries share a language and strong cultural ties. Much of Moldova was part of Romania until World War II.

Looking West

All eyes are now on Marian Lupu, a former Communist whom many had expected would be the party's choice to succeed Voronin last spring. Lupu split after Voronin selected another candidate, many say to retain power behind the scenes.

Now head of the centrist Democratic Party, Lupu has said the only way out of Moldova's political crisis is to form a broad national governing coalition.

Political expert Vlad Lupan says Lupu would probably join the liberal parties, which have established themselves since their election to parliament last April.

"A [political] dialogue was not present before the April 5 elections and that's why the April 7 protests and riots actually happened," Lupan says. "Meanwhile, the opposition strengthened their ranks. The liberals were basically able to come up with one voice."

The Liberal Party's number-two, Fusu, agrees, saying the opposition has already formed an alliance that's successfully cooperated in parliament:.
"The fact that the Communists were unable to find a single vote to elect a Communist as president shows we have the political will to keep our word," she says.

President Voronin may still be able to dissolve parliament, leaving him in his post until new elections that can only be held next year.

But Lupan says even if Voronin hangs on as head of state, an opposition-formed government would be able to ensure far fairer elections next year. He agrees with most who say the Communist grip on power is ending, and that Europe's poorest country has opted to look to the West.
Moldova Votes Again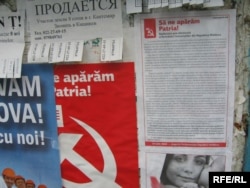 #moldovavotes
Through the eyes of RFE/RL correspondents and editors, guest bloggers, and other contributors who are following the July 29 national elections from the streets of Chisinau and far afield. Plus tweets and pics.
More