South Korean troops are poised to launch a life-fire drill on a small island close to the North, in defiance of threats by Pyongyang.
North Korea on December 17 warned of fierce retaliation if the South went ahead with the military exercises, scheduled to start on December 18 and last until December 21.
The island of Yeonpyeong, which lies close to the disputed maritime border with the North, sustained a North Korean bombardment last month, which killed four people.
An unofficial U.S. envoy visiting North Korea, Bill Richardson, has called the situation on the peninsula a "tinderbox" and urged the North to let the South proceed with the exercises.
Beijing, the North's main ally, has urged restraint from the rival states.
Many of the island's 1,600 residents have abandoned their home for the duration of the drill.
Those who stayed behind were jittery.
Lee Chul-hun, a middle-aged farmer, who stayed on the island, said he was "very nervous."
"Even though they might not attack North Korea, I'm very nervous." He added, "I'll be very nervous when they conduct drills."
Kim Young-soo, a bank employee, says he is still traumatized by last month's attack.
"Whenever I hear any banging sound, my heart beats very quickly. I've lost my appetite. I can't sleep well and I wake up many times in bed," he explains. "Memories of the shelling come back to me every night."
The new military drill has angered a number South Koreans, who say they are provocative and could spark an all-out war with Pyongyang.
In Seoul, a small group of demonstrators rallied in front of the defense ministry on December 17 to protest the planned drill.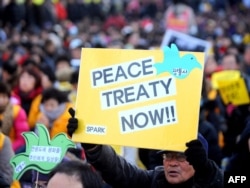 South Korean protesters attend an anti-war and anti-government rally in Seoul on December 18.
"We suspect that the South Korean Defense Ministry is trying to pull the North into a regional war by conducting a firing exercise," explained a protester named You Young-Jae. "There is a possibility that North Korea will respond by firing artillery shells, so why is South Korea conducting a firing training on Yeonpyeong Island?"
Others have chosen to wage an ideological war against the North.
A dozen North Korean defectors traveled to the Yeonpyeong island to send giant balloons carrying some 200,000 leaflets denouncing
last month's attack
towards the North.
The balloons also carried U.S. dollar bills and 500 CDs criticizing the regime of North Korean leader Kim Jong-il.
written by Claire Bigg, with agency reports