One year has passed since Natalya Estemirova was killed.
On July 15, 2009, the award-winning rights campaigner was bundled into a car outside her home in Chechnya's capital of Grozny.
Her body was found hours later by the side of a road in the neighboring republic of Ingushetia. She had been shot in the head and chest at close range.
Those who knew Estemirova say Russia lost one its brightest minds and bravest human rights defenders.
"Natasha was an incredibly bright person, both in the sense of intelligence as well as personal sparkle and charisma," says Allison Gill, the director of Human Rights Watch's Moscow office. "She had an ability to earn the trust of people who were terrified and help them work for justice."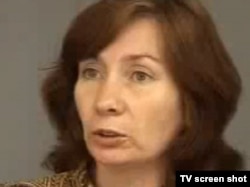 Natalya Estemirova
The death of the 50-year-old Estemirova, who had won worldwide acclaim for her tireless work in uncovering rights abuses in Chechnya, sparked international condemnation.
But despite the Kremlin's pledge to punish her killers, there has been no prosecution so far. Human Rights Watch last week condemned Russia for the lack of "tangible results" in the investigation, and many of her colleagues say they are losing hope the case will ever be solved.
Much-Criticized Probe
Investigators have named only one suspect in her murder: Alkhazur Bashayev, a Chechen rebel killed by Russian security forces in November 2009. Estemirova's colleagues, however, call this an attempt to whitewash the investigation.
Activists say they learned from leaks in the investigation that matching fragments of a gun's silencer were allegedly found at the murder scene and in a car fitting the description of the vehicle used to kidnap Estemirova. Investigators then reportedly discovered the gun, along with a fake police-identity card bearing Bashayev's picture.
According to investigators, the killing could have been retaliation for Estemirova's reports on crimes committed by Bashayev against Chechen civilians. But her colleagues are not convinced by this account. They accuse investigators of ignoring all other leads, including the possible involvement of Chechen officials.
"The main version put forward is very convenient," says Aleksandr Cherkasov of Memorial, the Russian rights group that employed Estemirova. "The killer is a militant, so he is an opponent of the Russian Federation. The killer is dead, so he will not be brought before a court and will not be able to challenge the accusations. This also means the case can be closed. We believe all this has little to do with justice."
Kadyrov Critic
Estemirova was one of the few people in Russia who dared to expose abuses by pro-Russian security forces in Chechnya.
Chechen leader Kadyrov described Estemirova's group as an "enemy of the people."
Her work had earned her threats from powerful Chechen President Ramzan Kadyrov, a former rebel turned Kremlin ally whose feared militia is often accused of torture and abductions.
Before her death, Estemirova had been working on cases that her colleagues describe as extremely sensitive. They included research on an extrajudicial execution and an instance of severe torture by Chechen security forces.
Gill says bringing Estemirova's killers to justice would signal the Kremlin's commitment to breaking the cycle of violence in Chechnya.
"In the context of Chechnya, where impunity is rampant, where accountability is absolutely absent after so many years of grave human rights violations, a murder like this has got incredible individual and larger symbolism connected to it," she says. "Justice in Natasha's murder would send a message to so many people in Chechnya and beyond that there is an end to impunity, that somehow the cycle of violence could come to an end."
'Enemy Of The People'
The anniversary of Estemirova's killing comes amid renewed tension between Memorial and Kadyrov.
Memorial director Oleg Orlov has accused Kadyrov of complicity in Estemirova's killing, prompting the Chechen leader to sue him for defamation. The criminal suit has now been dropped, but a court in October ordered Orlov and Memorial to pay Kadyrov some $2,200 in moral damages.
Earlier this month, Kadyrov branded Memorial an "enemy of the people, and enemy of the law, and an enemy of the state" in comments broadcast on Chechen television. And although his spokesman, Alvi Karimov, denies the remarks amounted to a threat, the group says it is bracing for more violence against its activists in Chechnya.
Estemirova's friends and colleagues say Kadyrov's fresh attack on rights campaigners, coupled with dwindling hopes of seeing her killers punished, is preventing them from reaching closure on her death.
"Horror, shock, grief, and anger," Gill says. "A year later, I still feel all of those things."
RFE/RL's North Caucasus Service contributed to this report