CHKHALTA, Georgia -- Jubilant rebel troops proclaimed the "liberation" of Abkhazia as they surveyed a remote gorge abandoned by Georgian forces, who dropped weapons, ammunition, and clothes in their flight.
The Abkhazian rebel forces took advantage of the defeat of Tbilisi's troops in South Ossetia, another separatist area where the Russian Army drove back the Georgians at the weekend, to capture the Kodori Gorge on August 12.
"Abkhazia has been completely liberated, there are now no Georgian troops on our territory. Abkhazia has reinstated its territorial sovereignty, we are just happy we have peace," Alexander Melnik, the unrecognized state's defense minister, told Reuters.
Russian troops did not appear to have been present before or during the assault. This correspondent has not seen a single soldier in Russian uniform since they pulled out two days ago.
"They left just before the operation started," Melnik said.
He was speaking in Chkhalta, once capital of the Georgian-backed administration of Abkhazia and now under total rebel control. The headquarters of the Georgian-backed government was almost totally destroyed.
Abandoned Stockpiles
Boxes of bullets, grenades and shells, mostly with English-language labels, lay on the roadside. At one point troops had to move a pile of mortar shells before they could drive on.
One stockpile of ammunition, machine guns, and mortars on five large trailers had been mined by the retreating Georgians, but the explosives had failed to explode.
The Kodori Gorge was the only part of Abkhazia, wedged between the Black Sea and the Caucasus mountains, still held by Tbilisi when its forces were defeated by the rebels in 1993.
The only trace of Georgian control was the still-operational Geo Magti mobile phone network which allowed some contact with the outside world.
Several kilometers from the government building was the undamaged barracks building.
The Georgian troops had abandoned jeans, flak jackets, helmets, toiletries, magazines, underpants, and half-packed rucksacks when they fled.
English-language instructions for a Bushmaster automatic rifle lay by one bed, and piles of destroyed American-made guns still smoked by the side of the road.
A pair of Abkhazian soldiers brandished an undestroyed assault rifle they had found. The only shooting this correspondent heard was them firing into the air in triumph.
Almost all the civilian inhabitants of the gorge appeared to have fled, and their houses were empty.
The village of Azhara, further up the gorge, was deserted although cattle still wandered between some of the houses. The houses were intact with no sign of shell damage.
"Perhaps some went to Georgia, perhaps some went up the mountains. We can see their cattle though, so they cannot have gone far," Melnik said. "I can guarantee that now this will be a peaceful place for the cattle."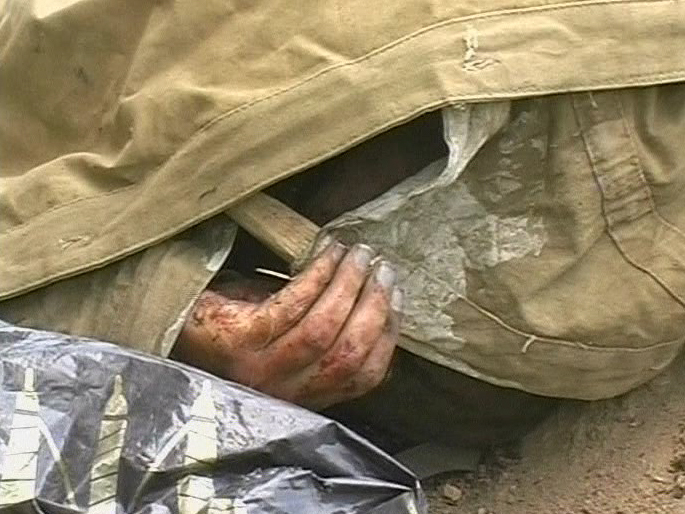 Clashes In Georgia: Chronology
Video of the fighting in Georgia's breakaway regions, and the latest efforts to end the conflict (Reuters video). Play


For full coverage of the clashes in South Ossetia, Abkhazia, and Georgia proper,
click here
.