GANJA -- "Worse than the army" is how one former ward recounts his residency at an orphanage in the northwest Azerbaijani city of Ganja.
Nail, who left the orphanage four years ago but asks RFE/RL not to use his real name, says beatings at the hands of the director and staff were a regular occurrence.
"Teachers would always complain to the director, and the director would summon us to her room and beat us there," he alleges. "Once my arm was broken, and I was left with it broken for a week with no [medical] help."
It's an alarming story, but one that is repeated to RFE/RL by several former residents who cite punishments that included beatings for dozing during all-night shifts and the scalding of 4- and 5-year-olds with metal spoons.
The politically connected director of the Ganja orphanage, Rafiga Nuriyeva, initially declines to speak with RFE/RL during a visit, but in a subsequent telephone interview rejects as "lies" the accounts provided by the former residents.
While outside experts are reluctant to weigh in on specific allegations at Ganja, they suggest such conditions are not far-fetched in a child-protective system that is plagued by corruption and prevents effective independent inspections. It is a stubborn problem, afflicting the ranks of the young and even attracting the attention of normally quiescent authorities.
The country's Interior Ministry appears to agree, blaming young offenders who were raised in orphanages for Azerbaijan's mounting criminality.
Broader Problem
Some 80 children currently live at the Ganja orphanage, with 25 infants slated to enter once they're old enough.
Yusif Bekirov, the chairman of Azerbaijan's League for Children's Rights, says he cannot confirm allegations of abuse at Ganja. But he says conditions in orphanages are generally poor, particularly outside the capital, Baku, and that his group receives frequent complaints of abuse in children's homes.
Bekirov says that while orphans are used for labor on construction sites and that beatings and humiliation are "routine," the Education Ministry refuses to allow NGOs to investigate orphanages.
"They know what's going on there," Bekirov says. "In some places, they've started carpet-weaving businesses and forced the kids to work for eight [or] nine hours straight. Then management sells the products and puts the money in their own pockets."
The Education Ministry declines a request by RFE/RL's Azerbaijani Service to visit other orphanages. In a written statement, the ministry says orphanages are "closed facilities" and it therefore "cannot provide access for journalists."
Allegations of widespread corruption in Azerbaijan's child-welfare system are not new. In 2003, a report emerged detailing the sale of more than 100 Azerbaijani orphans to organ-trafficking rings under the guise of foreign adoptions.
Despite its vast national oil wealth, most Azerbaijanis remain desperately poor, feeding fears that orphans are being used to feed illegal activities like prostitution, organ-trafficking, and slave labor.
'Mama Rafiga'
The director of the Ganja orphanage, Rafiga Nuriyeva, declines to speak with an RFE/RL reporter during a visit to the orphanage, but subsequently gives a telephone interview in which she dismisses the accusations and says "those kids are lying."
Nuriyeva, whom former residents say they were made to address as "Mama Rafiga" and compose poems in her honor for the holidays, notes her five decades of experience and says she has the personal support of Azerbaijan's first lady.
"I have 55 years of pedagogical experience," Nuriyeva says. "I'm a famous person in this country. Mehriban Aliyeva supports me."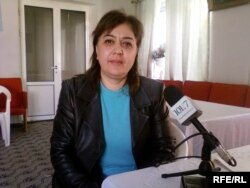 Aida Hasanova
Aida Hasanova, Nuriyeva's daughter and deputy director of the Ganja orphanage, defends the institution and says children receive family-style care and are reluctant to leave.
"We have a lot of talented kids," Hasanova says. "We provide computer courses; we teach girls to become dressmakers or good housewives."
Hasanova says her brother, Zaur Nuriyev, manages the children's extracurricular training. "He even records CDs of the children who have good singing voices. Our student, Aydan Aliyeva, is very famous; she was first in a national education competition."
Asked about the horror stories of beatings and children being forced to miss school, Hasanova is firm in her denial. "Sometimes we prohibit watching TV and other things they like, when they are trying to watch TV instead of studying," she says. "But we never insult or beat them. How could we? Their hearts are already broken."
City officials tasked with monitoring children's welfare say they have never received any complaints about the Ganja orphanage. Khayal Alizade, a lawyer for the city, says the home is regularly screened and has not been found lacking.
"When we go to the orphanage, we speak to the children. We check their living conditions, school attendance, [and] education," Alizade says. "We have never received any oral or written complaints about their attendance or other problems."
Free To Leave
"Tural," who spent 11 years at the orphanage before leaving to join the army, claims children were routinely denied school supplies and arbitrarily asked to skip classes -- often to clean or garden at the home of the director.
"We often had to miss classes -- they'd say the weather was too cold or that we were going to have guests," another former ward who still has ties to the facility says. "They just didn't want the kids to develop.... Most of the kids graduate with no knowledge whatsoever. Honestly, they 'blind' the kids."
Matanat Rzayeva, director of a nearby school, confirms that the Ganja orphans frequently miss classes. She says their attendance is the responsibility of the orphanage management, not the school.
The former Ganja wards who talk to RFE/RL complain that rampant negligence and abuse at the Ganja facility made success outside its walls a long shot at best. They say they were fortunate to have avoided a life of crime after their experience, and claim that many of their fellows were not so lucky.
Under to Azerbaijani law, the government is obligated to provide former orphans with a place to live even after they leave the orphanage.
In Ganja, Nail says children from the orphanage were enlisted to work "day and night" in the construction of one such home. He says the children were promised homes there, but those pledges were never kept. Nail says he thinks the entire project was a deliberate deception in order to use the kids' cheap labor.
City officials deny the housing was ever meant for any of the orphans.
"It's difficult to rent a flat," Nail says. "We went to the local administration and they said, 'There are thousands of orphans like you. There's nothing we can do.'"
Khadija Ismailova of RFE/RL's Azerbaijani Service contributed to this report