WASHINGTON -- On March 25, U.S. Secretary of State Hillary Clinton went before a congressional committee to request additional funding for the State Department's operations in Afghanistan.
"The military offensive rightly may get the headlines, but what happens behind the scenes is equally important," Clinton said. "As our military leaders put it, after clearing, we must hold, build, and transition."
She said her request for an extra $2 billion would be used to replicate success stories like those from Marjah, where enough "clearing" had taken place to allow for new schools, a prosecutor's office, and other institutions to be built.
That, she suggested, would help Afghans progress toward greater self-reliance.
But while Afghanistan's ambassador to the United States, Said Tayeb Jawad, agrees with Clinton's "build and transition" sequence, he is concerned that not enough building -- or not enough building of the right type -- is happening in his country.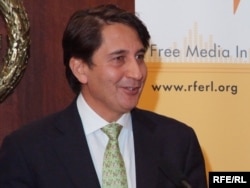 Afghan Ambassador Said Tayeb Jawad speaks at the opening of RFE/RL's 'Voices from Afghanistan' exhibit.
"Now we are spending so much money on building these institutions without actually spending money to bring [in] qualified Afghans to lead them," Jawad said during a speech at Johns Hopkins University in Washington. "Either they are not trained, or if they are trained, there is not enough incentive, financially or otherwise, for the Afghans to come and join the state institutions. They are much better off on the civilian side."
He continued: "There is a need to build the leadership in order to make these expensive institutions functional. Otherwise, the money will be wasted."
The need to invest in "human and social capital," Jawad said, is key to a stable and prosperous Afghan future.
Afghan Clearinghouse
Jawad spoke during an event to mark the establishment of a new group, the Foundation for Afghanistan. With an international board of directors, the organization says it wants to act as a "switchboard and clearinghouse" -- processing and funding project-based requests from the educational and social sectors in the country.
That might include everything from translating textbooks into Dari to training Afghan business owners in accounting practices.
But Jawad said the foundation should also help guard against corrupt misuse of the money, which has stymied international attempts at investment.
Jawad said the foundation's mission is in line with increasingly frequent calls by U.S. President Barack Obama and other U.S. officials for Afghans to take the initiative in improving their own lives.
He said he saw Obama's surprise visit to Afghanistan on March 28 as yet another call for Afghans to assume greater responsibility.
"We are fortunate that President Obama's new strategy -- and also, particularly, his trip to Afghanistan -- provide a new opportunity to further strengthen both Afghan capacity and Afghan responsibility, which are connected to each other," Jawad said. "There cannot be full Afghan responsibility unless we build Afghan capacity. And if the capacity is built but the responsibility is not given, then it is a waste of resources that takes place in the country."
While praising the "civilian surge" of trainers and workers that has accompanied Obama's troop surge, Jawad said resources are still falling far short.
In some cases, he said, successful initiatives expose even more want.
For example, university enrollment in Afghanistan has increased over the last seven years from 4,000 to 76,000 students, aided by the creation of some 15 new public and private universities.
That student surge, however, has left Afghanistan in desperate need of teachers.