U.S. President Barack Obama's special envoy for Afghanistan and Pakistan, Richard Holbrooke, is meeting representatives from 26 nations in Paris to compare notes on the ongoing crisis in Afghanistan.
Discussions are being overshadowed, however, by growing allegations of fraud in the country's recent presidential and regional elections.
Author Ahmed Rashid, an expert on Afghanistan, tells RFE/RL that the meeting in Paris was scheduled some months ago and should not be considered an emergency gathering following the country's elections.
Even so, the aftermath of the elections has made the Paris meeting significant.
An internationally managed complaints commission is now investigating more than 2,000 claims of irregularities in the ballot. The incumbent, President Hamid Karzai, is leading with nearly half the votes counted, but he has not yet reached the 50 percent mark, which would prevent a run-off against his top challenger, Abdullah Abdullah.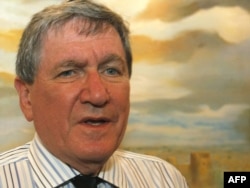 Richard Holbrooke
Speaking in Paris, Holbrooke said it doesn't matter to the United States if there is a run-off, but that a fair ballot procedure is vital.
"The postelection phase, the phase of determining who won, is going to be critical in determining the future of Afghanistan," Holbrooke said, while saying that disputes over voting irregularities are a normal part of the democratic process.
"It happens in democracies, even when they are not in the middle of a war," he said.
Nevertheless, the onging political crisis has many worried internationally. Of equal concern is the rising violence across the country. A suicide bomber killed at least 23 people, including the country's deputy head of intelligence, in an attack near a mosque in eastern Afghanistan on September 2.
"People will be asking what the Americans are going to do now after these elections and how they will stabilize the situation," Rashid notes.
'Very Serious Political Crisis'
Given the complicated situation on the ground, he says, there will be no easy answers at the Paris meeting.
"First of all, obviously, we have to wait for the full results to come out and to see who has won the elections. And then to see if there is a runoff in case Karzai does not get 50 percent of the vote," Rashid says. "Or if there is not a runoff and he does win, whether the opposition is ready to accept the results.
"I think there is some effort being made now to talk to all the leading contenders and to discuss the possibility of forming some kind of national government. But again, I think Abdullah, Ashraf Ghani, [and Ramazan] Bashardost -- the three major opposition leaders -- have all said that they are not prepared to work under Karzai. So, I think, we really have a very, very serious political crisis and a constitutional crisis right now."
Rashid adds that even if Karzai wins, there will strong Western pressure on him to include powerful technocrats in the cabinet, a proposition that Karzai might reject.
Rashid says it's difficult to say whether a Kenyan or Zimbabwean model, where rival political factions agreed to share power, would work in Afghanistan.
"It's a kind of thinking that will I think occupy the Western mind considerably, but whether Afghans will accept it or not, I don't know," Rashid says. "And Karzai, of course, is showing his independence more and more from the Americans and does not want to be seen as an agent of the West in any way."