Afghan President Hamid Karzai has risked renewed tensions with the Obama administration by demanding an investigation into a U.S.-backed anticorruption body in a move many believe is aimed at shielding his closest allies and strengthening his political control.
He has accused the Major Crimes Task Force -- made up of American and British law enforcement officers -- of breaching the Afghan Constitution and other regulations in its pursuit of allegedly corrupt officials.
The probe call follows the arrest last week of Mohammad Zia Saleh, an official in the national security adviser's office. Saleh was taken from his home late at night after wiretaps and other evidence allegedly showed that he had been bribed to block a corruption investigation of New Ansari, a Kabul-based finance company suspected of helping the well-connected funnel money out of the country, "The Washington Post" reported.
He is one of the most senior officials yet to be targeted by the force, which was launched last year to scrutinize the work of Afghan police and intelligence officials.
Karzai -- who has previously accused the Western media of blowing corruption in Afghanistan "out of all proportion" -- is believed to be unconvinced by the evidence against Saleh and to consider the arrest to be an affront to his own status as Afghan president.
He is also said to have been angered by remarks by General David Petraeus, the recently appointed commander of NATO forces in Afghanistan, that rooting out corruption would be one of his troops' key missions. Karzai is understood to believe Petraeus should confine his role to strictly military affairs.
Shield Key Allies
Some analysts believe the president's goal is to gain dominion over the task force and thereby shield key allies from its activities. According to Ajmal Samadi, director of Afghanistan Rights Monitor, an Afghan human rights group, Karzai wants to signal to the United States that control of corruption should be a prerogative of his government and not placed in the hands of foreign forces.
"He tries to keep the anticorruption activities under his control," Samadi says. "He will not allow the international community to interfere in his government's affairs with the corruption issue because he clearly understands that corruption can hurt very senior people who are allied to himself. Both his vice presidents have been accused of involvement in corruption. His key ministers have been involved. Even his brothers have been accused of corruption and land grabbing in Kandahar and Kabul.
"If Karzai allows internationals to lead this anticorruption task force, he will face very strong repercussions and people around him will find themselves very vulnerable, very weak, and they will no more support the president."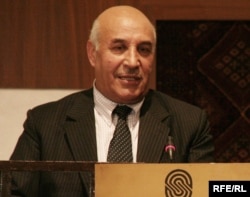 Attorney General Mohammad Ishaq Aleko
In a news conference in Kabul on August 5, Afghanistan's attorney general, Mohammad Ishaq Aleko, appeared to confirm that the aim was assertion of Afghan political control over the task force and said legislation would be passed to that effect.
"There were a series of concerns that the activities of this organization should be based on Afghan, Islamic, and humanitarian values, but there were some shortcomings in this regard," Aleko said. "Meanwhile, its job description should be legalized in a bill as a legitimate organization according to the Afghan Constitution and human rights and Afghan and Islamic values."
Karzai last week convened a commission of senior Afghan justice officials, which declared on August 4 that human rights had been violated in some instances.
Aleko said the commission had already visited detainees and inspected the facilities where they were being kept. It also interviewed prison managers and guards, he said.
Politically Reliant
While Karzai has publicly pledged to crack down on corruption, observers say he tolerates it among his own officials because he is politically reliant on them. Officials in the president's office have been said to demand bribes for taking petitions to Karzai and obtaining his signature. U.S. officials have accused Karzai's government of interfering in graft investigations and protecting politically connected figures from prosecution.
However, any attempt by the United States and its allies to retain control over the task force could lead to open confrontation between Karzai and Washington, Samadi warns.
"If the Americans insist on protecting this task force and demanding its integrity and independence, that will not be tolerated by Mr. Karzai," says Samadi. "[Karzai] thinks it should operate under his command and only target people he likes to target. But if the Americans insist that it should act independently and target any government official, I think there will be a possibility for potential disagreements between Washington and Kabul and that could further strain relations between Karzai and Washington."
Saleh -- the official detained last week -- was arrested based on evidence obtained from a wiretap system installed to target drug traffickers. Citing a U.S. law enforcement official, "The Washington Post" said associates of New Ansari -- the company suspected of helping politically connected Afghans transfer millions of dollars abroad -- agreed to give Saleh's son a car worth $10,000 in exchange for shutting down the investigation into its affairs.
The task force has notched up several successes on other cases. They include the arrest and subsequent conviction of Brigadier General Malham Pohanyar, a border police commander, who was handed a 10-year sentence this week on charges of collaborating with drug traffickers.
A report published last January by the United Nations Office of Drugs and Crime estimated that Afghans had paid $2.5 billion in bribes and kickbacks in the previous year -- equivalent to 23 percent of the country's gross domestic product. The report said the average payoff is $159, a significant sum in a country with a per-capita annual income of $425. It also stated that 59 percent of Afghans identified corruption as their biggest concern.

RFE/RL's Radio Free Afghanistan contributed to this report