Raees Ahmadzai spent his childhood as a refugee honing his cricketing skills on a dusty Peshawar schoolyard. Now at the top of his game, he is evolving from Afghan hero to international cricketing sensation.
It was a hard road to success, but one that helped pave the sporting future of an entire nation. This week marked Afghans' arrival in the world sporting arena, with the star all-rounder and his teammates entering a qualifying tournament for the Twenty20 World Cup as a favorite to advance.
The team passed its first hurdles, opening the tournament in Dubai by scoring consecutive victories over cricketing veterans Ireland on February 9, by 13 runs, and then over Scotland a day later, by 14 runs. The team finished its sweep of the group stage with a sound defeat of cricketing backwater the United States on February 11, by 29 runs, to gain a spot in the Super Fours.
Unable to find the batting mastery it exhibited in its first three victories, Afghanistan then suffered its first defeat, losing to the Netherlands by just four wickets in a close contest on February 12.
But Afghanistan enters its next match against United Arab Emirates on February 13 brimming with confidence, knowing that only a victory can keep its hopes alive for an appearance in the World Cup in the West Indies in April.
Speaking to RFE/RL following Afghanistan's defeat of the Americans, Ahmadzai struggles to express his pride and happiness: "When I see thousands of Afghans waving flags, I find it difficult to convey my contentment in words."
"We make ourselves happy by playing [good cricket] and make other Afghans cheerful as we shine and raise Afghanistan's name and flag around the world," Ahmadzai says.
Tough Road
The accomplishments of Afghan cricket have been achieved in the space of a mere eight years, the transformation beginning when Ahmadzai and most of his teammates returned to their native Afghanistan after having lived in exile in Pakistan for most of their lives.
Unlike kite flying and other pastimes banned by the Taliban, cricket was allowed in Afghanistan, possibly due to the sport's overwhelming popularity in neighboring Pakistan, where the Taliban enjoyed significant support. In 1995, Afghanistan even achieved entrance in international cricket's main organizing body, the International Cricket Council.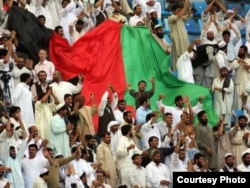 Fans unfurl a huge Afghan flag at the cricket qualifier against the United States. (photo International Cricket Council)
But Afghan cricket never truly took off until after the Taliban regime fell in 2001, ushering in the return of thousands of Afghan children equipped with balls, bats, and a keen knowledge of the game they had learned at refugee camps in Pakistan.
Kabir Khan, the bearded Pakistani coach of the Afghan national team, is proud of his side's achievements, noting its meteoric rise from 130th to 15th in the global rankings in the space of just one year.
This week its prowess in Twenty20, a type of competitive cricket in which each team is limited to just 20 overs per side, is on display.
But it is making gains in other, more prestigious forms of the game as well. In April 2009, the team secured the right to play in one-day international matches. It will have to watch the world's nine test-playing nations vie for the crown jewel of international cricket, the World Cup, from afar in 2011. But all eyes remain on the prize -- entering that arena to compete in five-day tests with the world's traditional cricket powers.
Keeping Hope Alive
For now, Coach Kabir sees his team rising rapidly in the newer, shorter, and more exciting Twenty20. He says that in his professional career, which has spanned two decades with the Pakistani national team and stints in league play in the United Kingdom, he has never seen harder-working cricketers. "They are talented, hardworking, and in are hungry to perform," he says.
"Whenever they have a chance to perform, they are not deterred even by the strongest international team," Kabir says. "In their hearts and minds, defeat is not acceptable. This is their main advantage, and that's why Allah grants them success in all contests."
Shahzada Masood, an adviser to Afghan President Hamid Karzai and deputy head of the Afghan Cricket Federation, tells RFE/RL that his country might have the worst cricketing infrastructure in the world. He says that while Afghan talent, resilience, and hard work may have gotten them a long way, they will need help if they are to become a major cricketing nation.
"Our biggest problem is the lack of proper cricket stadiums in the capital and the provinces," Masood says. "It is unfortunate to say that we do not have the kind of arenas that are standard in the rest of the world."
Star all-rounder Ahmadzai suggests that investing in cricket could ultimately be a point of national pride that might help maintain peace in Afghanistan. He hopes that one day the Afghan nation will be recognized for its cricket prowess, as Argentina and Brazil are for their achievements on the soccer field. "This is the reason why we need to engage Afghanistan's new generation in education and sports so they can be kept away from drugs and other bad things," Ahmadzai says.
"In my opinion, along with education, if they are helped in pursuing sports then we will see peace in every corner of Afghanistan," he adds. "And nobody will work toward maligning or destroying Afghanistan."
During his time with the Afghan team over the past two years, Coach Khan has noticed the great enthusiasm among young Afghans for cricket and the inspiration they have drawn from the successes of the national team.
He points to the example of the junior Afghan team, which made its way to the under-19 One Day World Cup in New Zealand in January after he trained them for just eight weeks.
"Every sport that attracts youngsters -- be it cricket, football, volleyball, or athletics -- has a message of peace," Khan says.
"They help steer our youth to expend their energy on positive things, and prevent them from taking a negative path."