Afghan Wedding Convoy Reportedly Hit By Coalition Air Strike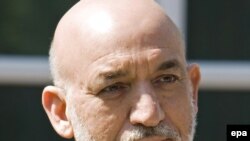 KABUL -- Afghan President Hamid Karzai has ordered an investigation into a U.S.-led coalition air strike that local officials say killed 15 civilians, but the U.S. military says killed only armed Taliban militants. But just as the president gave the order, accusations surfaced that another coalition air strike had killed 23 civilians traveling in a wedding convoy.

The issue of civilian casualties is an emotive one in Afghanistan, feeding a common perception international forces do not take enough care when launching air strikes, and undermining support for their continued presence in the country.

Nearly 700 Afghan civilians were killed in the first six months of this year, 255 of them by Afghan government and international troops, the rest by Taliban militants.

Karzai ordered the Defense and Interior Ministries and a body that oversees local government to investigate an air strike in the northeastern province of Nuristan on July 4.

Coalition ground troops called in attack helicopters after militants fired at an outpost, the U.S. military said.

"The helicopter crews coordinated with ground forces to positively identify the militants' vehicles. The attack helicopters then destroyed the two vehicles, killing more than a dozen militants," it said in a statement on July 5.

But the governor of Nuristan said 15 civilians were killed and seven wounded in the attack in the Waigal district of the province and none of the victims were militants.

"President Hamid Karzai has repeatedly emphasised the [need for] coordination of military operations and has been deeply saddened since learning about this incident," a statement from the presidential palace said on July 6.

Bride Among Those Killed

Both the NATO-led International Security Assistance Force (ISAF) and U.S.-led coalition forces say they take the utmost care to avoid killing civilians and ISAF tightened procedures for launching air strikes a year ago, which has had some effect.

ISAF accuses the Taliban of launching attacks from built-up areas in order to deliberately court civilian deaths and also spreading false rumours to discredit international forces.

But residents and local officials said 23 people were killed on July 6, when aircraft bombed a convoy bringing a bride to her new husband's village in the eastern province of Nangarhar, the Afghan independent Pajhwok news agency said.

"We were bringing the bride back to our village and on the way the Americans bombed us. I was in the first vehicle and all the vehicles behind me were destroyed," Shafiqullah, who brought some of the wounded to hospital in the city of Jalalabad, told Reuters. Three young boys were among those wounded.

The bride was among the dead, Pajhwok said.

The U.S. military said airstrikes targeted a large group of militants in Nangarhar and no civilians were in the area.

"Intelligence revealed a large group of militants operating in Deh Bala district. Coalition forces identified the militants in a mountainous region and used precision air strikes to kill them," a U.S. military statement said.

"We don't have any reports of any civilian casualties," said U.S. military spokesman Captain Christian Patterson. "There were not any women or children present in the area."

Civilian deaths at the hands of foreign troops have in the past sparked violent protests in Afghanistan.