Continuing their monthlong advance into the countryside of Helmand Province, U.S. Marines and Afghan forces this week captured the administrative center of the northern Nawzad district.
The accomplishment is significant, considering that just weeks ago Nawzad was considered to be one of 10 districts out of a total of 13 in the province that the Afghan government considered to be under Taliban control.
Helmand Governor Gulab Mangal traveled to Nawzad on August 17 to claim victory, hoist the Afghan national flag, and urge locals to participate in presidential and provincial-council elections set for August 20.
"We should [all work together] to expand this victory achieved by the valor, hard work, and sacrifice of the armed forces of the Islamic Republic of Afghanistan and international forces," he told a crowd of turbaned Pashtun peasants, adding that the move will ensure that "all corners of Nawzad district can experience peace and all its residents can live in security and participate in the election."
But a local elder, responding from the crowd in a choked-up voice, said that if the government wants to secure participation in the election, it will have to deliver sustainable peace and key services.
"Without ensuring security, nobody can come to you to get [voter-registration] cards. And nobody dares cast their votes in ballot boxes," the man said.
"People who could afford to rent homes and set up businesses elsewhere have already left Nawzad. Laborers, the hungry, and the destitute are still living inside the four walls of their houses here. First you should build a [stable political] system. I will then come to you ask for help in cleaning my irrigation channel."
This scene captures the dilemma the people of restive southern Helmand face on the eve of the critical elections. While many Helmandis would like to vote, insecurity and the fear of future Taliban reprisals threaten to keep them away from polling stations.
Fear Of Taliban Reprisals
Considered by many to be the country's most insecure province, Helmand accounts for a lion's share of the world's opium supply and some remote areas remain under Taliban control, despite a recent security push by some 15,000 U.S., British, and Afghan troops to establish security.
U.S. Marines patrol in Helmand's Garmsir district
Roughly as big as the Switzerland, holding successful elections in Helmand is seen as the critical test for the success or failure of stabilization efforts in Afghanistan because it will signal which way the insurgency-plagued Pashtun heartland of the country might go.
Though the security situation has improved after the recent security operations, the Taliban remains a considerable threat.
According to Mohammad Aliyas Daee, a correspondent for RFE/RL's Radio Free Afghanistan in Helmand, insurgent commanders in certain parts of the province have reportedly agreed with the local elders to allow voting. The Taliban has vowed to disrupt the elections and has stepped up attacks recently.
Out of the planned 222 polling centers in the province, only 107 are expected to open, according to Daee. Northern Helmand's Washir district is still controlled by the Taliban, which also dominates large swaths of rural areas, particularly in the Nawzad and Nad Ali districts.
Fears of the Taliban may outweigh the government's efforts to persuade voters they will be secure both on polling day and afterwards. "If we compare people's backing of the government and Taliban fears, the Taliban pressures and are much bigger," Daee says.
He recounted a recent trip with the governor to Margeer, a dusty village halfway between the provincial capital Laskhkargah and the town of Gereskh. Daee says that while the governor was addressing local residents, the Taliban was threatening them in its radio broadcasts, saying, "if you go there, we will cut you into pieces."
Bringing Security
The grim milestone of 200 British military deaths in Afghanistan has renewed the debate about how to move forward in Helmand and the rest of the country.
Over the past few years, The Afghan government and its international partners have blamed each other for losing Helmand to the Taliban. Helmand was relatively stable until 2005, when regional strongman and Governor Sher Mohammad Akhundzada was removed by President Hamid Karzai for suspected drug links under immense international pressure.
Despite the presence of some 6,000 British troops, which later rose to 9,000, the Taliban crept back into the province and took control of most of it until U.S. Marines, British, and Afghan forces launched their effort in early July to establish security for the August vote.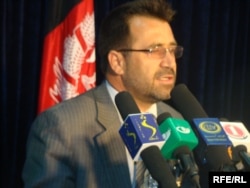 Helmand Province Governor Gulab Mangal
Sources in Helmand say that locals are likely to back these efforts if they sense that such initiatives are sustainable and can deliver long-term peace.
On August 15, thousands participated in a campaign rally for President Karzai, hoping to catch a glimpse of the incumbent, who is seeking a second term on August 20. However, the lack of security kept Karzai away, and they had to settle for a message delivered by telephone.
"This election is a matter of life and death for Afghanistan," Karzai told the gathering. "If you all, the people of Helmand, come out to vote to elected a strong and positive government, inshallah it will bring back peace and reconciliation to Afghanistan."
In a sign that the relative success of the recent Helmand offensive has raised hopes in the West, visiting Republican Senator John McCain told journalists in Kabul on August 18 that the U.S. is ready to commit more resources to Afghanistan.
"It is very clear to me that more resources are needed in the form of additional troops as well as material, economic, and other support." McCain said.
"The troop levels, I believe, need to be significantly increased," he continued, adding we would "look forward" to "recommendations" from the commander of NATO and U.S. troops in Afghanistan, General Stanley McChrystal.
But a message delivered by the Afghan government has also raised fears that the security situation may be skewed on election day. In a message delivered on August 18, the government called on Western and Afghan news media outlets not to report on any violent attacks that may occur during the August 20 polling.
Authorities fear that reports of violence on election day could harm voter turnout, but human rights activists and journalists alike have condemned the government's call.
RFE/RL's Radio Free Afghanistan correspondent in Helmand Mohammad Aliyas Daee contributed to this story
Afghan Presidential Campaign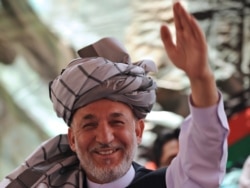 On The Campaign Trail
Afghan President Hamid Karzai and presidential challenger Abdullah Abdullah campaigned in early August at separate rallies in Kabul. Play