(Watch highlights of the debate)
In a live television debate in Kabul, Afghan President Hamid Karzai received staunch challenges from two of his main opponents in next week's presidential election.
Ashraf Ghani and Ramzan Bashardost, both former ministers in Karzai's cabinet, strongly challenged the incumbent on government corruption, warlords, the economy, foreign troops in Afghanistan, and reconciliation plans with Taliban insurgents.
All of the candidates used the occasion to pitch their plans to the 17 million eligible voters. On August 20, Afghans go to the polls to vote for a president and provincial councils.
The two-hour debate was broadcast live by the Afghan state television channel RTA and RFE/RL's Radio Free Afghanistan.
Karzai's main challenger, Abdullah Abdullah, had earlier pulled out of the debate.
Bashardost, who has been dubbed the "Afghan Gandhi" by many for his asceticism and populist style, was the most persistent in his criticism of the status quo in Afghanistan.
"I am asking my compatriots not to trust the words of any candidate, even if he is Bashardost. When Bashardost or another candidate tells you, 'I am going to serve you, I want to rebuild Afghanistan, and I will bring justice and the rule of law,' don't trust them," Bashardost said. "You should trust people by looking into their past deeds."
He asserted that government corruption was the number one issue in Afghanistan. "When I talk to people on the ground, their main concern is corruption, and the placement of former warlords and murderers in government," Bashardost said. "There is no security without justice."
'Compromises'
Karzai used the debate to pitch his plans of reconciling with the Taliban. He said that his administration's perspective on the war on terror and plans to reconcile with the armed opposition has widespread international acceptance.
"America and NATO have realized that peace is essential, and it should be brought about by a reconciliation process among Afghans rather than through fighting," Karzai said.
President Karzai proudly noted that never before in Afghan history has an incumbent participated in a debate.
He also strongly defended his performance in office and emphasized that he had only ever acted in the national interest.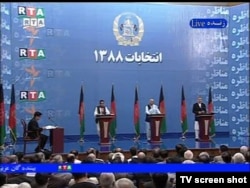 The debate was broadcast live across Afghanistan
"During the past seven years, I have been accused of compromising too much. People said that I compromised a lot," Karzai said. "Yes, I compromised. I compromised for the national interests of Afghanistan, for peace in Afghanistan, and for reconciliation, and to contribute to national unity and for the development of Afghanistan."
However, Bashardost rejected this approach, terming it the "wrong diagnosis." He again emphasized that negotiations with the Taliban cannot move forward as long as "warlords" dominate the government in Kabul.
Deals With Warlords
Ashraf Ghani, a former finance minister and World Bank executive, pitched his plans for creating 1 million jobs and an efficient administration. He urged all Afghans to exercise their right to vote despite threats of Taliban violence.
"I want to congratulate the Afghan nation because, for the first time, we can independently choose our president. Regardless of whom we are going to vote for, it is important that we vote, and while voting, we should not be influenced by power or money," Ghani said.
He also highlighted his credentials as a reformer and implicitly criticized Karzai's appointment of a former guerilla commander, Mohammed Qasim Fahim, as a running mate. "In my years as finance minister, I never made a deal with a warlord," Ghani said.
He reiterated that if elected, he would ensure that Afghan forces gradually take over all security responsibilities so that international forces are presented with a viable exit strategy.
"We cannot bring peace and stability to the country by using military power alone," Ghani said. "We must build confidence in the Afghan central government."
The debate was moderated by RFE/RL's Radio Free Afghanistan Director Akbar Ayazi. Despite the sharp disagreements among the three participants, the atmosphere was cordial.
The debate was widely listened to and watched across Afghanistan. With all contenders making forceful pitches, no clear winner emerged from the debate.
Afghan Presidential Campaign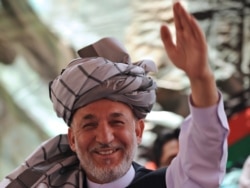 On The Campaign Trail
Afghan President Hamid Karzai and presidential challenger Abdullah Abdullah campaigned in early August at separate rallies in Kabul. Play