WASHINGTON -- Two Afghans and an Iranian are among this year's winners of the U.S. government's
International Women of Courage Award.
Shukria Asil, an Afghan provincial council member, Shafiqa Quraishi of the Afghan Interior Ministry, and Iranian women's rights activist Shadi Sadr were among the 10 winners announced by U.S. Secretary of State Hillary Clinton on March 1.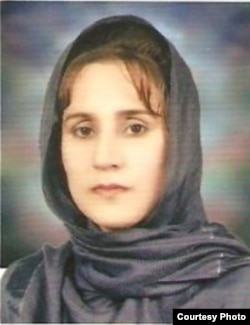 Shukria Asil
The award recognizes women who have shown "exceptional courage and leadership" in pushing for women's rights.
Sadr is a prominent rights activist and a lawyer who has campaigned to stop stoning as a punishment for women. She was among dozens of women arrested three years ago for protesting the trial of five other women activists. She was also detained in the midst of the unrest that erupted after last year's disputed presidential election, spending 11 days in detention before leaving Iran for Germany.
The State Department said in a biography for Asil that, as one of four female members of the Baghlan Provincial Council, she had faced threats of kidnapping and death in her fight for justice for women and girls. It cited her intervention in a case where a girl had been rejected by her family after being gang-raped. Asif managed to reconcile the family despite being discouraged by the provincial governor from doing so.
Colonel Shafiqa Quraishi is the director of gender, human, and child rights at the Ministry of the Interior. She has been working to improve female recruitment and promotion rates in the ministry and the police force.
Melanne Verveer, the State Department's ambassador at large for global women's issues, described the winners as "heroic individuals" who had "overcome personal adversity, threats, arrest, and assault to dedicate themselves to activism for human rights."
Clinton is to present the awards in Washington on March 10.