Pakistan's government has blocked access to popular video and social-networking websites -- Facebook and YouTube -- in a bid to prevent people in the country from viewing material deemed as "objectionable" and blasphemous toward the Prophet Muhammad.
Taken together, the two blocked sites account for about 25 percent of all Internet traffic in Pakistan.
Khurram Mehran, a spokesman for the Pakistan Telecommunications Authority, says the ban on all of Facebook in the country would last until May 31. He says the block on YouTube is "indefinite."
The moves come amid protests in Pakistan about Western users of Facebook who created a page declaring May 20 "Everybody Draw Muhammad Day."
Islam strictly prohibits the depiction of any prophet as blasphemous. Muslims all over the world staged protests -- some of which turned violent -- about the publication of satirical cartoons of the Prophet Muhammad in European newspapers in 2006.
Arguing The Case
The Facebook page is part of a wider grassroots campaign by Internet users around the world. They say they are uniting against Islamic extremists who issue death threats against editorial cartoonists who depict the Prophet Muhammad in their political commentaries. Supporters say the more death threats that are made, the more depictions of the prophet they will create.
Started on April 25, the Facebook page calls for people to submit their depictions of Muhammad to show extremists that they will not be intimidated.
One of the creators of "Draw Muhammad Day" -- a man with an English accent who identifies himself by the online moniker of "Thunderfoot" -- said in a YouTube video commentary that extremist Muslims ultimately are responsible for the creation of thousands of depictions of Muhammad.
"Five years ago, they won the victory against free speech when they went ballistic over a dozen cartoons. They were happy to issue death threats against cartoonists -- including issuing cash bonuses for anyone who slaughtered the cartoonists 'like a lamb,'" "Thunderfoot" said. "But that victory of intimidation came at the cost of sowing the seeds of anger -- anger against those who would use such reprehensible tactics to silence people for merely expressing an opinion. Now they reap the full harvest of what they have sown, and then some. For now there are thousands of cartoons of Muhammad."
Thunderfoot also blames Western media for failing to take a stronger stand against death threats from Islamic extremists in 2006.
Logical Response?
Moderate Muslims in Pakistan say both sides are pouring fuel on a fire and fostering religious hatred. Durdana Siddiqui, who participated in a rally in Karachi on May 19, warned that the Facebook campaign is inflaming religious tensions between the West and the Muslim world.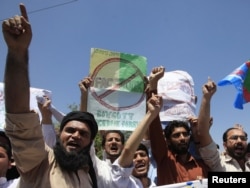 Jamaat-e Islami supporters protest the "Draw Muhammad Day" campaign in Peshawar on May 20.
"For the sake of religious tolerance, it is imperative that we respect one another's religions and religious practices," Siddiqui said. "Otherwise the world should get ready to face the reaction from the Muslim ummah [the worldwide Muslim community]."
Academic scholars in Pakistan, who asked not to be identified, told RFE/RL's Radio Mashaal that the Internet campaign has radicalized political debate in a way that strengthens support for extremist clerics.
"Facebook is a social network where we get to have an insight into what scholars have to say on different issues. We read it and we talk to each other on it," said one. "We Muslims are very emotional and are buying this blackmail that is going on in the name of religion by various political and religious groups. Blocking Facebook and carrying out protests is not a logical response to the situation."
Although there are clear signs that the administrators of the Facebook group are activists in the European Union, conservative Islamist politicians in Pakistan are telling their supporters that the United States and Israel are behind the grassroots campaign.
"All religious and political parties, lawyers, students, members of the business community, and people from all walks of life are protesting against this blasphemy by the Americans," said Ameer Hamza, a leading member of Pakistan's Jamaat-ud-Dawah Islamic organization. "The blocking of Facebook until May 31 by the Lahore High Court is a commendable step. We demand that a permanent ban be imposed on this blasphemous website which is sponsored by the Zionist lobby."
Reverberations
Meanwhile, the moves by Pakistan to block Facebook and YouTube have focused more attention on the campaign in other countries.
Before the May 19 ruling, during the three weeks of its existence, the Facebook page had gathered 40,000 supporters and some 2,000 depictions of Muhammad -- many of them clearly designed to be offensive to Muslims.
Within one hour of the Lahore court's ruling, 10,000 more people joined the Facebook group around the world -- submitting more than 1,000 more depictions of Muhammad.
Within six hours, the number of members had grown from 40,000 to nearly 80,000 and the total number of depictions of Muhammad doubled to more than 4,000.
For its part, Facebook says it is disappointed that the entire social network has been blocked for users in Pakistan because of the opinion on one out of hundreds of millions of pages.
A Facebook statement says the company is "analyzing the situation and the legal considerations and will take appropriate action" -- which "may include" making the content of the "Draw Muhammad Day" page inaccessible to users in Pakistan.
The firm says its approach is the same as most global Internet companies -- to prevent certain content from being shown to users in countries where such content is illegal.
It says it wants Facebook to be a place where "people can openly discuss issues and express their views, while respecting the rights and feelings of others."
But it also says that with more than 400 million users from around the world, there will sometimes be people "discussing and posting about topics that others may find controversial, inaccurate or offensive."
Facebook has recognized that criticism of a certain culture, country, religion, lifestyle, or political ideology may be upsetting to some users. But it says that alone is not a reason to remove a discussion entirely.
The company says it strongly believes that "Facebook users have the freedom to express their opinions" and that it would be unusual for the firm to take down content, groups, or pages that speak out against countries, religions, political entities, or ideas.
RFE/RL's Radio Mashaal contributed to this report from Prague and Pakistan