DOHA (Reuters) -- Iranian President Mahmud Ahmadinejad has blamed the West for the global financial crisis, saying other countries were being dragged in to help resolve Western problems.
"Leaders of the Western bloc...are trying to extend their own crisis to the rest of the globe to portray it as global," Ahmadinejad told a UN aid conference in Qatar's capital. "They dispatch different delegations to other countries and hold regional meetings and conferences in order to force other governments to get involved in this crisis to cover a part of their loss."
The credit crunch has frozen lending markets, forced trillions in government bailouts, and sent a raft of nations into recession, with many others hovering on the cusp of a severe economic downturn. The crisis has taken a heavy toll on poorer nations as trade and credit markets shrink.
According to World Bank estimates, 40 million people will be dragged into poverty in 2009 as a result of the global financial crisis and related economic meltdown.
The Iranian president, who often rails against the West, said the capitalist era had come to an end and that the world should adopt a new system based on "religious, spiritual, and non-usury" principles.
"The capitalist bloc imposes its standards unilaterally on others," he said. "While it prices its goods by itself, it determines the prices for the commodities of other nations to secure its own interests by using deceptive economic ploys."
Iran faces UN and Western sanctions over its nuclear program, which the West fears could be used to develop nuclear bombs. The country does not recognize Israel and its hardline president has often predicted the imminent demise of the Jewish state.
Ahmadinejad reiterated his views on the Jewish state in his speech on November 29, and condemned Israel's blockade of the Gaza Strip, which is controlled by the Palestinian militant Islamic group Hamas.
The UN aid meeting runs until December 2 and is unrelated to the World Trade Organization's Doha round.
Officials hope the conference will confirm general commitments made by donors in Monterrey, Mexico, in 2002. The meeting was to have marked a big step toward goals of reducing extreme poverty, but has been overshadowed by the financial crisis.
World Economic Crisis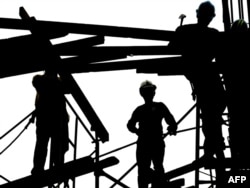 Multimedia coverage on the impact of the global financial crisis on markets and individuals across RFE/RL's broadcast region. More