(RFE/RL) -- Indications are that Iranian President Mahmud Ahmadinejad will have a tough time getting parliamentary approval for his new cabinet list, which has just been submitted to the assembly.
Ahmadinejad submitted the list to parliament overnight, and the assembly has 10 days to consider it before it goes to a vote on August 30. But some senior members of parliament have already made clear that they are unhappy with some of the names on the list.
Conservative Ahmad Tavakolo said that among the nominations are people who have "never recorded a day of executive work."
Tavakolo said it's safe to assume therefore that the cabinet "will not have the caliber required for an efficient government."
Another conservative, Parviz Sarvari, said that if parliament believes the proposed ministers do not have the necessary experience, it will "get tough" with them.
The criticism echoes similar comments heard during Ahmadinejad's first term in office, when he was accused of appointing allies to the cabinet, regardless of their suitability for the post.
Making matters worse for Ahmadinejad is that this time around, he has lost much of his former prestige.
Although he still has the support of Supreme Leader Ali Khamenei, he is being assailed by conservatives and reformers alike over his disputed reelection to the presidency. The dispute led to the worst rioting since the Islamic republic was founded 30 years ago.
Winning approval for his new cabinet will inevitably be a test of strength for the president.
Questions Over Nominees
Ahmadinejad's latest list contains 21 nominations, three of them women, who, if approved, would be the Islamic republic's first female government ministers.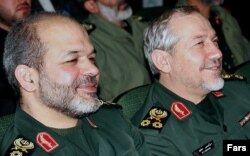 Ahmad Vahidi (left) with Rahaim Safavi, the head of the Revolutionary Guard in 2007
Defense nominee Ahmad Vahidi's name appears on a list of people wanted for questioning by the international police agency Interpol in connection with the 1994 terrorist bombing of a Jewish community center in the Argentinian capital Buenos Aires that killed more than 80 people.
One surprise is that Masud Mir Kazemi has been named oil minister. Kazemi is currently commerce minister, and he has little known experience in the oil sector. This portfolio is of key importance because the state derives most of its revenue from crude-oil exports.
And the post could become even more central to events if the international community were to go ahead with a threat to impose sanctions on the import of refined oil products to Iran, as part of its drive to curb Iran's nuclear program.
The list contains a strong contingent of nominees with connections to Iran's elite Islamic Revolution Guards Corps. Apart from Kazemi, defense nominee Vahidi, interior nominee Mostafa Mohammad Najjar, and intelligence nominee Heyder Moslehi, have all had links with the Revolutionary Guards, like Ahmadinejad himself.

RFE/RL's Radio Farda contributed to this report. with news agency content
Iran Election Special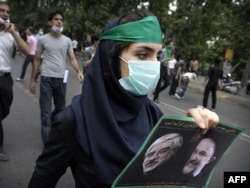 RFE/RL's Full Coverage
Following the disputed reelection of Iranian President Mahmud Ahmadinejad, supporters of Mir Hossein Musavi have taken to the streets to protest.
Click here
for news, blogs, and analysis of the presidential election and aftermath.