Iranian President Mahmud Ahmadinejad intends to enter his second term in office with some surprising new additions to his team.
Two female candidates were among six ministerial nominees revealed by Ahmadinejad on August 16. Fatemeh Ajorlou, a conservative lawmaker, was nominated for the position of welfare minister. Marzieh Vahid Dastjerdi, a medical university professor and former parliamentarian, was nominated for the post of health minister.
If approved by parliament, they would be the first women to reach such high-ranking positions since the Islamic Revolution in 1979.
Ahmadinejad has until August 19 to present his new 21-member cabinet to the Majlis. He has promised significant changes to his team.
Mohammad Abbasi, a former lawmaker who served on the Majlis's Budget Committee, was nominated as cooperation minister.
Heidar Moslehi, a former Velayat-e faqih (rule of the jurisprudent) representative in the Revolutionary Guards and Basij forces, was nominated as intelligence minister.
Familiar Faces
There were also some familiar faces among the cabinet nominations, including current Industry and Mines Minister Ali Akbar Mehrabian and Economy Minister Shamseddin Hossein, who would remain in their jobs.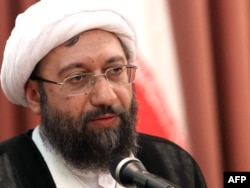 Ayatollah Sadeq Larijani, the new chief of the judiciary
Said Jalili, a hard-line chief nuclear negotiator, has reportedly been tabbed to take over as foreign minister.
With the nominations, the Iranian president appears eager to move past the turmoil that accompanied his disputed June 12 reelection. The official election results, which saw Ahmadinejad win decisively, sparked mass protests that resulted in the arrests of more than 3,000 protesters, political infighting, and terse exchanges with outside governments, which Tehran accused of meddling in its internal affairs.
However, Ahmadinejad still faces serious challenges from moderate rivals Mir Hossein Musavi and Mehdi Karrubi, who continue to question the legitimacy of his presidency, and even from traditional allies within Iran's ruling conservative camp.
Iranian media has speculated about the potential for confrontations between Ahmadinejad and forces within the conservative camp, particularly the new head of Iran's judiciary, Ayatollah Sadeq Larijani, who officially started his new job on August 17.
Abruptly Dismissed
According to the reformist website noandish.com, Larijani is expected to bring two ministers who were dismissed by Ahmadinejad into his new team in the judiciary.
One is Gholam Hussein Mohseni Ejei, who in July was abruptly dismissed from his post as intelligence minister after he criticized the president over his controversial choice of Esfandiar Rahim Mashaie as his first vice president last month.
Ejei also opposed the government's decision to broadcast the mass trials of detainees, saying they could spark negative reactions among the public.
The other to make the jump to the judiciary is Mostafa Pur-Mohammadi, who was sacked as interior minister just ahead of the presidential campaign.
Taghi Rahmani, an Iranian author and political expert, predicts "there will be confrontations between the president and judiciary during Ahmadinejad's second term," adding that the president's "confrontational behavior" will be the source of tension.
However, Reza Taghizadeh, a British-based Iran expert, predicts that Supreme Leader Ayatollah Ali Khamenei will step in to prevent any serious conflict within the ruling conservative camp.
"Governments in the Islamic republic have a four-year mandate. The supreme leader's establishment is more concerned about the future of its own, monarchy-style system," Taghizadeh says. "Some of the government's aggressive behavior is seen by the establishment as a factor that would damage society's stability. Therefore, it tries to find to keep the balance in society, sometimes by limiting the government's actions."
Accused Of Torture
Authorities are struggling with Iran's biggest political crisis in three decades.
Karrubi recently accused authorities of torture and even sexual abuse of detainees arrested in connection with the postelection turmoil. Tehran's prosecutor's office on August 16 temporarily closed the newspaper of Karrubi's party, "Etemad-e Melli."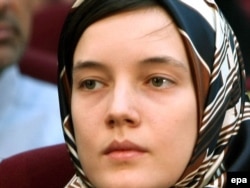 Clotilde Reiss in court in Tehran on August 8
The authorities have vehemently rejected Karrubi's claims of abuse, but the issue has become a lighting rod for criticism.
Tehran's Kahrizak prison was closed following allegations that a number of detainees died after being beaten there.
At the order of the supreme leader, the Majlis recently set up a special commission to assess the conditions endured by detainees. On August 17, the parliamentary commission summoned the head of Iran's National Police, Esmail Ahmadi Moghaddam, 12 officers at Tehran's Kahrizak prison, and a local prosecutor to testify before the Majlis.
Hundreds of protesters, political activists, journalists, and lawyers are still being held in Evin and other prisons.
More than 130 detainees, including many prominent opposition figures, have been placed in three separate mass trials, which some foreign governments have condemned as "show trials." Charges include acting against national security, spying, fomenting public unrest, and vandalizing public property.
A 24-year-old French academic, Clotilde Reiss, was among those who appeared in a Tehran revolutionary court last week on charges related to the postelection unrest. She has been released on bail and turned over to the French Embassy in Tehran.
However, charges against her were not dropped and it remains unclear whether she would be allowed to leave the country.
The Battle For Iran's Future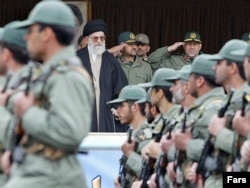 The Battle For Iran's Future
With much more than a disputed presidency at stake for Iranians, RFE/RL's Charles Recknagel and Mazyar Mokfi explore the power plays that could reshape Iran's political establishment.
Click here
for news, blogs, and analysis of the presidential election and aftermath.
Iran Election Special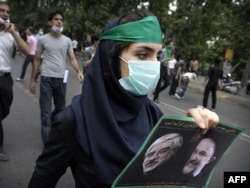 RFE/RL's Full Coverage
Following the disputed reelection of Iranian President Mahmud Ahmadinejad, supporters of Mir Hossein Musavi have taken to the streets to protest.
Click here
for news, blogs, and analysis of the presidential election and aftermath.