(RFE/RL) -- Mahmud Ahmadinejad has been sworn in for a second four-year term as Iran's president and urged the country to "join hands," warning that his government will "not tolerate disrespect, interference, and insults."
Outside parliament in central Tehran, where the oath was administered, hundreds of opposition supporters crowded around a ring of riot police and Basij militiamen who prevented critics of the June 12 election from approaching the building.
Leading moderates, including former Presidents Mohammad Khatami and Ali Akbar Hashemi Rafsanjani, were absent from the ceremony, as were the main opposition leader Mir Hossein Musavi and other prominent opposition figures.
IRNA reported that most of the legislature's 70 or so reformist lawmakers had also stayed away.
"I, as the president of the Islamic Republic of Iran, swear before the holy Koran and the Iranian nation and God to be the guardian of the official religion, the Islamic Republic, and the constitution," Ahmadinejad declared at the ceremony.
Ahmadinejad has faced particular criticism over economic policies in his first term, which detractors say have contributed to runaway inflation and unemployment, in addition to consuming huge revenues from the sale of fossil fuels and forcing belt-tightening measures that include strict gasoline rationing.
Reining In Protests
Ahmadinejad made no direct reference to the postelection unrest but vowed that his administration would "oppose any violation of the law or interference."
Critics have stood by their contention that the vote was rigged and that Ahmadinejad's government is therefore "illegitimate."
"They were police forces, Basij, plainclothes forces, and Revolutionary Guards," one female protester who was outside parliament told RFE/RL. "They [security forces] covered their faces because they didn't want to be indentified by the people."
She added that "they looked at our faces so they could remember us."
The security forces prevented people from recording anything and prevented them from gathering or even pausing along the street, she said: "They told me that if I went in one direction on this street, I wouldn't be allowed to return from that same direction."
Police used pepper spray against demonstrators chanting anti-Ahmadinejad slogans and arrested 10 protesters, according to an eyewitness quoted by Reuters, adding to the many hundreds of detainees since the June 12 vote.
"I saw a woman arrested by the police for chanting slogans in support of [opposition candidate Mir Hossein] Musavi," Reuters quoted a witness to one of the arrests as saying soon after the ceremony. "Police took her away and told others to disperse."
Scores are feared to have died at the hands of security forces since the election, and a
mass trial
has been launched accusing even senior opposition figures of serious crimes against the Iranian state.
An anonymous video posted to an opposition
video blog
and
Youtube
appeared to show rows of red-trimmed motorcycles -- the kind that have been used extensively against postelection protesters -- parked near parliament in anticipation of crowd-control measures. Defiant International Message
Ahmadinejad devoted more time in his speech to foreign policy, where he and Supreme Leader Ayatollah Ali Khamenei -- who holds ultimate political and religious power in Iran -- have repeatedly accused Western governments of meddling to try and overthrow the system that emerged from Iran's 1979 Islamic Revolution.
"Internationally, we seek peace and security. But because we want this for all of humanity, we oppose injustice, aggression and the high-handedness of some countries," Ahmadinejad said, according to Reuters.
He also chided Western governments who have said they would not offer their good wishes to Ahmadinejad, including the leaders of the United States, France, Britain, Italy, and Germany.
"What does this behavior mean?" Ahmadinejad asked assembled officials. "The clear message of this behavior is that they like democracy to serve only their own purposes. They don't respect the vote and the rights of nations. They see themselves as the standard and indicator of democracy. Our nation is against this behavior and mentality, and it is standing against it. You should know that no one in Iran is waiting for your congratulations."
A spokesman for U.S. President Barack Obama, Robert Gibbs, skirted the question of legitimacy but acknowledged that Ahmadinejad is Iran's "elected leader."
The human rights organization Amnesty International marked the inauguration with a strong statement, saying the harsh reaction to the opposition demonstrations has caught Iran in a "spiraling cycle of repression."
Amnesty International's secretary-general, Irene Khan, said Ahmadinejad's inauguration should be the moment for the Iranian leadership "to turn the page on the gross violations that have punctuated recent weeks."
Continuing Challenge
While the massive street protests subsided after a fierce crackdown by Iranian security forces, presidential opponents, reformers, and critics of the vote continue to demonstrate against Ahmadinejad's victory and the methods the clerically dominated establishment has used to quell dissent.
Supreme Leader Khamenei earlier this week warned Ahmadinejad that the "angry, wounded opposition" would continue challenging his government.
Detractors, including Musavi and
ex-President Khatami
, have described the televised revolutionary-court process against more than 100 defendants for defying authorities as a "show trial."
That trial was expected to resume on August 6.
written and compiled by Golnaz Esfandiari, Breffni O'Rourke, and Andy Heil from RFE/RL, Reuters, and agency reports
Iran Election Special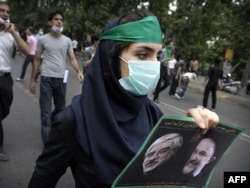 RFE/RL's Full Coverage
Following the disputed reelection of Iranian President Mahmud Ahmadinejad, supporters of Mir Hossein Musavi have taken to the streets to protest.
Click here
for news, blogs, and analysis of the presidential election and aftermath.