(RFE/RL) -- International air traffic is in chaos for another day as the massive ash cloud from Iceland's volcano eruption spreads across Northern Europe.
The Brussels-based Eurocontrol, the European air navigation agency, says the air-traffic disruptions from the volcanic ash cloud "will continue for at least the next 24 hours."
That's bad news for air travelers not only in Northern Europe but, increasingly, worldwide.
Hector Teoucher was stranded at Paris's Charles de Gaulle Airport. He had hoped to catch a flight today to Brazil, but "was cancelled like the other flights."
And he is hardly the only long-distance traveler now out of options.
In Hong Kong, Dutch businessman Mark Zijlstra told Reuters that his flight to Amsterdam was "delayed for 24 hours and probably will be 24 hours extra. So, it will be 48 hours if I have no luck tonight."
Ash Clouds
Eyjafjallajoekull, which began erupting on April 14, shows no sign of stopping.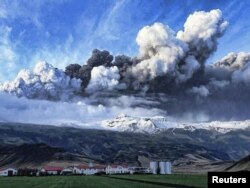 A plume of ash rises into the atmosphere from a crater at the Eyjafjallajoekull glacier on April 14.
The volcano, which is also known as Eyjafjoll, has already blasted vast amounts of ash into the sky, much of it up to the very altitudes at which passenger jets fly.
Because of the danger that airplanes could suck some of that ash into their engines, putting out them in the process, flight controllers are forbidding pilots to fly across an ever widening area of Northern Europe.
Britain, whose airspace is one of the most affected, said today it is extending its ban on flights into April 17 "at the earliest."
But the country's National Air Traffic Services said some flights in Scotland and Northern Ireland will be allowed.
Scandinavia presents a mixed picture.
Air space over Sweden and Norway is gradually reopening, starting with the northern parts of those countries. But Denmark's airspace remains closed, while Finland says its flight restrictions are likely to continue for "several days."
The Baltic states of Lithuania, Latvia, and Estonia said today they had shut their airspace.
Kaczynski Funeral
And Poland has closed all its airports, including in the southern city of Krakow.
The Polish government plans to hold a state funeral on April 18 in Krakow for President Lech Kaczynski, who died in an air crash on April 10. But whether dozens of heads of states will be able to fly into Krakow for the funeral is uncertain.
In Germany, authorities have halted flights to 11 of the country's 16 international airports, including Frankfurt, Germany's biggest.
Austria has also shut its airspace. And Brussels', Amsterdam's, and Geneva's airports say they have canceled a large number of flights
Meanwhile, the ash cloud continues to move east into Russia, with the head of state weather agency Rosgidromet, Marina Petrova, saying it was approaching Moscow.
"Moscow is semicircled by its particles," she said, and Russian aviation authorities have been warned.
WATCH: Animation of the ash plume from Icelandic eruption. (source: European Space Agency)Up To A Year Of Disruption?
Scientists say the danger for airplanes is that they could suck ash into their jet engines. The ash contains large amounts of metals and other material that can melt inside the engines, clogging them and causing them to stop.
"The ash itself is made out of silica, iron, aluminum, magnesium, lots of elements, and this ash has a very low melting point of about 1,000 to 1,050 degrees centigrade," says Armann Hoskuldsson, a volcanologist at the University of Iceland.
"But the engines work at 1,400 degrees centigrade, so they melt this stuff and then the engines get coated and eventually lose power."
Hoskuldsson says this is hardly the first time that erupting volcanoes have posed flight hazards. But because Iceland is in the middle of the North Atlantic, this one has disrupted air traffic to an unprecedented level.
"Most of the volcanoes that have been erupting similarly have either been in Alaska or Indonesia or South America, where the air traffic is much less dense," Hoskuldsson says. "Our problem is that Europe is so heavily dependent on air traffic, and the ash is going very directly to Europe."
Predicting how long the crisis will last is next to impossible. The last time this particular volcano erupted, it continued to do so with varying levels of intensity for more than a year.
But the degree of hazard any active volcano poses to air traffic rises and falls depending on the amount of ash blasted into the air and the wind direction. The ash particles themselves can remain in the air for weeks, until they finally get diluted with moisture and fall to earth.
That means air traffic controllers, pilots, and passengers may be nervously watching the volcano eruption in Iceland and the wind patterns for some time to come.
The only good news is that currently, the ash does not pose any health threat to people on the ground, because it is at such a high altitude.
with agency reports