The World Health Organization (WHO) is urging doctors to administer antiviral drugs sooner to patients suffering from swine flu.
At the same time, it says it is sending emergency supplies of antivirals -- such as Tamiflu and Relenza -- to developing countries hardest hit by the pandemic, including Afghanistan, Azerbaijan, Belarus, Kyrgyzstan,
Ukraine
, and Mongolia.
The WHO recommendation to administer antivirals early is a dramatic turnaround from the UN agency's earlier guidelines.
Previously, the WHO had urged doctors to use laboratory tests to confirm that patients have the H1N1 virus before administering antiviral drugs.
But the organization said on November 12 that as medical workers have gained experience with swine flu, they have learned that waiting for lab tests can be a fatal delay.
"People in at-risk groups need to be treated with antivirals as soon as possible when they have flu symptoms," Dr. Nikki Shindo, a medical officer with the WHO's global influenza program, told reporters in Geneva. "This includes pregnant women, children under 2 years old, and people with underlying conditions such as respiratory problems."
She said that people who are not in high-risk groups can wait a little longer.
"People who are not from at-risk groups but who have persistent or rapidly worsening symptoms should also be treated with antivirals," she said. "These symptoms include difficulty breathing and a high fever that last beyond three days."
But Shindo said the vast majority of patients who contract swine flu will not have symptoms lasting long enough to require antivirals.
"I want to stress that people who are not from the at-risk group and have only a typical cold need not take antivirals," Shindo said. "We are not recommending taking antivirals if otherwise healthy people are experiencing only mild illness, or as a preventive in healthy people."
Rapid Deterioration

The change in the WHO's guidelines comes as doctors in pandemic areas find that the H1N1 virus can cause a very rapid deterioration of health in some patients, usually on the fifth or sixth day following the onset of symptoms.
The deterioration is characterized by primary viral pneumonia, which destroys the lung tissue and does not respond to antibiotics. Even when such patients are placed under intensive care in hospitals, it can be too late to prevent death.
A plane full of antiviral drugs is unloaded in Ukraine earlier this month.
Shindo said that the UN health agency asked doctors what they could have done differently to avoid the fatalities, and that all had said "without exception" that the outcomes would have been different if the patients had been treated with an antiviral drug earlier.
The hardest-hit countries since the influenza season began in the Northern Hemisphere are countries with medical systems that even in normal times have to cope with shortages of funding and medicines. Those fragile systems now have been overwhelmed with flu patients and have limited stocks of antivirals to cope with the pandemic.
Shindo said the WHO is rushing additional supplies of antivirals to six countries.
"Recently, we sent supplies to Afghanistan, Mongolia, Belarus, and Ukraine," she said, "and we will send antivirals to Azerbaijan and Kyrgyzstan."
Rapid Distribution

She called on all the countries to rapidly distribute the new supplies to local areas so that patients who need them do not have to travel to central hospitals.
"A further recommendation we make is that countries decentralize the distribution of antivirals and insure that general practitioners have access to these medicines for their patients. Patients should not need to visit a hospital in order to get antivirals prescribed," Shindo said.
Since the H1N1 virus was first identified early this year, it has swept worldwide and is now the dominant form of flu in circulation.
The WHO says that in areas where there is widespread influenza, doctors should assume that patients with flulike symptoms are infected with H1N1.
The flu is unlike normal seasonal influenza in that it appears to particularly affect younger and healthy people. Worldwide, around 40 percent of severe cases are now occurring in previously healthy children and adults under the age of 50.
By contrast, normal seasonal influenza usually targets older people, with 90 percent of deaths occurring in people over 65 years of age.
Swine Flu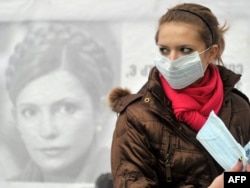 H1N1 Virus
As the fall flu season hits, fears of a swine-flu pandemic have grown in Eastern Europe after Ukraine saw a massive outbreak.
Click here
for RFE/RL's coverage of the virus's spread.