Enthusiasm is running high, predictably, as South Africa plays host to the World Cup, but that doesn't mean the globe's biggest football tournament will kick off on June 11 without some controversy.
Speaking to reporters at a news conference in Johannesburg on June 7, officials from the Federation Internationale de Football Association, or FIFA, discussed its preparations for the 32-team tournament.
FIFA Secretary-General Jerome Valcke said ticket demand is high for the 64 matches that will be played out at 10 venues across South Africa over the next month, culminating with the final on July 11 at Soccer City, Johannesburg.
More than 30 million tickets have been made available, and with 5,000 being sold a day, Valcke expects a great turnout.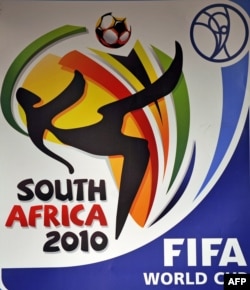 "I'm not saying it will be sold out," he said, "but it will be so great."
Overall, such optimism is shared by the world's football fans -- and certainly by South Africans, who lay claim to hosting the first football match ever in 1862. But a number of issues big and small are causing concern.
Security concerns loom largest, particularly after a stampede outside a friendly match between Nigeria and North Korea on June 6 left 16 injured.
"This will not happen at any match at the World Cup, you can be sure," FIFA President Joseph Blatter told reporters today, but he also placed responsibility squarely on South Africa.
"In no way the football organization -- be it regional, local, national, or international -- has any police force or has any military force to intervene in security," he said. "The security is always a matter of the state where a sport event is played."
Coming just months after the Togo team bus was attacked as it made its way to the Africa Cup of Nations tournament in Angola in January, terrorism fears are also running high.
Officials in South Africa have downplayed the threat, and immense security steps have been taken -- with more than 40,000 police officers expected to be on the ground during the game, along with helicopters, water cannon, and other crowd-control measures at the ready.
Among other issues addressed by FIFA officials today were the refereeing controversies that dogged the previous World Cup and the run-up to this year's event.
The 2006 final in Germany will forever be remembered for the head butt that led to the send-off of France's Zinedine Zidane near the end of extra time, leaving France without the tournament's most valuable player as Italy went on to win the penalty shootout for the title. Many debates were waged after video replays made it apparent that Italy's Marco Materazzi had provoked Zidane.
Ahead of this year's World Cup, controversy again erupted around the French when an illegal handball by Thierry Henry during a qualifying match cost Ireland a spot in the 2010 World Cup. Ireland called for the game to be replayed, which FIFA rejected, but the debate over how matches should be refereed continues to rage.
Blatter said today that "mistakes and errors are committed everywhere" and said that FIFA's board concluded after intense discussions last month that it was best to retain a system in which only one referee would be on the field, with a maximum of two assistants.
"If we put into question that the referee cannot make an error, then we put into question the whole referee system," he said.
For this World Cup, a fourth official will be used, but as Blatter noted, "he will have no monitor." For now, the FIFA president said, the use of "technology" will not be employed.
There is a new addition to this year's tournament that will definitely be seen on the pitch, and which is already causing a stir -- the ball.
Adidas' state-of-the-art ball -- dubbed "Jabulani," or "joy to everyone" -- is causing anguish among many top players, including Spain's Iker Csillas, Italy's Gianluigi Buffon, and Brazil's Julio Cesar. The ball has some saying it is prone to unpredictable flight. U.S. goalkeeper Tim Howard said simply after a friendly with Australia on June 5 that "it's terrible" and predicted that fans would see some "crazy things with the ball."
FIFA is expecting great things, however, with Blatter saying during a press conference with South African President Jacob Zuma on June 6 that the "emotions of billions and billions of people" will be driven by what they see in Africa for the next month.
"This is also part of a legacy and the knowledge of the people that Africa is there, and Africa can be proud, and Africa can stand, and as an organizer of the biggest event of the world," Blatter said.