There were no surprises when Iran's Guardians Council
announced the results
of its vetting of the 475 people who applied to run in the country's June 12 presidential election.
The four candidates who cleared that hurdle now have about three weeks to convince Iranians they should be allowed lead the country for the next four years.
The one thing that Mohsen Rezai, the former head of the Islamic Revolutionary Guards Corps, former Prime Minister Mir Hossein Musavi, and former parliament speaker Mehdi Karrubi all have in common is that they are all outspokenly critical of incumbent Mahmud Ahmadinejad and his administration. They accuse him of poorly handling domestic and foreign affairs, in general, and more specifically of mismanaging the economy and producing the current 12.5 percent unemployment and inflation above 30 percent.
Incumbent's Edge
Despite the gloomy numbers, Ahmadinejad is in a strong position with definite advantages going into the contest. Even the country's conservative head of the Revolutionary Court has criticized Iranian state broadcasting for its biased coverage of the election. Except for a few small newspapers and websites, the other candidates have no effective means of communicating their views to the public.
The incumbent will also likely benefit from public apathy. There are no new and exciting faces in this race. All the candidates are well-known to the point of being tiresome, whether as a result of military or political posts they've held since the revolution. There is little hope of change in the air, and therefore little reason for people to come to the polls in large numbers.
On the other hand, Iran has what are called "organized voters," a bloc that can come up to as much as 30 percent of eligible voters. These state-sector workers, Basij militia activists, officials, and the like can be counted on to vote for Ahmadinejad.
Reformists say that if voter turnout is high -- about 70 percent of the electorate -- the president will have no chance of being reelected.
Chance Of An Upset?
Ahmadinejad also enjoys the backing of the supreme leader, Ayatollah Ali Khamenei. Although Khamenei says he won't endorse any candidate, he has provided plenty of clues in his speeches as to the outcome he'd like to see. "Bring to power the one who values standing up against bullies," Khamenei has said, while at other times lavishly praising Ahmadinejad for courageously facing down Iran's "enemies."
Despite these advantages, Ahmadinejad could still be toppled by one factor: his own four-year record as president. Apart from officials in his government and a dwindling number of parliamentarians, Ahmadinejad's once fervent supporters have remained largely quiet.
But it seems the establishment is bent on securing a first-round win for the president, even if by a narrow margin. The fear is that a second-round runoff might look too much like an up-or-down vote on Ahmadinejad, and a contest like that might be impossible to win.
Mehrdad Mirdamadi is a broadcaster for Radio Farda, RFE/RL's Persian-language service. The views expressed in this commentary are the author's own and do not necessarily reflect those of RFE/RL
Iran Election Diary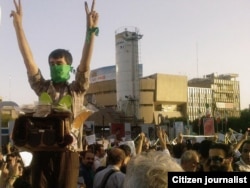 Disputed Presidential Vote
There have been protests and clashes with police on the streets of Tehran following the disputed reelection of Mahmud Ahmadinejad. RFE/RL collects videos, photos, and messages on social-networking sites coming out of Iran to attempt to get a picture of what is happening inside the country.
Click here