Iran's powerful Guardians Council has winnowed the field of hundreds of aspiring presidential candidates to four men, all of whom are current or former senior officials, excluding all bids by women or independent candidates to succeed incumbent Mahmud Ahmadinejad.
The clerically dominated vetting body approved the candidacies of Ahmadinejad, former Prime Minister Mir Hossein Musavi, former parliament speaker Mehdi Karrubi, and former Islamic Revolutionary Guard Corps head Mohsen Rezai. It rejected 471 other applicants.
Iran's reformist camp is represented by Musavi and Karrubi, each of whom is considered a serious challenger.
Rezai, a former commander of Iran's Revolutionary Guards who is among the five Iranian officials wanted by Argentina for their alleged role in the 1994 bombing of a Jewish center, is widely regarded as a dark horse, with little chance to win the race.
The same day as the Guardians Council announcement, incumbent Ahmadinejad announced the successful test-firing of a new missile capable of reaching Israel and Southeastern Europe.
With Tehran bracing itself against outside scrutiny over its nuclear ambitions, and with Moscow and Washington debating the necessity of a U.S.-backed missile shield in Europe, the firing of the missile was seen as a possible attempt by Ahmadinejad to draw public support ahead of the June 12 election.
Incumbent Attacked
While Musavi, Karrubi, and Rezai have all began campaigning, the Iranian president has not officially launched his campaign. But he has already been accused by his three rivals of getting an early start to his campaign by using his presidential powers and government resources to travel to Iran's provinces to buy votes.
Supreme Leader Ayatollah Ali Khamenei (left) has made his preference clear.
Ahmadinejad's government has denied the accusations, and the president himself has blasted the criticism of his recent travels as "election immorality."
The incumbent's challengers have also blamed him for the poor state of Iran's economy.
The 55-year-old Rezai has warned that Iran is headed toward "an abyss," while Musavi has pointedly asked where the oil money that the Iranian president promised to bring to people's tables has gone.
Ahmadinejad is also come under criticism from his opponents for his confrontational approach to international issues, and his questioning of the Holocaust.
"First of all, the Holocaust existed," Karrubi said in a recent video interview posted on his campaign website. "Secondly, the Palestinians themselves say, 'What [is the use] of bringing such things up?' Thirdly, it [the Holocaust issue] is not related to us."

Main Challenger
The 72-year-old Karrubi, who ran against Ahmadinejad in the 2005 election and has received the backing of some prominent reformist figures and of pro-reform student groups, is considered a serious challenger.
But many expect the 67-year-old Musavi to be Ahmadinejad's main challenger. The former prime minister, who describes himself as a fundamentalist reformer, has been publicly backed by former President Mohammad Khatami.
"I consider Musavi a religious intellectual," Khatami recently told backers in an effort to encourage them to throw their support behind Musavi. "Musavi's dedication to morals is among his outstanding traits, as is his sympathy for people."
Musavi, an architect and a painter by trade, has been praised by many for his management of Iran's struggling economy while running the government during the eight-year war with Iraq in the 1980s.
He has promised to pursue detente with the West but has said that Iran must first gain international trust over its nuclear program. However, he has stopped short of saying Iran should halt its controversial uranium-enrichment activities, which have raised fears in the West that they could be part of an effort to build nuclear weapons.
Ahmadinejad leads several official polls that have been made public by Iranian media, although many question the reliability of the polls. Observers widely agree, however, that while Ahmadinejad will face a tough race, he will be hard to beat.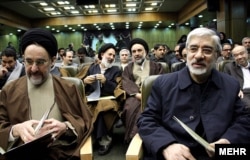 Former President Khatami (left) has backed Musavi (right).
He reportedly has the support of the powerful Revolutionary Guards, and Musavi and Karrubi have complained that state broadcasters give the incumbent biased coverage.
The hard-line president is also believed to have the backing of Supreme Leader Ayatollah Khamenei. Khamenei has not publicly expressed his support for Ahmadinejad, but as Paris-based political analyst Hassan Shariatmadari told RFE/RL's Radio Farda, there have been strong hints.
"Without naming any of the candidates, Khamenei has clearly introduced his candidate -- which is Ahmadinejad -- to the people," Shariatmadari said. "What is more important is that he makes signals to the Guardians Council, the Basij force, and other key bodies that can interfere in the election [to Ahmadinejad's advantage]."

Many Disqualified
Among those deemed not fit to stand for office by the 12-man Guardians Council was female parliament deputy Rafat Bayat. As a conservative, Bayat's registration had pundits speculating whether the watchdog body might approve her candidacy, seeing as the Guardians Council had said there was no barrier to a woman running for the presidential office. Overall, more than 40 female candidates did not make the final list.
More predictably, the candidacies of two former lawmakers who have been critical of the Iranian establishment were not approved. The majority of those disqualified lacked political experience.
Mohammad Seifzadeh, a prominent lawyer who heads the Committee for Free and Fair Elections, says the screening process by the Guardians Council prevents the election from being free and fair.
"The election is a race between government candidates, not people," Seifzadeh says.
The election campaign for the June vote will go on until June 10. The Interior Ministry has said that the results will be announced a day after the June 12 election, and there will be a runoff between the two leading vote-getters if no one wins a majority in the first round.
About 46 million Iranians are eligible to vote.
Ahead of the June balloting, human rights activists warned of an increase in the repression against government critics, women's rights advocates, and student activists in the country.
Iran Election Diary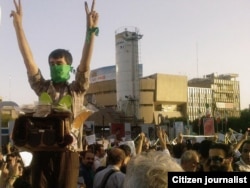 Disputed Presidential Vote
There have been protests and clashes with police on the streets of Tehran following the disputed reelection of Mahmud Ahmadinejad. RFE/RL collects videos, photos, and messages on social-networking sites coming out of Iran to attempt to get a picture of what is happening inside the country.
Click here