Azerbaijani Peader Ilham Aliyev and Armenian President Serzh Sarkisian in Moscow on July 17
MOSCOW (Reuters) -- The presidents of Armenia and Azerbaijan are meeting in a Moscow-brokered quest to try to solve one of the bitterest disputes left by the 1991 collapse of the Soviet Union.
Muslim Azerbaijan fought a bloody war in the 1990s over Nagorno-Karabakh, a mainly ethnic Armenian Christian land lying inside Azerbaijan's borders. The enclave declared independence in 1991 with support from Armenia, though no country has recognized it.
The dispute, which led to Azerbaijan and its Muslim ally Turkey closing their borders with Armenia, is one of the biggest threats to stability in the South Caucasus -- a key route for energy supplies from the oil and gas-rich Caspian to Europe.
"The talks will start today but there will be no press access," said a press officer at the Armenian Embassy in Moscow on July 17. They will take place in the President Hotel.
Russian President Dmitry Medvedev is to meet Azerbaijani leader Ilham Aliyev and Armenia's Serzh Sarkisian in Moscow on July 18.
While hopes have been raised of an imminent breakthrough, some Moscow-based analysts are skeptical whether the climate is ripe for a deal and warn that a renewal of conflict cannot be ruled out, with devastating consequences for the wider region.
"Azerbaijan has been renewing its military capabilities with the help of Israeli technology. Any military action would be catastrophic for the Southern Caucasus and the wider region," said Vladimir Zakharov, the deputy director of the center for Caucasus research at the Moscow State Institute of International Relations.
Around 35,000 people died in fighting over Karabakh until a shaky cease-fire was signed in 1994. Karabakh proclaimed its independence and runs its own affairs with heavy support from Armenia and its forces control chunks of nearby Azerbaijani territory.
It also sits at a crossroads between East and West, where big-power rivalry has played out for centuries and where Russia and the West are vying for influence over oil and gas transit from Central Asia -- complicating peace efforts.
A peace accord has never been signed and Azerbaijan, its military budget swollen by oil and gas sales to the West, refuses to rule out taking the territory back by force. On the Armenian side, Sarkisian was born in Nagorno-Karabakh and served as a Soviet soldier and Armenian defense minister.
For years, attempts to negotiate a compromise on Karabakh under international mediation failed because of tough resistance to any compromise from either capital.
The international mediators in the Karabakh talks -- Russia, France, and the United States -- issued a special statement at the summit of the Group of Eight leading economies in Italy last week urging all sides to step up work on a compromise deal.
But Aliyev poured cold water on prospects of reaching a breakthrough in Moscow during a speech in London on July 13.
He said that while the negotiations were "more promising," Baku still ruled out any talk of independence for the region.
"We are ready to grant the highest possible level of autonomy for those who live in Nagorno-Karabakh within the framework of a sovereign Azerbaijani state," he said.
Karabakh says it refuses anything less than independence.
Russia has said Medvedev's past mediation has delivered some positive elements in the efforts. The last talks took place in St. Petersburg last month.
Ready For Peace?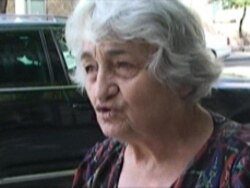 Ready For Peace?
The summit between the Armenian and Azerbaijani presidents on July 17 in Moscow is being welcomed as a step toward a potential breakthrough on Nagorno-Karabakh. Ahead of the meeting, RFE/RL correspondents asked Azerbaijanis and Armenians whether they are ready for a possible peace agreement. Play