The founding editor of the Armenia Today online news agency was severely beaten near his house in Yerevan this morning, RFE/RL's Armenian Service reports.
Argishti Kivirian is in hospital in very serious condition.
According to his sister Armenika, the attackers used wooden batons to beat Kivirian's head and body.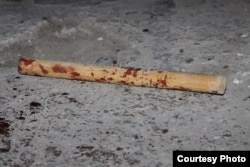 One of the wooden batons used to beat Kivirian
"They also had firearms," she told RFE/RL at Yerevan's Erebuni Medical Center. "We heard three gunshots. As soon as Argishti's wife and I heard noise, we dashed out of the apartment and went downstairs. Fortunately, he wasn't hit by bullets.
Kivirian's wife, Lusine Sahakian, a well-known lawyer who represents several jailed opposition figures, linked the attack to her husband's professional activities.
"Neither he nor I have had any personal problems," she told RFE/RL.
When asked whether she or her husband have received threats of late, Sahakian said: "There were problems." She did not elaborate.
Armenian officials say they have launched an investigation into the brutal attack.
Read more about the attack
here
on the English-language website of RFE/RL's Armenian Service.