Armenian Journalists Face Election Violence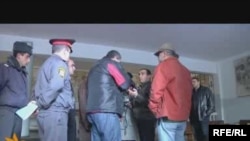 During a tense parliamentary by-election in Armenia on Sunday, January 10, reporters with RFE/RL's Armenian service suffered three attacks and attempts to prevent them from covering the process.
From RFE/RL's
"Journalists In Trouble" blog
.
About This Blog
"Watchdog" is a blog with a singular mission -- to monitor the latest developments concerning human rights, civil society, and press freedom. We'll pay particular attention to reports concerning countries in RFE/RL's broadcast region.
Journalists In Trouble
RFE/RL journalists take risks, face threats, and make sacrifices every day in an effort to gather the news. Our "Journalists In Trouble" page recognizes their courage and conviction, and documents the high price that many have paid simply for doing their jobs. More