YEREVAN -- Armenia's Health Ministry today confirmed that two people have died of swine flu, RFE/RL's Armenian Service reports.
State Hygiene and Anti-Epidemiological Inspectorate head Artavazd Vanian identified the victims -- Armenia's first to reportedly die from swine
flu -- as a young man and a pregnant woman from the town of Hrazdan.
The woman died on December 13 and the man a couple of days earlier.
An autopsy on a third man who died late last month revealed that he was not suffering from swine flu.
Vanian said the authorities have so far registered 80 cases of swine flu. He said 26 people are currently hospitalized.
The spread of the potentially deadly virus is believed to be the main reason why the government on December 7 ordered all schools and kindergartens across the country to be closed for two weeks as "a preventive measure against all strains of influenza."
Swine Flu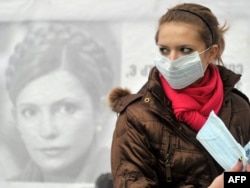 H1N1 Virus
As the fall flu season hits, fears of a swine-flu pandemic have grown in Eastern Europe after Ukraine saw a massive outbreak.
Click here
for RFE/RL's coverage of the virus's spread.