Ayatollah Ali Akbar Hashemi Rafsanjani is one of the most powerful men in Iran.
As such, he is usually highly visible in his official functions, which include periodically leading Friday prayers at Tehran's mosque -- an event broadcast nationally on state TV.
But amid the street protests since Iran's disputed presidential election in June, Rafsanjani has all but vanished from the television screen.
His last appearance on television was during February's observance of the 31st anniversary of the Islamic Revolution, when he and other leaders urged people to take part in regime-sponsored rallies.
Prior to that, he had not been seen since July 17, when he famously acknowledged opposition "doubts" over the election results. That was as he led Friday prayers at the Tehran University mosque. The TV station edited out the crowd's chants of support and, since then, Rafsanjani -- who used to lead prayers once a month -- has been replaced on each occasion by a lower-level cleric.
Lives Made Difficult
Has Rafsanjani been banned from state television, or has he willingly foregone public appearances? No one can answer that question definitively today. But his absence, combined with other recent events, can't help but give the impression he is under siege.
That sense of siege, as well as repeated, brief arrests of Rafsanjani family members, is the latest sign of how deeply Iran's establishment has split over the Green Movement, even as protesters have been driven from the streets.
This month, security services arrested Rafsanjani's grandson, Hassan Lahooti, then released him again. A Revolutionary Court later accused Lahooti, whose phone was tapped, of criticizing the supreme leader.
Similarly, security services this month arrested and released Rafsanjani's brother-in-law, Hussein Marashi, on charges of corruption.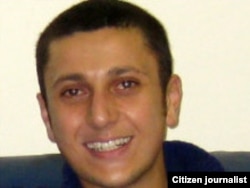 Rafsanjani's grandson, Hassan Lahouti, has been accused of insulting the supreme leader.
The arrests continue a pattern of harassment of Rafsanjani's family members that included detaining Rafsanjani's daughter at the height of the Green Movement protests. His daughter, Faiza Hashemi, had condemned the police's use of force against demonstrators.
In the face of such attacks, Rafsanjani -- who is famous for working behind the scenes -- has said little. But this month, he appeared on his personal website to deliver the closest he has come yet to a public rebuke of Iran's President Mahmud Ahmadinejad.
Using the carefully coded language of the Iranian clerical establishment, he asserted that "the voices of those with fossilized mentalities can be heard much more loudly today than they were during the Islamic Revolution."
At the same time, Rafsanjani used his appearance -- in which he wished Persians a happy Norouz (New Year) -- to all but accuse Ahmadinejad of seeking to destroy the republican component of the Islamic republic.
That component includes elections and parliamentary representation intended to give the people a voice in theocratic Iran's governance.
"The imam [the Islamic republic's founder, Grand Ayatollah Ruhollah Khomeini] believed that people should have control," Rafsanjani said. "Many people said [during the founding of the Islamic republic] that it was too early [for democracy], but the imam said people should have control as soon as possible."
Rafsanjani's statements were all the more extraordinary for being "broadcast" through his personal website. That mirrors the way the Green Movement's leaders use their personal websites to challenge Ahmadinejad's election win.
A Protector
Ten months after the presidential election, observers describe Iran's political field ever more clearly as three distinct camps.
Said Shahsavandi lists the camps as those of Ahmadinejad, of Rafsanjani, and of the Green Movement. Once a high-ranking member of the Mujahedin Khalq Organization, Shahsavandi later denounced the MKO and now works as an author and journalist in Germany. He says Ahmadinejad's camp -- which he calls the "military" camp for its close ties to the elite Islamic Revolutionary Guards Corps -- is trying to neutralize Rafsanjani.
"The military camp is working to neutralize Mr. Rafsanjani, and the recent arrests of Mr. Rafsanjani's grandchild and his brother-in-law are not so irrelevant to this issue," Shahsavandi says. "They are going to tighten the ring surrounded around Mr. Rafsanjani."
The reason, he says, is Rafsanjani's efforts to protect the Green Movement -- whose leaders are also prominent members of the establishment -- from being eliminated by Ahmadinejad's hard-line camp.
"It is true that the leadership of the Green Movement has been in the hands of others, but Mr. Rafsanjani has been a shield for the Green Movement," Shahsavandi says. "If not for his own personal stature, the leaders of the Green Movement would be arrested by now."
Rafsanjani's motives for acting as a "shield" for the Green Movement have been much discussed ever since that alliance of reform-minded forces emerged.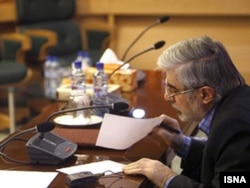 Opposition leader Mir Hossein Musavi at a meeting with students before the June 2009 election
He is widely believed to have provided funds to the presidential campaign of the Green Movement's key leader, Mir Hossein Musavi, partly to avenge his own loss to Ahmadinejad in the presidential race of 2005.
Rafsanjani is also widely believed to feel personally threatened by Ahmadinejad, who ran on a populist platform in both presidential elections. Ahmadinejad regularly suggests that Rafsanjani and some other wealthy fixtures of the establishment are part of the country's corruption problem.
High-Wire Act
But many Iranian analysts believe that Rafsanjani may have a more important reason for protecting the leaders of the Green Movement who are also establishment figures, such as Musavi and Mehdi Karrubi. That is that Rafsanjani appears to believe that without these establishment figureheads, the Green Movement could evolve into a direct threat to Islamic revolution.
"This is really the important point," Shahsavandi says. "I mentioned the role of shield that Mr. Rafsanjani plays for the Green Movement, but he plays the same role for the current political structure in Iran."
Other analysts also see Rafsanjani trying to balance two opposing forces.
Sir Richard Dalton, who was Britain's ambassador to Iran from 2003 to 2006 and is now a fellow at London-based Chatham House, says Rafsanjani "recognizes that the Islamic republic's day-to-day business must be carried on, that -- rightly or wrongly -- the government that has been in place since the [presidential] election in June is in charge of the levers of the country and that it falls to their responsibility, and that if matters are to be taken forward in a desirable direction then people need to work together."
"So [Rafsanjani] is willing to call for national unity," Dalton says, "but at the same time he is calling for greater respect for those who don't agree with everything the government does."
In this balancing act, Rafsanjani's chief levers are the great status he enjoys as head of two of the Islamic regime's most powerful bodies. One is the Expediency Council, which mediates in disputes between the executive and legislative branches. The other is the Assembly of Experts, which elects the supreme leader.
But the extent to which Rafsanjani can be successful finally depends upon the Islamic republic's ultimate power broker, Supreme Leader Ayatollah Ali Khamenei.
So far, Khamenei has also played a balancing game of his own. Sometimes he supports Ahmadinejad as the hard-line enforcer of the regime against street protests. At other times, he appears to warn Ahmadinejad not to overstep his presidential powers.
Rafsanjani's apparent exile from the state television screen may be a case in point.
Speaking about the state television, which is controlled by close Ahmadinejad ally Ezatollah Zarghami, Khamenei recently suggested he does not approve of all it does.
"Do not think that because I appoint the head of state TV it means that I check every single one of its programs," the supreme leader said. "No, it is not like that. I do not agree with many of state TV's programs."
Whether Khamenei's cryptic statement is a criticism of state television's treatment of Rafsanjani, its handling of news about the Green Movement, or something else entirely is impossible for anyone outside of the regime's own inner circle to know.
But it clearly is part of the delicate game of trying to keep the establishment unified as the Islamic republic faces the greatest political turmoil in its 30-year history. And that game, as the increasing tensions between Ahmadinejad and Rafsanjani show, is only getting harder.
Radio Farda correspondents Alireza Kermani in Prague and Sharan Tabari in London contributed to this report