With stifling heat still enveloping Moscow, the last place some people might want to be is packed into a crowded office answering panicked phone calls and packing boxes full of heavy supplies.
But at Spravedlivaya Pomoshch (Fair Help), a 3-year-old charity organization based within walking distance of the Kremlin, dozens of volunteers have gathered to help deliver food and other aid to regions devastated by the ongoing summer wildfires that have killed more than 50 people and burned entire villages to the ground.
Coordinator Natalya Avilova says Fair Help is locating the places and the people most in need of assistance, and then sending them medical help and the specific supplies that they need -- materials to build shelters, long-life food products, drinking water, and firefighting equipment like shovels and heat-resistant clothing.
Acts Of Kindness
Throughout Moscow and the fire-ravaged regions surrounding it, the heat wave and summer blazes have prompted an unprecedented wave of public activism.
Kremlin officials are under scrutiny for cutting back on forestry services and responding too slowly to the crisis. Moscow Mayor Yury Luzhkov faced a mounting roar of criticism before finally cutting short his Austrian vacation just this week, only to make evacuating his honeybees an early priority.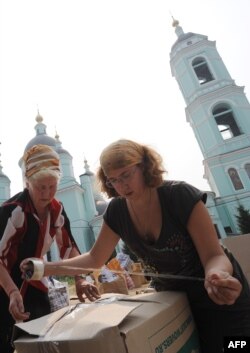 Women pack boxes of donated clothing and household items.
But where the state has been found lacking, thousands of ordinary citizens have rushed to fill the gap in a spontaneous display of public compassion.
Moscow movie theaters are offering
free film screenings
in air-conditioned halls to provide city dwellers a respite from the high temperatures and polluted air. An elite online magazine,
snob.ru
, has encouraged businesses with cooled office spaces to give over their rooms for people unable to sleep in their own smog-choked flats. And thousands of people have volunteered their time and money to help supply aid, and even personally fight the fires, in some of the country's worst-struck areas.
At Fair Help, hundreds of people have donated supplies or volunteered their services every day since the organization set up a special department on August 2 dedicated to helping fire victims. Even the smallest donations are appreciated. Some visitors have brought offerings as small as toothbrushes, while others arrive with cars packed full of bottled water and survival-food standards like "tushonka" and "sgushonka" -- canned meat and condensed milk.
One volunteer, Aleksei Borisov, had just driven his car southeast of the capital to deliver Fair Help supplies to the district of Yegoryevsk, which has seen some of the worst of Moscow Oblast's peat and forest fires. After speaking to local representatives from the Emergency Situations Ministry, he described a situation that was increasingly desperate.
"The scale of the problem isn't getting any smaller; the fire is continuing to spread," says Borisov, a 29-year-old lawyer. "The authorities have prohibited them from speaking to the media about the reality of the situation. Right now, there's no smoke in Moscow, but that's only because the winds have died down. That doesn't mean the situation is improving."
A Need To Reconnect
Until the situation does improve, fire victims may continue to turn to grassroots organizations like Fair Help and a handful of other charity groups for relief. Those groups, in turn, have a strong ally of their own -- a sophisticated network of Internet sites and blogs dedicated to every aspect of the fire disaster. In a country where state-controlled media has provided only a slow drip of news on a fast-moving story, Internet portals like LiveJournal have assumed center stage as the best source for information on everything fire-related.
Olga Serebryanaya, who covers the Russian blogosphere for RFE/RL's Russian Service, points to particular LiveJournal standouts like the site
pozhar.ru
and blogs by
Igor Chersky
and Elizaveta Glinka -- Fair Help's chief physician, who blogs under the name
Doctor Liza
. Serebryanaya says the proliferation of blogs and sites dedicated to the fires have gone a long way toward mending the sense of civic unity that has frayed in the two decades since the Soviet collapse.
"All the social connections that used to exist and function between people -- professional, personal -- have fallen apart in recent years," she says. "People now associate only with a very narrow circle of friends. And a moment of calamity like this has somehow shown us that we need to create what I would call new horizontal connections. I see in this not only a need to help, but a need to experience solidarity."
For a person looking to help but uncertain how to proceed, a quick visit to a site like pozhar.ru can be transformative.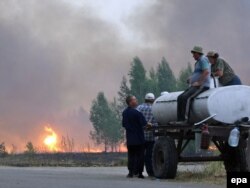 Local residents with a water tank watch as a fire approaches their village of Berestyanki, southeast of Moscow.
Wondering where to buy the best respirators or what medical supplies are most in need? Pozhar.ru will direct you to the proper links. It can also tell you what food supplies are needed, what to wear on your feet if you're fighting fires, where to buy shovels and garden sprinklers, and everything you need to know before driving into a fire zone, including GPS coordinates. It also provides a district-by-district breakdown, to help city residents worried about relatives in the countryside determine where to turn for information and help.
Many people have used their blogs to relate their own anecdotes about delivering aid and fighting fires. In one
Gogolesque anonymous post
currently making the rounds on LiveJournal, residents from the Chuvash capital of Cheboksary drove overnight to the neighboring republic of Marii-El to deliver boxes of food and nonprescription medical supplies they had purchased with money donated by concerned neighbors.
At one point, the blogger relates, they were stopped by local police who accused them of illegal activity and then helped themselves to some of the supplies in their trunk. Later, they encountered a group of Emergency Situations Ministry employees playing cards and drinking vodka as two fire trucks stood idly by, water leaking from their tanks, unused.
"We're just in shock, this isn't the ESM, it's a FUNERAL BRIGADE," the blogger comments. (Eventually, the group found a village elder who served them hot tea and gratefully received what remained of their supplies.)
'People Are Simply Helping Each Other'
For the most part, the tone of most web content focused on the fires is grave, no-nonsense, and highly efficient. Adventurism is frowned upon and information telephone numbers are posted with strict warnings against casual enquiries.
Avilova at Fair Help says the most critical advantage for Internet users is their ability to disseminate quick, reliable news and advice to those who need it, and to receive information in return.
"The Internet community is very strong now, and the connections between bloggers are also very strong," she says. "Elizaveta Petrovna publishes a list of things that we need every day on her blog, and the next day bloggers and Internet users bring us exactly what we asked for.
"We can use the blog to say precisely what's needed -- and then, most importantly, we can publish pictures attesting to the fact that we went where we said we were going to go, and we can show people that the things they donated made it into the hands of the people who needed it -- and not, say, into the office of some village bureaucrats somewhere."
Avilova admits to being surprised by the outpouring of generosity and concern on the part of Moscow residents. Fair Help had initially hoped to collect enough supplies to be able to help a single village hit by the fires. Now, she says, they have so many offers of help that they have made multiple deliveries to villages throughout Moscow Oblast and are venturing even further afield to Vladimir and Ryazan oblasts, as well.
One of the volunteers in the busy office is Tatyana Protsenko, Borisov's wife and herself a lawyer. She acknowledges that she's had to put certain aspects of her regular life on hold while the fires are raging, but says she's hardly unique.
"There's never been something of this magnitude," she says. "We've never had this kind of heat wave in Russia, this kind of disaster. People are simply helping each other. This is the kind of situation where you have to put your own affairs aside for a while and deal with something serious and important."