WATCH: Correspondents from RFE/RL's Russian Service traveled to the village of Rizadeyevo in Russia's Nizhny Novgorod region to see the effects of the devastating fires firsthand.
RIZADEYEVO, Russia -- Ivan Yevangulov sits wearily on a bench in front of the forestry workers' headquarters in this small village in Russia's Nizhny Novgorod Oblast.
Yevangulov, who is in his mid-40s, has worked for two decades as a ranger protecting these once-lush forests filled with pine and birch trees. But now, he says, he's helpless to stop uncontrollable wildfires from destroying the forest where he's spent his entire career.
"The fire is 2 to 4 kilometers long and the flames are reaching 35 to 40 meters high," Yevangulov says. "Just imagine. And it spreads quickly. It's not possible to escape on foot. It's moving so quickly that it's impossible to stop it. The fire engines that were here had to turn around and leave."
In Moscow, scorching temperatures and heavy smog caused by the fires are being blamed for nearly doubling the capital's mortality rate, with health officials saying as many as 700 people are now dying each day. Beyond the city, massive fires have killed more than 50 people, razed scores of homes, and destroyed thousands of trees.
It has also brought public anger over government negligence to the boiling point. As frustration grows over the uncontrolled spread of the fires, many critics say state cuts in fire-fighting resources and new laws on forestry management are to blame -- and that the Kremlin elite should account for their role in the disaster.

'Unprotected' Forest
"It became very windy and the whole situation got out of control -- I mean, completely out of control," Yevangulov says, describing a deadly "wall of fire" that blazed toward Rizadeyevo before veering off course and sparing the village the destruction witnessed in other parts of Nizhny Novgorod Oblast.
In the past, such fires were easier to contain. There once used to be as many as 70,000 rangers like Yevangulov patrolling and protecting assigned tracts of the country's 775 million hectares of forest. As employees of the Soviet-era State Forestry Service, the rangers -- together with 200,000 additional forestry workers -- were considered the first and best line of defense against forest fires.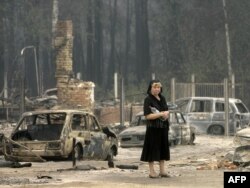 A woman stands near the charred remains of burned homes in the Russian village of Peredeltsy.
But a radical revamp of the service has left Russia's forests virtually unprotected. Sharp spending cuts in the 1990s began to drain the forestry service of employees and equipment. And a 2007 Forestry Code further decimated the ranks by moving responsibility for forest supervision away from the state and onto local authorities or individual renters in or around forested areas -- including wood-processing companies and developers with no vested interest in protecting the forests.
Aleksei Yaroshenko, a forestry expert with Greenpeace Russia, says the new code effectively eliminated in a single blow the entire forest-protection system built up in the Soviet era -- cutting back rangers by 75 percent and replacing them with smaller, less effective, ranks of office workers.
"There are no more forest rangers, in the old sense of the word -- people who were right there, on the spot, to protect the forest," Yaroshenko says. "These people basically no longer exist. There are other forest-management office employees now who occasionally do something in the forest, but for the most part they fill out forms and do bureaucratic tasks. So the forest is unprotected -- and, of course, this is how it's been for the past 3 1/2 years."
Too Little, Too Late
There are currently an estimated 162,000 people involved in efforts to contain the fires. Very few, however, are traditional rangers or state-funded firefighters. Instead, they are a motley assortment of army soldiers, volunteer firemen -- some from as far away as Belarus, Bulgaria, and France -- and even local villagers, some armed only with shovels. Even in areas where trained firefighters are on hand, a crippling shortage of equipment has made traditional fire-fighting techniques difficult, if not impossible.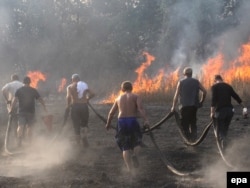 The fires are being fought by a motley assortment of firefighters, soldiers, and local villagers, often armed with the barest of tools.
Such setbacks have focused increased scrutiny on the Forest Code. Signed into law by then-President Vladimir Putin, the code was supported by real-estate developers and the timber lobby, which was eager to lay claim to one of the country's last great extractable resources.
The legislation sparked an uproar among environmentalists and regional officials, who said the move would expose Russia's pristine forests to unchecked development and sharply raise the chance of wildfires.
Andrei Gorelov, a former ranger in the Vyksunsky district of Nizhny Novgorod Oblast, says the forestry workers that remain are more focused on timber production than on preventing and fighting forest fires.
"There are fewer and fewer forest rangers. When I worked as a ranger here we had about 30 people working with us -- rangers, other forestry workers, assistants," Gorelov says. "And when there was a forest fire, we mobilized and we were focused on containing the fire, not on timber production. And now there is simply nobody to do that."
Gorelov adds that even in seasons when there were a lot of fires, forestry workers were able to respond quickly to contain the blazes. "There was a time when there were seven or eight new fires a day. We always mobilized rapidly, to come and locate the fire's epicenter quickly. We dug ditches around the fire so it wouldn't spread and we would douse it with water. And that was all you needed," he says.
Crisis Management
With the death toll mounting and homes and forest land continuing to burn, the government is facing a monumental challenge to its preferred image of implacable control. (The recent announcement that Russia will ban grain exports in the face of a disastrous, drought-afflicted harvest, is likely to send food prices soaring and weaken the Kremlin's standing even further.)
Vladimir Putin visits the village of Verkhnaya Vereya, in Nizhny Novgorod, which was destroyed by the fires.
Putin, now prime minister, has become a frequent sight on Russian television in recent weeks, promising state restitution for lost homes and berating local bureaucrats for failing to fight back the fires. But writing in "The Moscow Times," political commentator Yulia Latynina said that "in reality, there is really only one bureaucrat who is responsible for this tragedy -- Putin himself. After all, it was Putin who signed the Forest Code in 2007."
The Russian leadership has also come under criticism for failing to prepare for summer-season wildfires which, in recent years of rising temperatures, have become a fairly routine event. Analyst Yevgeny Volk of the Heritage Foundation think tank says many are wondering why the Kremlin was caught flat-footed by a summertime threat that has plagued the country for years.
"It's no secret that peat fires and forest fires have been the traditional companions of hot weather in Russia for many decades already," Volk says. "There was nothing unexpected about this. So it naturally raises the question of why, at the start of the season -- when they predicted a very hot summer -- they didn't take appropriate measures for preparing for and notifying people about the dangerous situation regarding these fires."
Will Anger Last?
Public dissatisfaction is mounting over the sluggish response to the fires, with bloggers calling for federal officials to resign and Putin himself facing direct taunts from residents angered by the destruction of their homes.
A video, posted last week on YouTube, showed an uncomfortable prime minister surrounded by a voluble crowd of distraught, shouting residents from Verkhnyaya Vereya, a village in the Vyksunsky district that was completely destroyed by the fires:
State television, however, is countering such rare glimpses of unrest with an onslaught of coverage of the government's response to the fires. In a country where most people get their information from television, Yaroshenko says, the lasting memory of the 2010 inferno may be one of a government with the crisis well in hand.
"Certainly a lot of people right now are beginning to understand that everything they're seeing on television is a Potemkin village -- something done for show. But what the consequences will be once the fires are forgotten..." Yaroshenko says. "I don't rule out that people will forget about the whole thing and just say how good we have it here."