Kareem Hassan Abboud and his wife, three grandchildren, and two widowed daughters share a two-room house in a makeshift squatter camp in northwestern Baghdad.
The 59-year-old fisherman and his family were forced to move to the mainly Shi'ite district of Chukook four years ago when sectarian violence in Iraq was raging.
The bloodshed, set off after the 2003 U.S.-led invasion that toppled Saddam Hussein's regime, mainly involved majority Shi'ia and once dominant Sunnis.
With the United States' formal declaration of the end of its combat operations in Iraq, hundreds of thousands of Iraqis who fled the violence are still living in misery. And many of these displaced people, like Abboud, see a grim future for their family.
Abboud says he feels let down by the country's political leaders, who have not yet agreed a new government nearly six months after the country's general elections, which produced no outright winner.
"If the conditions remain as they are now and no government is formed, day after day things are getting worse," Abboud tells Reuters. "We are waiting for a good man to govern us and to look after the oppressed people. We are the oppressed people. [Politicians] fight over positions and have no idea what we eat and drink and where we sleep."
According to the UN's refugee agency, the war in Iraq produced the worst humanitarian crisis in the Middle East since 1948, when half the Arab population of Palestine fled their homes following the creation of Israel.
The UN High Commissioner for Refugees (UNHCR) says more than 1.5 million people are displaced inside Iraq, of which 500,000 are squatting in camps or public buildings. In Baghdad alone, 200,000 people live in 120 camps.
Hundreds of thousands of Iraqis have also fled the conflict abroad, mainly to neighboring Jordan and Syria.
In Iraq, many of the displaced are too scared to go home or cannot afford to return to their old neighborhoods, where their abandoned homes have been ransacked or destroyed.
Many have found it impossible to get work and have slid into poverty.
UN agencies have reported that thousands of Iraqi women have been taken advantage of by the region's sex traffickers.
Violence Continues
Although the overall security situation is perceived to have improved since the height of sectarian warfare in 2006-07, sporadic violence continues in Iraq, with daily bombings and killings.
Concern has grown that the political vacuum following Iraq's general election and U.S. pullback will be exploited by insurgents and reignite sectarian bloodshed.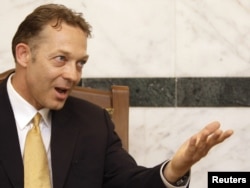 The UNHCR's Daniel Endres
Meanwhile, the UNHCR representative in Iraq says donors have started disengaging from Iraq. Daniel Endres says his organization has received less than half the $264 million it requires for this year.
"It's very important that postconflict or transition countries -- because part of [Iraq] is still conflict -- receive sufficient support for a certain period," Endres says. "Statistics show that the majority of postconflict situations plunge back into conflict within seven years. And very often you can trace it back to a lack of attention or not sustained support in these critical postconflict years."
Iraq, which holds the world's third-largest oil reserves, has signed a series of deals with oil majors to develop its oil fields, but it will be years yet before significant oil revenues start to pour in.
Housing Shortfall
The UNHCR, which built around 10,000 houses in Iraq in 2009 to help address a shortage of an estimated 1.5 million homes, says it has only managed to build 6,000 to 7,000 homes this year.
At the camp in Chukook, where officials estimate more than 3,000 families are living, there is no plumbing and a hole in the ground serves as a toilet. Electricity comes from a small generator.
Um Younis, 36, is one of many widows in the Chukook camp who are now in charge of their households after losing their husbands during the war. Wiping away tears with the sleeve of her clothing, she says she has received little help.
"We live in hard circumstances and nobody helps us except Allah. There is no water and no electricity," she says. "We are living in a bad situation. Only the good people helped us, but no officials of the government helped us."
written by Antoine Blua, based on reporting by Reuters