PRAGUE -- Some 50 astronauts and cosmonauts from across the world have converged on the Czech capital, Prague, for a Planetary Congress.
Organized by the international Association of Space Explorers (ASE), the annual weeklong event aims to review the member states' space programs and promote space exploration among the public.
The gathering is also an opportunity for astronauts from different countries to meet face-to-face, share their flight experiences and, for the most illustrious, bask in the limelight.
Valentina Tereshkova's decision to cancel at the last minute was a major letdown for space buffs who had hoped to catch a glimpse of the first woman to orbit the Earth.
Thankfully, fellow Russian astronaut Aleksei Leonov, another living legend, was in attendance.
First Spacewalk
Leonov shot to fame in 1965 when he became the first person to venture into open space.
"I came out and took a few steps," he told RFE/RL. "That's how far I walked. I toddled my way from the Black Sea to the Yenisei Rver -- 7,000 kilometers in 12 minutes."
The spacewalk was a risky enterprise.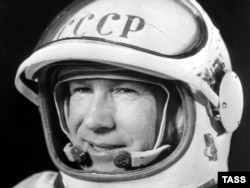 Soviet cosmonaut Aleksei Leonov, who in 1965 became the first man to walk in space
At the time -- just four years after Yury Gagarin became the first human in space and the first to orbit the Earth -- it was still unclear whether men could survive in open space, even with the protection of a spacesuit.
The equipment used by Leonov was all but experimental. By the end of the brief spacewalk, his spacesuit had inflated so much that he was barely able to reenter the flight capsule.
His suit's temperature-regulating system was also flawed.
"The ventilation was not sufficient -- 60 liters per minute for breathing and ventilation," he said. "Now it's 360 liters. Now [astronauts] say their feet get cold, but I was so hot sweat poured into my eyes."
Leonov, who is now 75, says his historic spacewalk left him a changed man.
"People who have been there have a different conception of time and space, he said. "For me, the Earth is finite, it is not something abstract. And there are physical phenomena that ordinary people would never see in their lifetimes. For example, day and night at the same time -- a blue Earth, a black sky, stars that don't twinkle, and a bright sun."
Chinese Ambitions


This week's Planetary Congress also featured a number of more recent celebrities, including Yang Liwei, the first astronaut sent into space by China.
Yang's successful flight in 2003 made China the third nation to independently send an astronaut into space, after the Soviet Union and the United States.
Speaking at a news conference during the congress, Yang insisted that his spacecraft, the Shenzhou 5, was the product of Chinese technology rather than a replica of existing spacecrafts.
"It is unique and it has its own characteristics, including electronic equipment developed by China," he said. "Both small and large parts all have special, distinctive qualities."
Top Russian and U.S. astronauts attending this year's congress appeared to have little doubt in China's know-how. They treated Yang with deference and seemed to put much stock in the country's space efforts.
As U.S. veteran astronaut Charles Walker said: "China is clearly demonstrating an advanced capability to transport not only humans but also advanced technology to space to do very informative, positive, and important things for China, for Asia, and for all of humanity."
China could make a huge contribution to space exploration by realizing even a fraction of its stated goals.
The country has ambitious plans to build a space station and send a manned mission to the moon by 2020. In the longer term, it hopes to establish a manned lunar base and launch deep space exploration, including manned flights to Mars around the year 2050.
For most ordinary, Earth-bound people, sending humans to the red planet and colonizing the moon belong to the realm of science fiction.
But according to astronauts, the exploration of the universe is only just beginning.
"Space exploration is something that can't be stopped," said U.S. astronaut Catherine Coleman. "We live in a neighborhood, and our part of the neighborhood happens to be called Earth. But we live in a huge universe. I don't think you could tell people not to try to figure out where we live and what it's like out there."