Video: The Armenian Revolutionary Federation (Dashnaktsutyun), a political party with close ties to the Armenian diaspora, organized a hunger strike in front of the Armenian Foreign Ministry in Yerevan, protesting the agreement between Armenia and Turkey, which is due to be signed on October 10. Participants offered emotional responses to the prospect of an Armenian-Turkish rapprochement. (Video by author)
YEREVAN -- Singing patriotic songs about historic battles against the Turks, dozens of hunger strikers have been camped out in front of Armenia's Foreign Ministry building for weeks.
They are protesting a proposed agreement that would reestablish diplomatic ties between Yerevan and Ankara and open Armenia's border with Turkey, ending a crippling 16-year blockade.
Among the demonstrators is Nashan Ajemian, a man in his 50s with a low, gravelly voice, who returned to Armenia from the United States a decade ago. Standing among the protesters, he is adamant that efforts by the country's president, Serzh Sarkisian, to win support for the rapprochement will never convince Armenians to forget the crimes committed by the Ottoman Empire.
"He's trying to convince everybody that everything is OK. But we know the Turks for the past 800 years. We know who they are," Ajemian says.
"Peace is a good thing. But we're making peace with whom? With a criminal who killed my ancestors?"
Ajemian's comments came as Sarkisian was conducting a whirlwind, four-country tour in a last-minute attempt to persuade the 5.7 million ethnic Armenians living abroad to lend their support to opening ties with Turkey.
The agreement, months in the making, is due to be signed by the Turkish and Armenian foreign ministers on October 10 in Zurich, Switzerland.
Armenians abroad constitute one of the world's strongest diaspora lobbying groups, and Sarkisian has met with skepticism and resentment during his tour of France, the United States, Lebanon, and Russia.
Many in the diaspora reject the proposed rapprochement with Turkey, which they hold responsible for the slaughter of 1.5 million Armenians in 1915. They say a deal with Ankara, which rejects the Armenian assertion that the killings constituted genocide, could represent a disastrous capitulation to a long-standing, and deeply resented, enemy.
They also object to Armenia recognizing its existing border with Turkey, which they say reflects a Soviet-era deal between Moscow and Ankara that handed tracts of Armenian territory to Turkey.
Khachik Khachaturian, another Armenian returnee to Yerevan, says his father was forced to flee his homeland when Ottoman forces massacred Armenians toward the end of World War I.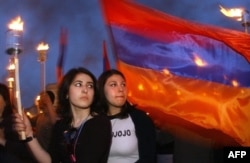 Armenians marked the 90th anniversary of the Ottoman-era mass killings in Yerevan in April 2005.
"Why does Armenia have a diaspora? Why? How did it happen? These people, most of them, their ancestors are from western Armenia -- Kars, Ardahan, Tikranagert, Van -- these are areas we cannot give up," Khachaturian says.
"The genocide is an issue, and the land is a second issue. There is no way people can forget that. And we will never forgive this president. Governments come and go, but justice remains. All we ask for is justice."
'A Threat To Their Very Identity'
The diaspora's sentiment is gaining a foothold back home, as ethnic Armenians like Khachaturian and Ajemian return to their native land, firm in the conviction that a peace deal with Turkey must be fought at all costs. The ongoing hunger strike is organized by the Armenian Revolutionary Federation, a nationalist party with close ties to the diaspora.
The fierce diaspora opposition to rapprochement with Turkey reflects the political minefield Sarkisian must navigate as he pursues a policy that has the strong backing of Armenia's main foreign allies, including the United States, the European Union, and Russia.
In an interview published in "The Wall Street Journal" on October 7, Turkish Prime Minister Recep Tayyip Erdogan said Yerevan "should not allow its policies to be taken hostage by the Armenian diaspora. It should be up to the government to carry out its policies."
Part of Sarkisian's dilemma, however, lies in convincing the diaspora of the anticipated benefits of the deal. Renewed ties with Turkey have the potential to bring commerce and clout to tiny, impoverished, and landlocked Armenia.
But that incentive has far less sway among the diaspora, who have moved on decades ago to better lives abroad.
"The diaspora has a one-issue identity; it's the genocide and nothing more. They see this whole rapprochement with Turkey as a threat to their very identity. They don't see it in the same context that the Armenian government sees it, in terms of a need to open the border and a need for normal relations," says Richard Giragosian, director of the Yerevan-based Armenian Center for National and International Studies.
"The only benefits that could come will be accrued by the Armenian government and the Armenian population. The diaspora sees nothing but harm and nothing but a threat."
'Don't Betray Us'
In fact, Turkey and Armenia briefly had diplomatic relations in the past. Turkey was among the first countries to recognize Armenian independence after the breakup of the Soviet Union in 1991. But afterwards, when Armenian forces occupied the disputed Nagorno-Karabakh region, which falls within the borders of Turkey's historic ally Azerbaijan, Ankara broke off diplomatic ties with Yerevan and closed its border with Armenia.
Last month, Yerevan and Ankara said they would set aside hostilities and establish diplomatic ties. The protocols to be signed on October 10 sidestep the genocide issue by establishing a joint commission to study the massacres.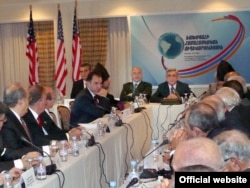 Armenian President Serzh Sarkisian met with representatives of the Armenian diaspora in Los Angeles on October 4.
That step did nothing to mollify the diaspora, however. Violent protests broke out on the first leg of Sarkisian's diaspora tour on October 2 in Paris, where an estimated 200 demonstrators clashed with riot police and shouted "traitor" at the Armenian president.
In the United States, Sarkisian faced angry crowds in both New York and Los Angeles. An estimated 12,000 Armenian-American demonstrators gathered on October 4 outside the L.A. hotel where Sarkisian was staying. Held back by blockades and guardrails, protesters held signs reading: "Don't Betray Us" and "Turkey Accept the Genocide."
The Armenian National Committee of America (ANCA) issued a statement ahead of Sarkisian's visit criticizing the opening to Turkey as "a flawed and dangerous set of protocols that threaten the security of Armenia, surrender the rights of the Armenian nation, and insult the dignity of the Armenian people."
In an interview with RFE/RL in Washington, Aram Hamparian, ANCA's executive director, assailed Sarkisian for presenting the diaspora with a fait accompli, rather than taking their views into account.
"It's not a sincere opportunity for dialogue, but rather a theater, designed to create the impression that there's a back-and-forth. The fact is there is no back-and-forth," Hamparian says.
"The document was negotiated in secret, and the document is not subject to any changes, so the idea that he's coming to have a dialogue on the subject is simply not credible."
White House Support
Not all Armenian-Americans are so staunchly opposed to normalized ties with Turkey. The Armenian Assembly of America joined two dioceses of the Armenian Apostolic Church and the diaspora's largest charity, the Armenian General Benevolent Union, in issuing a statement supporting the rapprochement with Ankara.
Haig Deranian, grand master of the Knights of Vartan, an Armenian-American fraternal organization that does charitable work, also signed on to the assembly's supportive statement. He says diaspora Armenians "come from an emotional position, because we've lived the genocide" since childhood.
"Growing up -- I'm a first-generation Armenian-American -- I heard the gruesome stories from my parents and grandparents about what happened. So I'm very emotional about this issue," Deranian tells RFE/RL.
"But by the same token, you can be emotional but also be objective, and try to do what's good for the Armenians and our country."
While in the United States, Sarkisian received a telephone call from U.S. President Barack Obama expressing support for his pursuit of normalized relations with Turkey.
Back on the road, however, Sarkisian faced fresh resistance. In Beirut on October 6, an estimated 2,000 protesters gathered outside the president's hotel, carrying Armenian flags and signs reading "We Will Not Forget."
Sarkisian is due to visit Rostov-na-Donu in southern Russia before wrapping up his trip.
At 5.7 million, Armenians abroad far outnumber the 3.2 million living in Armenia proper. Due to their lobbying power, remittances, and investments in the Armenian economy, they have historically enjoyed significant influence over the country's politics and foreign affairs.
But observers say the momentum for a Turkish-Armenian rapprochement has become so strong internationally that the diaspora is unlikely to be able to scuttle the deal.
Public opinion in Armenia on the opening with Turkey is difficult to gauge, as no public opinion polls on the subject have been released. Analysts say, however, that most Armenians favor reestablishing ties with Turkey, even as deep historic resentments remain.
"I think the opening of the border will be of benefit to us," says Vahag Galstyan, a 24-year-old man walking through a park in central Yerevan.
"It would be desirable not to forget the past, but to come to terms with it, and live in peace and move forward."
RFE/RL correspondent Heather Maher contributed to this report from Washington; Suren Musayelyan of RFE/RL's Armenian Service contributed to this report in Yerevan