Officials say 42 people died and several were seriously injured when a passenger bus collided with a train in eastern Ukraine.
Ukraine's Interior Ministry said the death toll could increase.
The collision occurred outside of the town of Marhanets in the Dnipropetrovsk region.
The Interior Ministry said initial reports suggested the bus driver ignored or failed to hear a siren that indicated an oncoming train and attempted to cross the railroad tracks.
The ministry also quoted witnesses who said the bus's engine stalled as the driver was changing gears just as the vehicle was straddling the tracks. It said the train dragged the bus along the tracks for about 30 meters before coming to a stop.
Transport Minister Kostyantyn Yefymenko told journalists in Kyiv what some survivors of the crash have been telling investigators.
"The bus was standing still. But then the driver took his seat and started driving right in front of the locomotive," Yefymenko said. "The surviving passengers are saying today that they were shouting to the driver that the alarm had sounded and he shouldn't drive."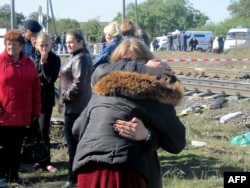 Relatives of the crash victims react at the scene.
A spokeswoman for the region's traffic police, Lyudmila Bashmakova, described a scene of "utter carnage," saying there were three children among the dead. She also said the driver of the intercity passenger bus violated traffic laws by driving through a red light.
Need For Safety
UkrainIAN Prime Minister Mykola Azarov announced the tragedy at the start of a cabinet meeting, requesting a minute of silence for the victims.
Azarov told the cabinet that the authorities should not "economize on human life" and urged tougher requirements for the "physical and psychological condition" of passenger vehicle drivers.
Road and railway accidents are common in Ukraine where the roads are in poor condition, vehicles are poorly maintained, and drivers and passengers routinely disregard safety and traffic rules.
Azarov said the tragedy highlighted the need for improvements in railroad crossing safety in Ukraine, and he ordered the relevant ministers "to draw up a prevention program that must include the construction of railroad crossings, including automatic crossings."
President Viktor Yanukovych conveyed his condolences to the victims' relatives. He also announced that a committee headed by Deputy Prime Minister Andriy Kluyev had been set up to establish who was responsible for the tragedy and to help the families of victims.
A statement on Ukraine's presidential website said Kluyev had left Kyiv by early in the afternoon to visit the scene of the accident. Rescuers, medics, and investigators were working at the scene of the crash as he arrived.
Later in the day, a van crammed with farm workers crashed head-on into a truck in central Poland in dense fog, killing all 18 people on board. That collision occurred 80 kilometers south of Warsaw.

RFE/RL's Ukrainian Service contributed to this report