Unedited RFE/RL video of the immediate aftermath of the shooting
BAKU -- At least 13 people were killed when authorities say a lone gunman opened fire at Azerbaijan's prestigious State Oil Academy in the capital, RFE/RL's Azerbaijani Service reports.
At least 13 other students -- including three Sudanese nationals -- were injured in the attack, which began around 9 a.m., shortly after classes had started.
Early reports suggested two gunmen were involved, but the Prosecutor-General's Office subsequently said there was only one attacker, identified as an ethnic Azeri from neighboring Georgia named Farda Gadirov. (
Profile of the suspected gunman
)
Witnesses said the gunman killed himself after the rampage, although officials initially said security forces killed him.
Rovshen Allahverdiyev, a student inside when the rampage began, told RFE/RL that "he was a lone gunman with a pistol, and he was shooting everyone -- students [and] teachers."
Allahverdiyev described the scene as frightened students scrambled to escape through the one available exit.
"I saw how he shot my fellow student," Allahverdiyev said. "There is only one exit on the first floor [and] the second floor is too high to jump. Everyone was running here and there. My colleague tried to disarm him and went toward him but he shot him, then we ran away."
Azerbaijan's prosecutor-general, Zakir Garalov, and Interior Minister Ramil Usubov went to the scene and were coordinating the investigation.
Police converge on the scene of the rampage (Reuters video)
Students who witnessed the shootings told RFE/RL's correspondent on the scene that the shooter had opened fire after a heated argument broke out with a group of students soon after he entered the building.
The suspect was reportedly armed with a Makarov automatic pistol and was carrying large quantities of ammunition. He reportedly rampaged through the building from the ground floor to the sixth floor, shooting randomly at anyone he met.
Ali Hasanov, an adviser to President Ilham Aliyev, told reporters that authorities were viewing the attack as a criminal act, and not a terrorist attack.
The gunman's motive remained unclear.
President Aliyev expressed his condolences to the families of victims and assured them the state would assist them in every way possible.
The prestigious State Oil Academy trains specialists for Azerbaijan's oil industry, the engine of the country's economy. It has about 5,200 undergraduate students and 370 graduate students. It currently has 43 foreign students from 10 countries.
The tragedy is the most dramatic incident of gun violence at a school or university in recent memory in Azerbaijan.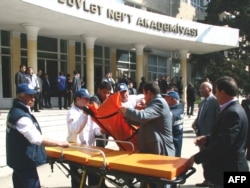 Emergency services move one of at least 13 fatalities onto a gurney outside the scene of the shootings in Baku on April 30.