WATCH: Residents of the Nariman neighborhood of Osh accuse Kyrgyz troops of beatings and of destroying their documents.By RFE/RL

NARIMAN, Kyrgyzstan -- Ethnic Uzbeks in Osh in southern Kyrgyzstan say Kyrgyz government troops raided their neighborhood on June 21, beating people with rifle butts and destroying their personal documents. Two people were killed in the raid after authorities say government troops were fired upon.
The allegations of beatings and identity destruction are among the strongest claims yet of government involvement in violence between ethnic Uzbeks and Kyrgyz that killed more than 200 people last week. Interim Kyrgyz leader Roza Otunbaeva says the final death toll could be 10 times that figure. The violence displaced some 400,000 people from their homes.
An RFE/RL correspondent was approached by more than a dozen ethnic Uzbek men and women in the Osh neighborhood of Nariman on June 21 shortly after the raid. The villagers showed burned or ripped Kyrgyzstan passports that they say were destroyed by troops in army uniforms.
Our correspondent also saw government troops on armored personnel carriers leaving the area after the raid.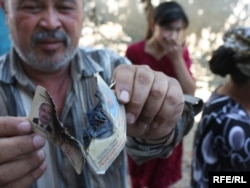 A man displays his passport, which he says troops destroyed during their raid on Nariman. (photo by Bruce Pannier)
Anyone whose passport has been destroyed would likely not be able to take part in a national referendum on a new constitution that the interim government in Bishkek has scheduled for June 27.

Mamyr Nizamov, head of an Uzbek council of elders in Osh, says that instead of calming ethnic tensions in southern Kyrgyzstan, government troops are now creating disturbances. Nizamov claims there has been a pattern of behavior by Kyrgyz troops who tell ethnic Uzbeks they have not earned their Kyrgyz citizenship and then destroy their passports

Rahmatulla Ahmedov, a spokesman for the Interior Ministry, told RFE/RL's Kyrgyz Service today that seven suspects were detained on suspicion of involvement in the killing of the head of a local police precinct last week.

Ahmedov denied the allegations that passports had been destroyed during the operation.

"It's not true. The main aim of this special operation was, based on our information, to arrest all armed men concentrated there and to confiscate all weapons."

Emil Kaptaganov, the interim government's chief of staff, said two people were killed and 23 asked for medical assistance after the raid.

The authorities say the raid was launched to dismantle barricades that had been erected on roads leading into the area by ethnic Uzbeks. They also say they were searching for illegal weapons and checking identification papers in search of suspected criminals they say had taken refuge in the district.

A police spokesman said one person was shot dead after soldiers came under fire during the June 21 raid, while a second person was wounded and died on the way to the hospital.

Sharshenaliev said security forces opened fire on ethnic Uzbeks who refused to surrender their weapons. He also said security forces confiscated ammunition and explosives along with scores of weapons during the raid. Authorities say a total of seven people also were detained on suspicion of involvement in the killing of the head of a local police precinct last week.
But Anna Neistat, a senior researcher for Human Rights Watch who was in Nariman on June 21, told RFE/RL's Uzbek Service that many people were taken away by the authorities. Neistat says she has gathered the names of 11 people, ranging from 27 to 55 years of age, who were detained by uniformed security forces.
"The entire village was cordoned off. Groups of 15 to 20 policemen or soldiers -- although I can't say for sure who those people were -- were walking around the village, entering houses," Neistat says. "They demanded to see [the villagers'] papers, and after that simply started beating every man. They were trying to get information about the killing of the chief of police in Nariman."
WATCH: The mayor of Osh orders barricades blocking ethnic Uzbek neighborhoods to be removed so that local residents can find missing loved ones:
Neistat said she thinks some of the security forces were taking revenge on Nariman residents for the killing of the police official.
"This situation simply confirms once again what we have been saying from the very beginning," Neistat says. "The situation is far from being under control. On the one hand, government forces cannot guarantee the safety of Uzbek residents. On the other hand, it is unclear what their plan is. If it goes on like this, there can be no stabilization."
Ole Solvang, an emergency researcher at Human Rights Watch who is in Osh, said the operation in Nariman justified the intervention of a peacekeeping force.
"The operation this morning demonstrates the urgent need for an international, UN-mandated force to protect the residents of southern Kyrgyzstan," Solvang says. "Kyrgyz security forces have shown that they are not up to the task."
Before traveling to Nariman, RFE/RL's correspondent visited Otkhona, a barricaded ethnic Uzbek neighborhood in Osh. He arrived shortly before government troops raided that area and began dismantling the roadblocks and making several arrests and reported seeing more than 1,000 displaced ethnic Uzbeks gathered in the neighborhood's residential compounds -- the overwhelming majority of them women and children.
Among a handful of young ethnic Uzbek men in that neighborhood, none was seen to be carrying weapons before the arrival of government troops at sundown.
A woman who asked to remain anonymous told RFE/RL that she had managed to escape from Otkhona after troops moved in by saying she needed to take her child to the toilet.
"Scores of uniformed people in a big truck with police signs surrounded us and entered the compound. They started searching us [and] asking if we had money. Then they took all our money and jewelry," she said.
"They asked for our documents, [but] when we said that the documents were burned with our homes, they mocked us, saying, 'So it is time for you to leave Kyrgyzstan now,'" she added. "They seized our men. My husband was beaten with the buttstock of a machine gun. All our men are now in their hands as hostages."
Kyrgyz Interim President Roza Otunbaeva says the ethnic violence that broke out on June 10 was triggered by supporters of former President Kurmanbek Bakiev. She says they want to derail the constitutional referendum, which has been backed by the United Nations and the United States.
written by Ron Synovitz in Prague, based on reporting by RFE/RL correspondent Bruce Pannier in Nariman and Osh
Kyrgyz Crisis Coverage
Clashes In Kyrgyzstan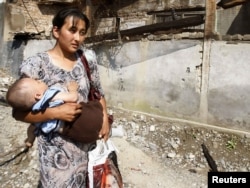 Full RFE/RL coverage of the ethnically charged violence that has shaken southern Kyrgyzstan since June 10. More