KALININGRAD -- Some 2,000 protesters chanted "Freedom!" during an unsanctioned protest under steady rain on a grim Soviet-era square in Russia's Baltic Sea exclave of Kaliningrad. It was part of a series of demonstrations held in cities across the country today.
Demonstrators also called for firing Prime Minister Vladimir Putin and the man he appointed as their governor, Georgy Boos.
This was the site of a demonstration in January that drew 12,000 people, who condemned officials' authoritarianism and corruption, and sent shockwaves all the way to the Kremlin. Opposition groups hoped discontent over tax raises and benefits cuts by a crowd that included many business owners and middle-class residents would signal the start of a major wave of protest across the country.
But this time the authorities weren't taking any chances, and it appears they've stalled the opposition's momentum.
'
Antigovernment protesters in Soviet House Square in Kaliningrad

'Elections Don't Mean Anything
'
Officials denied permission for a rally on the same square today, saying it would be occupied by a farmers' market instead. Kaliningrad's opposition leader later called off plans for another protest, at a venue the authorities did allow -- an old stadium outside the city center.
Demonstrator Viktor Nikitin, a retired construction worker, said he came to the unauthorized protest anyway because he believes Russia's officials act like a separate class of privileged citizens.
"The authorities must work for the people, but here it's the other way around," he says. "We work like slaves and pay taxes, which only go toward a small part of the population -- officials."
Student Anastasia Rybachenko said the authorities fix elections to enable the pro-Kremlin United Russia party to monopolize power.
"Elections don't mean anything. That's why people are coming out onto the streets," she says. "I showed up here because I don't see any other political means of expressing I'm unhappy."
Submitting To Pressure

In a nearby square, performers danced and sang under a large JumboTron on a stage set up by city officials to draw crowds away from the protest. Only a handful of spectators showed up.
But the main distraction from the demonstration was a four-hour televised question-and-answer session with Governor Boos, the main target of protesters' criticism.
WATCH: Protesters in Kaliningrad, part of a "flash mob" gathering, smashed tangerines in a show of anger against the government:
Outdoor television screens and camera crews set up at various spots around the city, where viewers complained about pension rates and potholes in city streets. Opposition coalition leader Konstantin Doroshok participated in the broadcast, part of his deal with the governor to call off today's authorized protest.
Doroshok's allies criticized him for submitting to pressure by the authorities. Vladimir Milov, a leader of the Moscow-based Solidarity group -- who traveled to Kaliningrad to observe today's events -- said Doroshok carried great responsibility as coalition leader.
"Unfortunately, he let down those people who want to protest against the policies of Governor Boos and Prime Minister Putin," he said. "But I'm certain Kaliningrad has a strong opposition that will find other people to lead the fight."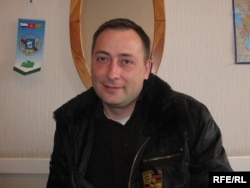 Konstantin Doroshok
At one point during Boos's television broadcast, he ordered Doroshok to be driven around the city to "talk to the people" himself. But at one spot, there were only about 20 people huddled under umbrellas, and he spent half the time talking on his mobile telephone. He defended his decision to call off today's protest and instead engage in a dialogue with the governor over a list of protesters' demands.
"Those who are announcing the supposed collapse of our movement are doing nothing more than trying to earn political points," he said, "just because we didn't want to force people to go to a stadium in this rain and mud. But I share [my critics'] views. We're heading in the same direction, only on different roads."
'No One's Going To Help Us'
But during a news conference after his television session, a prickly Boos denied even having heard of a list of protesters' demands, saying he'd set up government commissions to study Kaliningraders' concerns. He lashed out at foreign reporters, saying Russia's democracy is no worse than that of Western countries and criticized demonstrators for engaging in emotional outbursts instead of constructive dialogue.
"Those people didn't come to our television session today," he said. "Those who did come want to make life in the region better. And they understand we'll have to do that with our own hands, that no one's going to help us -- not Martians, not lunatics, not even free Europe. We'll do it ourselves, working, thinking, and agreeing which problems we're going to tackle."
As the Kremlin calibrates ways of letting off the steam of public discontent, fueled partly by the ongoing effects of the global financial crisis, officials appeared pleased over having slowed -- if not stopped -- the momentum of a protest movement that was posing serious problems just one month ago.
But back outside, protesters said they were pleased at the turnout at their unsanctioned and unpublicized event. Vladimir Ustinov says he's optimistic Kaliningraders' willingness to confront the authorities won't die.
"Their power looks like a big, strong oak tree," he says. "But a storm of people's anger could easily knock it over and remove any trace."
Ustinov says he'd be happy if the authorities begin to respect the people "just a little bit."